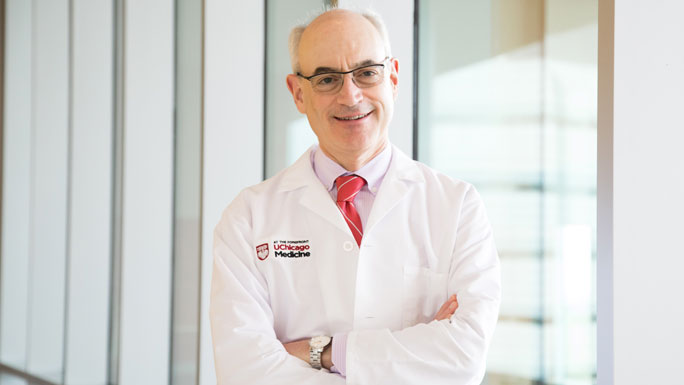 Immunotherapy harnesses the power of the immune system to treat cancer. There are several types of immunotherapy, which work in different ways to treat different types of cancer.

Immune checkpoint inhibitors are used to treat certain non-small cell lung cancers. These drugs block proteins (PD-1 and PD-L1) that cancer cells use to disarm an immune response, enabling disease-fighting T-cells to attack, shrink or destroy tumor cells.

In some cases, checkpoint inhibitors (e.g. pembrolizumab, nivolumab, atezolizumab, durvalumab) are given before, along with, or instead of chemotherapy. They can also be combined with radiation therapy or surgery.
Clinical Trial Helps Patient with Stage 4 Lung Cancer
John Polo was diagnosed with stage 4 lung cancer in spring 2019. He entered a clinical trial that combined radiation with two cancer immunotherapy drugs, and today doctors can no longer detect cancer in his body.

Read His Story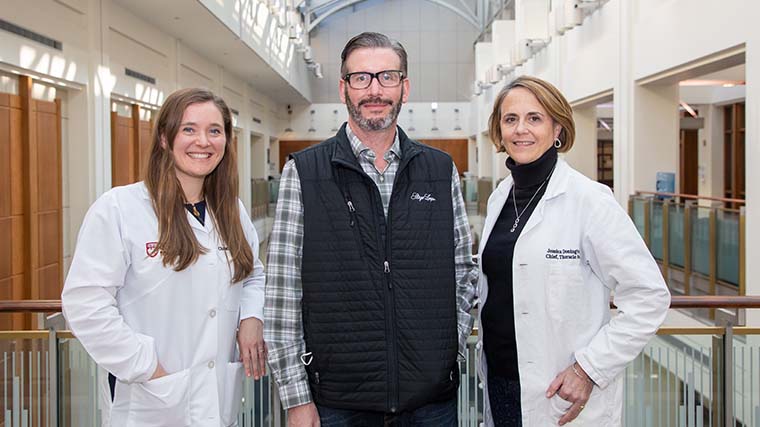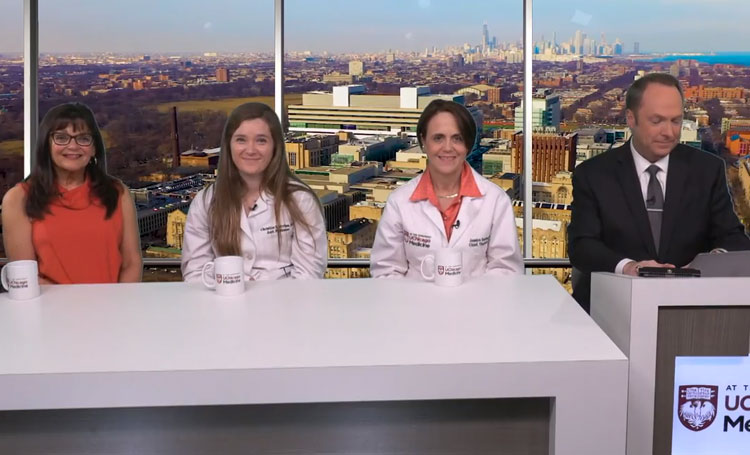 Understanding Lung Cancer
Medical oncologist Christine Bestvina, MD, thoracic surgeon Jessica Donington, MD, and patient Kathy Tentinger joined us for a candid conversation on lung cancer screening, novel lung cancer treatment options and the latest clinical trials offered at UChicago Medicine.
Watch Video
Watch Video With Transcript
Request an Appointment
The information you provide on this secure form to request an appointment with a UChicago Medicine lung cancer expert will enable us to assist you as efficiently as possible. A representative will contact you within one to two business days to help you schedule an appointment.
You can also make an appointment with our providers by:
– Scheduling a virtual video visit to see a provider from the comfort of your home
– Newly diagnosed patients can schedule a 15-minute introductory Express Expert Cancer Opinion virtual session at no cost
– Requesting an online second opinion from our specialists
To speak to someone directly, please call 1-855-702-8222. If you have symptoms of an urgent nature, please call your doctor or go to the emergency room immediately.
For Referring Physicians
To refer a patient for lung cancer care, please call UCM Physician Connect at 1-800-824-2282.