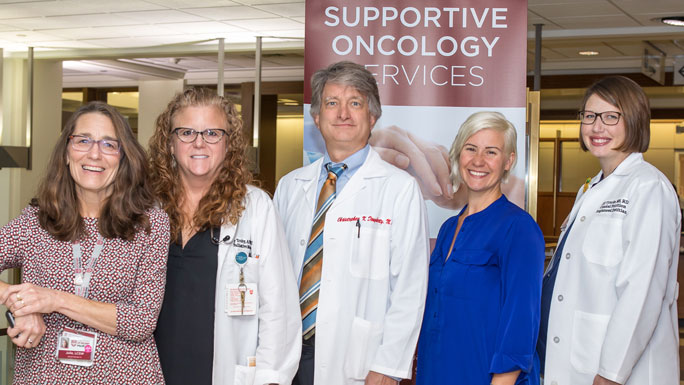 At the University of Chicago Medicine, we deliver compassionate care for our cancer patients. Supportive oncology provides the following outpatient services to support you and your family during cancer treatment:
Supportive Oncology Services
[MUSIC PLAYING] The University of Chicago Medicine provides the very best in cancer care. That care involves innovative treatments and compassion for our patients. We believe in treating more than just the disease. We want our patients to have the best quality of life possible after initial diagnosis and treatment.

This is a set of services that we know cancer patients need. They go beyond and outside of that to support them through their diagnosis and their treatment and even into survivorship stages of their lives. So it's these ancillary services that support patients through the physical trials that they have, the emotional traumas that come with the diagnosis.

And all those services-- so whether it's nutritional support or psychosocial support or physical therapy support, even spiritual support, it's bringing those services to the patient to try to reduce the burdens of the disease or the burdens of the therapy.

Cancer patients know the Coleman Foundation Supportive Oncology Outpatient Care Suite is a place where they can go for help on a wide range of issues.

You just love them. Every time I'm done with treatment, I come in. I stop by and I sit down with them if they're here. Or whoever's here, I'll sit down and speak with them or something. It's a very friendly and welcoming place.

The caring staff helps each person deal with the unique challenges they face during their cancer fight.

It's critical. I mean, it's the most important thing, having multidisciplinary staff and having multidisciplinary care. It really improves their quality of life, and it's very, very important.

There's a lot of evidence to suggest that people do better in their treatment if they have the supportive services in addition to the actual interventions by the physicians and the nurses.

Cancer and cancer treatments take a toll on each person's physical and emotional well-being. That's why supportive oncology services are so important.

You may cure their cancer, but the trauma, physical, emotional, spiritual trauma that's left from the diagnosis and the therapy can so damage a patient and their family that, even with a successful cured outcome, they're patients that are still suffering. And so we know we need to bring these services earlier at diagnosis throughout the cancer care trajectory to be able to really have a successful outcome.

This is a place where patients can go to get help with almost any aspect of dealing with their cancer battle. It's a place that provides hope and healing.

If you're feeling down or having a bad day, come over. I'll guarantee you that they will brighten up your day. They will help you with any problems that you have, or just someone to speak to and to vent.

It's so satisfying. It makes me want to do what I do. That's why I come in every day. If I can see somebody improve and know that I helped even just a little bit, it makes it all worth it.

Supportive oncology care at UChicago Medicine would treat the whole patient, not just the disease.

[MUSIC PLAYING]
Coleman Foundation Supportive Oncology Care Suite
The Coleman Foundation Supportive Oncology Care Suite is a comfortable space for cancer patients and their families on the 6th floor of the Duchossois Center for Advanced Medicine.
American Cancer Society Patient Navigator Services
We are a designated as an American Cancer Society Cancer Navigator Program, and offer a full range of services to assist you and your family through the cancer journey.
Helpful Reading Materials
The Coleman Foundation Supportive Oncology Outpatient Care Suite is stocked with helpful, reputable reading materials to answer questions and ease fears.
Private Consultation
The Coleman Foundation Supportive Oncology Outpatient Care Suite features comfortable rooms for private consultation with our care and support team.
Computer Workstations
The Coleman Foundation Supportive Oncology Outpatient Care Suite includes computer workstations to access helpful information online.