Customizing Therapies for Specific Tumors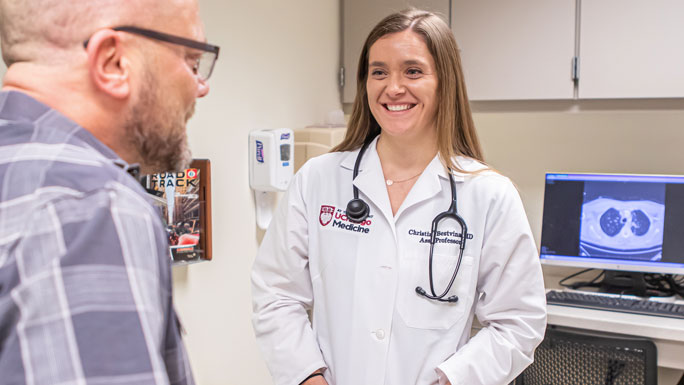 There are now treatments specifically designed to target those parts of cancer cells which cause uncontrolled growth and spread. They are sometimes referred to as molecular-targeted drugs because they focus on specific changes that occur inside cells when they become cancerous. These "targeted therapies" may be used alone, or in specific cases, after surgery.
Common targeted therapies for patients with non-small cell lung cancer include:
Tyrosine kinase inhibitors block enzymes needed for cancer cell growth. For example, the drug osimertinib targets the EGFR (epidermal growth factor receptor) gene. When the EGFR gene is mutated and overactive, it allows cancer cells to grow quickly.

The identification of mutations is expanding and now includes: EGFR, ALK, ROS1, BRAF, MET, RET, and NTRK. The mutations KRAS and HER2 are under investigation.
Angiogenesis inhibitors work in different ways to halt cancer. For example, researchers discovered that cutting off a tumor's blood supply is one way to kill cancer cells. The drug bevacizumab, a monoclonal antibody and angiogenesis inhibitor, stops cancer cells from developing new blood vessels to support their growth.
Request an Appointment
The information you provide on this secure form to request an appointment with a UChicago Medicine lung cancer expert will enable us to assist you as efficiently as possible. A representative will contact you within one to two business days to help you schedule an appointment.
You can also make an appointment with our providers by:
– Scheduling a virtual video visit to see a provider from the comfort of your home
– Newly diagnosed patients can schedule a 15-minute introductory Express Expert Cancer Opinion virtual session at no cost
– Requesting an online second opinion from our specialists
To speak to someone directly, please call 1-855-702-8222. If you have symptoms of an urgent nature, please call your doctor or go to the emergency room immediately.
For Referring Physicians
To refer a patient for lung cancer care, please call UCM Physician Connect at 1-800-824-2282.
Understanding Lung Cancer
Medical oncologist Christine Bestvina, MD, thoracic surgeon Jessica Donington, MD, and patient Kathy Tentinger joined us for a candid conversation on lung cancer screening, novel lung cancer treatment options and the latest clinical trials offered at UChicago Medicine.