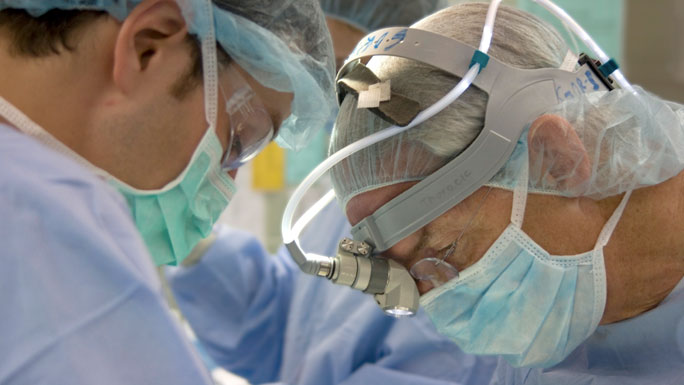 Surgery is often recommended for people with lung cancer. For patients with non-small cell lung cancer, which accounts for 80 percent of lung cancer cases, it is often the best treatment choice.
Lung resection is most often considered for patients with the earliest stage of lung cancer. During the procedure, doctors remove the section of the lung that contains the cancer. Depending on the type of surgical procedure (open or minimally invasive), most patients stay in the hospital two to five days and return to their normal activity levels in about four weeks. The majority of people who have resections can resume a normal lifestyle after surgery.
Minimally Invasive Lung Cancer Surgery
Our surgeons are experts in minimally invasive surgery to remove lung cancer. This includes video-assisted thoracic surgery (VATS), which requires only three small incisions. Another method is robotic surgery, which also is performed through small incisions. With this technique, a surgeon can remove a cancerous part of the lung through an incision less than two inches long.
Studies show that patients who have minimally invasive lung cancer surgery go home sooner than patients who have traditional lung surgery through a large incision. They also experience considerably less pain and fewer complications after surgery. These benefits are why our surgeons use minimally invasive techniques for approximately 75 percent of major lung resection operations — a remarkable achievement compared with the nationwide average of 50 percent.
Patients with early stage small cell lung cancer who have not had previous chemotherapy or radiation are often ideal candidates for these minimally invasive approaches. Even if a patient is not eligible for VATS, our surgeons can perform lung surgery using a small incision in the side of the chest, between the ribs. This helps minimize pain and speeds the healing process.
Minimally invasive approaches to lung resection result in reduced postoperative complication rates and reduced postoperative length of hospital stay compared to traditional open resections [Fernandez 2016; Wolf 2018]. The cost of hospital care is also lower for minimally invasive approaches [Farjah 2014, Watson 2016].
Experience Matters
Studies show that the immediate outcomes of lung surgery are better — and the likelihood of being cured is higher — when a board-certified thoracic surgeon (rather than a general or cardiac surgeon) performs the operation [Farjah 2009; Freeman 2013]. UChicago Medicine lung cancer surgeons are board-certified thoracic surgeons who focus on treating diseases only of the lungs and chest.
Outcomes are also better when lung cancer surgery is performed at a high-volume center such as UChicago Medicine, compared to one that doesn't perform these operations frequently. High volume is associated with fewer postoperative complications and a better chance of cancer cure [Smith 2017].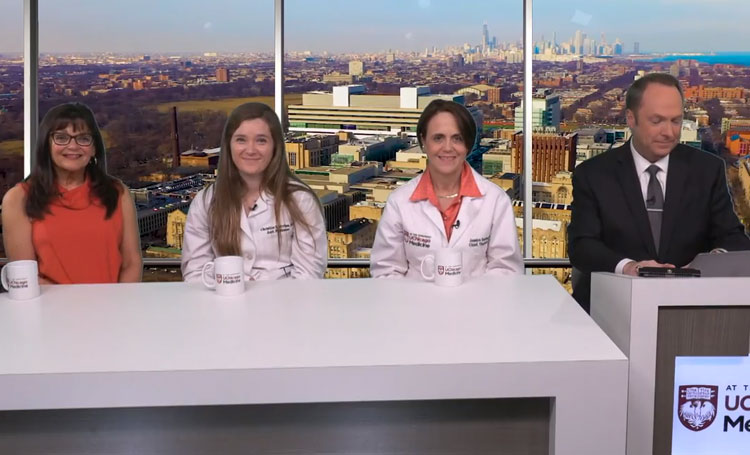 Understanding Lung Cancer
Medical oncologist Christine Bestvina, MD, thoracic surgeon Jessica Donington, MD, and patient Kathy Tentinger joined us for a candid conversation on lung cancer screening, novel lung cancer treatment options and the latest clinical trials offered at UChicago Medicine.
Watch Video
Watch Video With Transcript
Woman runs marathon following minimally invasive lung cancer surgery
With the help of UChicago Medicine's thoracic surgery team, Jennifer L. Rosato Perea, a non-smoker, overcame lung cancer and ran the New York Marathon. She ran the race in under seven hours only months after undergoing surgery to remove cancer from her right lung.
Read Her Story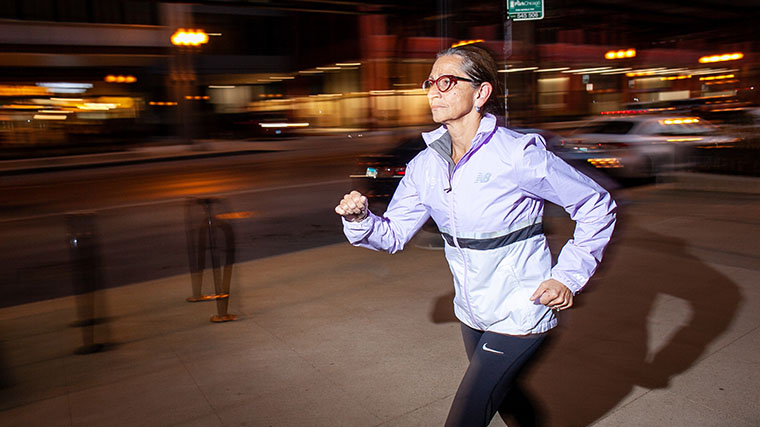 Request an Appointment
The information you provide on this secure form to request an appointment with a UChicago Medicine lung cancer expert will enable us to assist you as efficiently as possible. A representative will contact you within one to two business days to help you schedule an appointment.
You can also make an appointment with our providers by:
– Scheduling a virtual video visit to see a provider from the comfort of your home
– Newly diagnosed patients can schedule a 15-minute introductory Express Expert Cancer Opinion virtual session at no cost
– Requesting an online second opinion from our specialists
To speak to someone directly, please call 1-855-702-8222. If you have symptoms of an urgent nature, please call your doctor or go to the emergency room immediately.
For Referring Physicians
To refer a patient for lung cancer care, please call UCM Physician Connect at 1-800-824-2282.