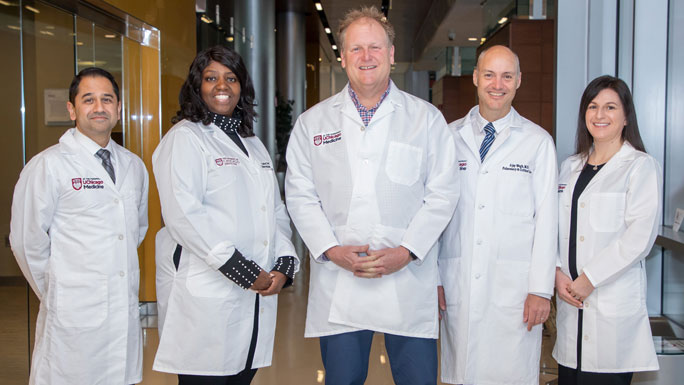 Determining the specific type of lung cancer — and its stage — helps the care team plan the most effective treatment approach. Our lung cancer specialists use a variety of tools and techniques to diagnose lung cancer, including:
Dual-energy chest X-rays can find tumors that may be hidden behind bones when viewed in traditional X-rays.
Computed tomography (CT), using the latest and most advanced scanners, we create hundreds of one-millimeter-thin "pictures" inside the chest to reveal very small lung cancers. This is done with less radiation than older models of CT scanners. We also use sophisticated Artificial Intelligence software to help the radiologist detect several diseases in their earliest stages.
Positron emission tomography (PET) looks at the metabolism of the tissue. This is important because cancer cells use sugar, or metabolize, faster than normal cells. PET can be particularly helpful when staging cancer to see if it has spread.
Robotic bronchoscopy, using a 3D roadmap of the patient's lungs developed from a CT scan, our interventional pulmonologists use sophisticated robotic bronchoscopes passed through the mouth to reach into parts of the lungs not accessible with previous technology. The flexible endoscopes are equipped with cameras and small tools that allow physicians to reach lung nodules and masses to collect tissue samples for testing. If cancer is confirmed, physicians can examine nearby lymph nodes to stage the cancer during the same procedure, avoiding the need for multiple procedures. Bronchoscopy is an outpatient procedure that involves no cutting.
Endobronchial ultrasound (EBUS), stages lung cancer without the need for surgery. Now through a simple outpatient procedure, all the lymph nodes can be sampled to prove whether or not cancer has spread. This also allows doctors to resample known cancers in a safe and simple way to evaluate for mutations that could be treated with targeted chemotherapies.
Tissue samples taken during a biopsy procedure are sent to our pathologists who specialize in studying and analyzing cells under a microscope to determine the presence of lung cancer. Analysis of the type and stage of lung cancer assists the care team in choosing the best treatment approach for each patient.
Genetic testing is done to screen for genetic changes, or mutations, which can drive a cell to become cancerous or cause cancer to spread. Our molecular pathology lab searches across more than 1,000 genes to screen for mutations. The most common mutations related to lung cancer are seen in the genes EGFR, KRAS and ALK. By including this important diagnostic step, therapy can then be matched, or targeted to, the specific genetic changes in each tumor. Only a few centers in the country offer this type of personalized medicine for non-small cell lung cancer.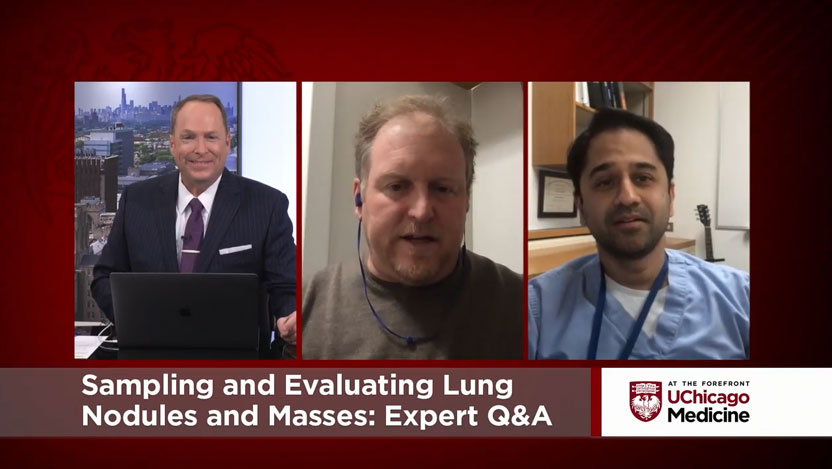 Pulmonologist Helps Create New Robotic Device to Detect Lung Cancer Earlier Than Ever Before
"Since I've begun using the device, I've been able to see patients I would have had to turn down previously ... It's a brand new opportunity for patients, and that alone is exciting," said pulmonologist D. Kyle Hogarth, MD.
Learn more about this innovative technology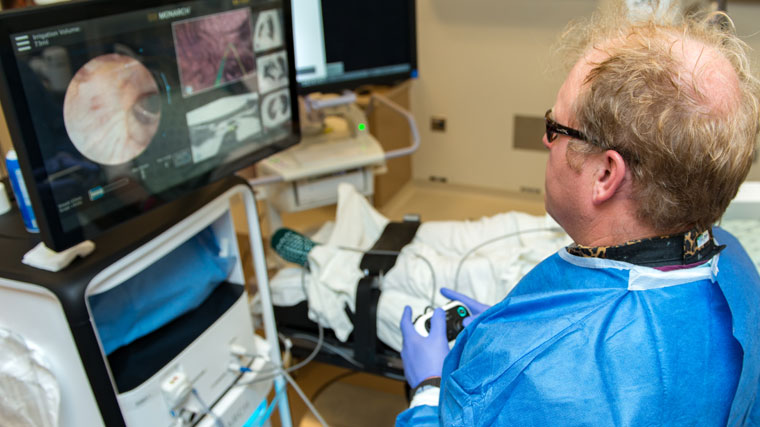 Request an Appointment
The information you provide on this secure form to request an appointment with a UChicago Medicine lung cancer expert will enable us to assist you as efficiently as possible. A representative will contact you within one to two business days to help you schedule an appointment.
You can also make an appointment with our providers by:
– Scheduling a virtual video visit to see a provider from the comfort of your home
– Newly diagnosed patients can schedule a 15-minute introductory Express Expert Cancer Opinion virtual session at no cost
– Requesting an online second opinion from our specialists
To speak to someone directly, please call 1-855-702-8222. If you have symptoms of an urgent nature, please call your doctor or go to the emergency room immediately.
For Referring Physicians
To refer a patient for lung cancer care, please call UCM Physician Connect at 1-800-824-2282.