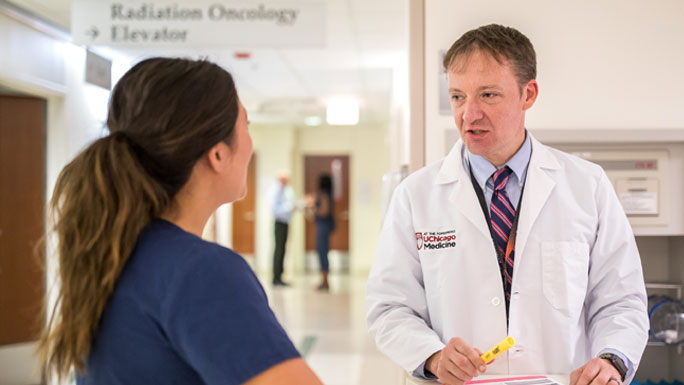 Innovations in planning and delivering radiation therapy have made this treatment safer and more effective than ever for lung cancer patients. For example, special four-dimensional computer programs allow doctors to create a very detailed "map" of the lungs for delivering radiation. In addition, a technology called image-guided radiotherapy gives doctors a "real time" picture of a tumor's response, so they can make adjustments while delivering the radiation.
Shorter Treatments
Typically, radiation for lung cancer is given daily for two to seven weeks. Yet, one of the newest radiation treatments, called stereotactic body radiotherapy, shortens treatment time substantially. This type of radiation delivers high, targeted doses of radiation — five to 10 times the dose delivered in traditional radiation therapy — so patients require fewer treatments. Unlike daily doses of traditional radiation spread out over several weeks, stereotactic body radiotherapy requires only three treatments.
This technique may be especially helpful for treating patients with lung cancer who are not candidates for surgery. Research suggests stereotactic body radiotherapy may be twice as effective at controlling lung tumors as traditional radiotherapy.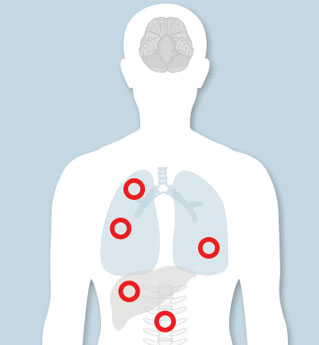 Treating Metastatic Cancer with Optimism and Hope
If you have been diagnosed with metastatic cancer, more therapies may be available to you than you think. Our cancer specialists are eager to help you understand all of your options.
Limited Metastatic Cancer Program
Convenient Locations for Cancer Care
Request an Appointment
The information you provide on this secure form to request an appointment with a UChicago Medicine lung cancer expert will enable us to assist you as efficiently as possible. A representative will contact you within one to two business days to help you schedule an appointment.
You can also make an appointment with our providers by:
– Scheduling a virtual video visit to see a provider from the comfort of your home
– Newly diagnosed patients can schedule a 15-minute introductory Express Expert Cancer Opinion virtual session at no cost
– Requesting an online second opinion from our specialists
To speak to someone directly, please call 1-855-702-8222. If you have symptoms of an urgent nature, please call your doctor or go to the emergency room immediately.
For Referring Physicians
To refer a patient for lung cancer care, please call UCM Physician Connect at 1-800-824-2282.