If you have uterine fibroids, it's important to know that hysterectomy is not your only option. Myomectomy is a fibroid removal surgery that leaves the uterus intact, allowing for future pregnancy if desired. At the Center for the Advanced Treatment and Research (CATeR) of Uterine Fibroids, our gynecologic surgeons are expertly trained in minimally invasive myomectomy techniques.
Our team specializes in helping patients with:
Large fibroids and/or a large uterus
Multiple and/or deep fibroids
Fibroids blocking abdominal organs
Severe inflammation from endometriosis or adenomyosis
Severe scarring from previous abdominal surgeries
We treat the most challenging cases, often using minimally invasive techniques. It's important to know what all your options are. Our experts may be able to offer you alternative fibroid treatments other doctors previously ruled out.
Minimally invasive myomectomy may be an option for you.
Many patients come to us thinking minimally invasive myomectomy isn't an option for them. After seeking a second opinion with our experts, they often find out that it is.
At the Cater Fibroid Center, our team performs more than 70% of myomectomies using robotic or laparoscopic techniques.
Benefits of Minimally Invasive Gynecologic Surgery
Patients experience less pain, blood loss and scarring along with quicker recovery times after minimally invasive surgery.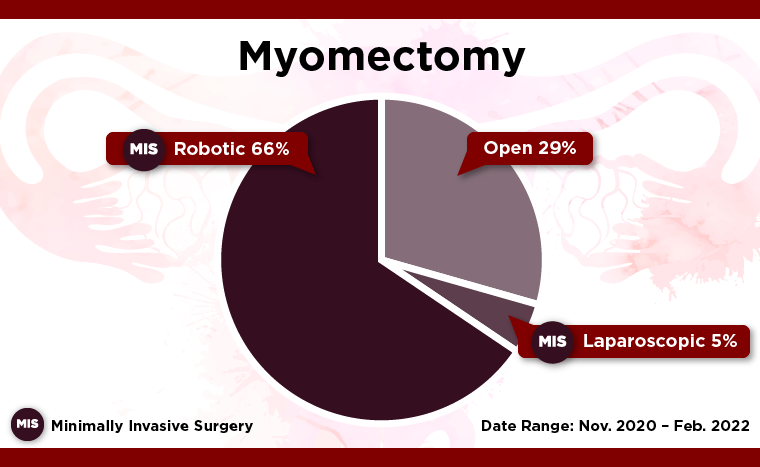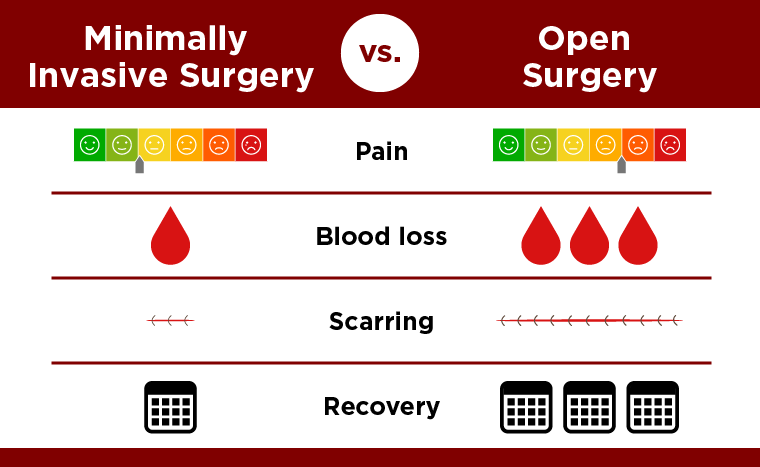 Tiny Incisions, Quicker Recovery, Minimal Scarring
Based on the location and size of the fibroids, myomectomy can be performed using robotic surgery, laparoscopy or hysteroscopy. These minimally invasive approaches do not require the large incision used in traditional fibroid surgeries and result in a faster recovery. Most patients can return to their usual activities within two weeks.
Robotic and Laparoscopic Myomectomy
Performed through tiny incisions (less than half an inch) in the abdomen, a minimally invasive gynecologic surgeon uses sophisticated tools and equipment to remove the fibroids and repair the uterus during robotic and laparoscopic myomectomy. This is often performed as an outpatient surgery, and patients usually go home a few hours after the surgery is completed.
No Incisions or Scarring with Hysteroscopic Myomectomy
During a hysteroscopic myomectomy, a minimally invasive gynecologic surgeon places a small telescope (a hysteroscope) through the vagina and cervix into the uterus without making any incisions. Depending on their size, fibroids within the cavity of the uterus (called submucosal fibroids) can be located and removed while preserving the form and function of the uterus. Hysteroscopic myomectomy is performed as an outpatient procedure and most patients resume their usual activities the next day.
Is myomectomy right for me?
Several factors determine if you are a candidate for myomectomy and which approach — robotic, laparoscopic, hysteroscopic or a combination — is right for you. These include:
The location of your fibroid(s) in your uterus
The size of your fibroid(s)
The number of fibroids you have
Your age
Your overall health
A surgeon's training and experience also affect what surgical options are available. At the CATeR Fibroid Center, our experts are highly skilled in performing robotic, laparoscopic and hysteroscopic myomectomies.
What to Expect After Myomectomy
The risks of myomectomy are similar to any surgical procedure and include blood loss and infection. However, these risks are very low and can be reduced by seeing a gynecologic surgeon who has training and experience performing myomectomies.
There is also a very low risk of uterine rupture (occurring in less than 1% of cases) with subsequent pregnancy. This risk can be reduced by not getting pregnant within three months of surgery.
Like any surgery, you should expect pain after myomectomy because it involves cutting tissue. When possible, surgeons at the CATeR Fibroid Center use minimally invasive techniques, which cause less pain compared with a single large incision. Smaller incisions also heal more quickly.
After surgery, we prescribe oral medications to help manage pain. When medications are used as recommended, most patients report mild to moderate pain and cramping within the first 48 hours after surgery, which gradually decreases throughout the healing process.
Planning for Pregnancy When You Have Fibroids
Our goal is to design a treatment plan that supports your goals for your family.
Learn How
Because myomectomy spares your uterus, you can still become pregnant after the procedure. That is why it may be the preferred option for younger patients with fibroids who want to maintain their fertility. However, we recommend waiting at least three months after surgery before getting pregnant to give your uterus time to heal.
During a myomectomy, the gynecologic surgeon may not remove a fibroid if it is not causing symptoms. This can help preserve the muscles of the uterus, which is especially important if you want to
become pregnant in the future
.
Depending on the extent of the myomectomy surgery, you may need to have
cesarean deliveries
in the future. After your procedure, your surgeon will advise you about future delivery options.
Minimally Invasive Myomectomy Surgeons
Find a CATeR Fibroid Center Location in Hyde Park, Downtown Chicago or the Southwest Suburbs
Request an Appointment
The information you provide will enable us to assist you as efficiently as possible. A representative will contact you within one to two business days to help you schedule an appointment.
You can also make an appointment with our providers by:
– Scheduling a virtual video visit to see a provider from the comfort of your home
– Requesting an online second opinion from our specialists
– Filling out an online questionnaire (e-visit) to get a same-day diagnosis and treatment for common conditions.
To speak to someone directly, please call 1-888-824-0200. If you have symptoms of an urgent nature, please call your doctor or go to the emergency room immediately.