Fibroids are treatable.
Our experts will support you in choosing the best treatment option for you.
What are fibroids?
Uterine fibroids are benign (noncancerous) growths in the muscle walls of the uterus. Also called leiomyoma or myoma, fibroids can be as small as an apple seed or as big as a grapefruit — sometimes even bigger. Fibroids may occur individually or as a cluster. They often increase in size and frequency with age, but may shrink slightly after menopause.
At the Center for the Advanced Treatment and Research (CATeR) of Uterine Fibroids, we create personalized care and treatment plans designed to:
Remove fibroids
Shrink fibroids
Manage and treat fibroid symptoms
Whether your symptoms are mild and manageable or you're in urgent need of relief, our experts at the CATeR Fibroid Center are ready to help.
About Uterine Fibroids
Advanced Care & Second Opinions
If your fibroid symptoms are severe or seem unmanageable, discuss treatment options with our advanced care specialists at the CATeR Fibroid Center.
CATeR Fibroid Center Care Team
Fibroid symptoms can vary significantly from person to person. Some women experience severe symptoms, while others have no symptoms at all. Oftentimes, women who do not have symptoms at first may begin to experience symptoms as the fibroid grows.
Common symptoms of fibroids include:
Abdominal distension or bloating
Anemia (low count of healthy red blood cells)
Heavy bleeding, cramping or clotting during periods
Infertility or difficulty getting pregnant
Pain during sexual intercourse
Pain or pressure in the abdomen or lower back
Prolonged periods (consistently more than seven to eight days)
Urinary problems, such as the need to urinate frequently, and rarely, leakage or inability to empty the bladder
Vaginal bleeding between periods
Fibroids are often detected when a physician feels a firm mass during a patient's pelvic exam. Tests, such as ultrasound or magnetic resonance imaging (MRI), may help your physician determine if you have fibroids. Patient-reported symptoms, such as those listed above, may prompt your provider to order a pelvic ultrasound. That's the most common way fibroids are found. Bleeding through your clothing, passing clots or soiling your bedding are not normal. If you have these symptoms, request an ultrasound.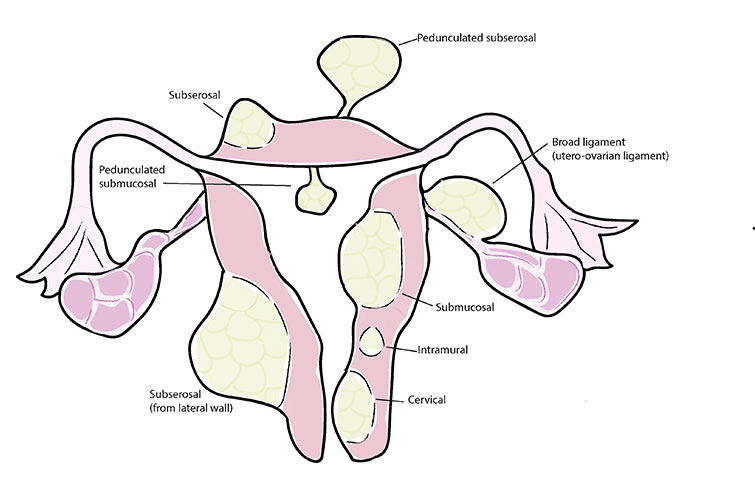 Fibroids are classified based on how and where they grow:
Intramural fibroids are embedded within the uterine wall. Symptoms include pelvic pressure, frequent urination, heavy bleeding, prolonged periods and cramping or clotting during periods.
Pedunculated fibroids branch out from the interior (pedunculated submucosal) or exterior (pedunculated subserosal) surface of the uterine wall. Protruding out on a stem of tissue, these fibroids can shift and even twist, causing pelvic pain and pressure.
Submucosal fibroids grow on the interior surface of the uterine wall, just beneath the inner lining of the uterus (endometrium). They are commonly associated with heavy bleeding. This type of fibroid is generally the least likely to occur.
Subserosal fibroids grow on the exterior surface of the uterine wall, often causing pelvic pain and pressure.
What is the best treatment for fibroids?
A treatment option that works for a friend, sister or mother may not work for your unique situation. It is important to take a holistic account of what your lifestyle goals are, so that we may partner with you to achieve them.
Q&A: Don't suffer in silence: Get answers about fibroid symptoms and treatment
In addition to your symptoms, age and the number, size and location of your fibroid tumor(s), there are many things to consider when choosing the best treatment option.
Life-Changing Care That's Integrative, Not Isolated
We understand that having fibroids is more than heavy bleeding and painful cramps and can sometimes impact your health in more complicated ways. At the CATeR Fibroid Center, our team often partners with other University of Chicago Medicine experts to design treatment plans specific to your unique combination of health challenges, including:
Coping with Fibroid Symptoms and Treatment
Treating symptoms is important, but we also believe in thinking more broadly about how fibroids impact your life and how our experts can help. From managing pain, heavy bleeding and other symptoms to understanding and making treatment decisions, having fibroids can contribute to stress, anxiety and depression, taking a toll on your overall mental health and wellbeing.

At the CATeR Fibroid Center, we collaborate with psychologists, psychiatrists and vetted resources to offer counseling services and social support. Maintaining your mental health and wellness is a crucial component to successfully managing and treating your uterine fibroids.
Request an Appointment
The information you provide will enable us to assist you as efficiently as possible. A representative will contact you within one to two business days to help you schedule an appointment.
You can also make an appointment with our providers by:
– Scheduling a virtual video visit to see a provider from the comfort of your home
– Requesting an online second opinion from our specialists
– Filling out an online questionnaire (e-visit) to get a same-day diagnosis and treatment for common conditions.
To speak to someone directly, please call 1-888-824-0200. If you have symptoms of an urgent nature, please call your doctor or go to the emergency room immediately.