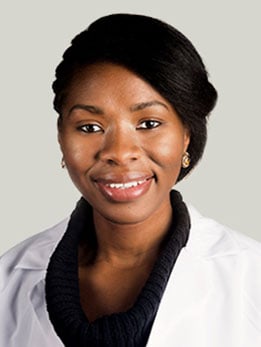 Minimally Invasive Gynecologic Surgery, OB/GYN | More
Assistant Professor of Obstetrics and Gynecology
UChicago Faculty Physicians hold faculty positions with the University of Chicago and provide care for patients on the academic health system's main campus in Hyde Park and in care centers throughout the Chicago region.
Close
773-702-6118


Her fellowship training in minimally invasive gynecologic surgery provided Dr. Laveaux with specialized training and expertise in the field of advanced laparoscopy and robotics. She favors a minimally invasive approach to the care of her patients, understanding that this approach leads to less pain, shorter length of hospital stay, faster recovery, improved cosmetics and greater patient satisfaction.

Her surgical areas of expertise include advanced operative office hysteroscopy, as well as vaginal, laparoscopic, robotic and complex open surgical techniques.

Dr. Laveaux is a funded clinical researcher and is well published. She has co-authored multiple book chapters on robotic surgery in benign gynecology. Her research interests include the role of technology in women's health, as well as the local and global impact of technologic advances in the management of abnormal uterine bleeding, uterine fibroids, endometriosis and pelvic pain.
At The Forefront Live: Fibroids and Endometriosis Explained
Minimally invasive gynecologic surgeons Shari Snow, MD, Laura Douglass, MD, and Sandra Laveaux, MD, MPH, discuss fibroids and endometriosis. Both conditions can cause severe pelvic pain and heavy bleeding, but are decidedly different.