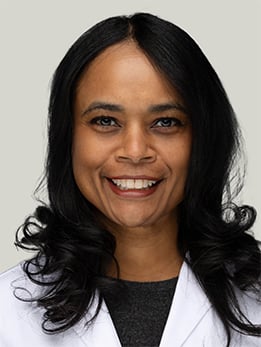 Minimally Invasive Gynecologic Surgery, OB/GYN | More
Associate Professor of Obstetrics and Gynecology Director, Center for Women's Integrated Health
Director, Menopause Program
UChicago Faculty Physicians hold faculty positions with the University of Chicago and provide care for patients on the academic health system's main campus in Hyde Park and in care centers throughout the Chicago region.
Close
773-702-6118
Monica Christmas, MD, offers comprehensive obstetric and gynecologic care from a patient's initial exam through her childbearing years and menopause. She is committed to providing thorough, high-quality and compassionate gynecologic and obstetric care. Dr. Christmas practices in all areas of general gynecology with special interests in the management of uterine fibroids, abnormal uterine bleeding and irregular menses.
Dr. Christmas is the director of the Center for Women's Integrated Health. She has extensive experience in benign gynecologic surgery, including robotic and laparoscopic techniques, hysterectomy, myomectomy, sterilization and office-based procedures. She is also a Certified Menopause Practitioner of the North American Menopause Society (NAMS).

Dr. Christmas takes a holistic approach to patient care, exploring traditional and non-traditional treatment options. Her patients have consistently rated her highly for excellence and compassion. She is also involved in the training of residents and medical students.
At The Forefront Live: Menopause, Cancer & Sex
Gynecologists Stacy Tessler Lindau, MD, and Monica Christmas, MD, spoke with us in an honest conversation about menopause, sexual function as one ages, and how cancer can affect one's sex life.