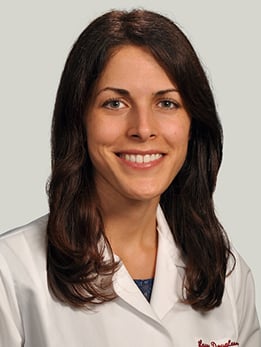 Minimally Invasive Gynecologic Surgery, OB/GYN | More
Assistant Professor of Obstetrics and Gynecology
Director, Transabdominal Cerclage Program
UChicago Faculty Physicians hold faculty positions with the University of Chicago and provide care for patients on the academic health system's main campus in Hyde Park and in care centers throughout the Chicago region.
Close
773-702-6118
Laura Douglass, MD, is a board-certified obstetrician-gynecologist with fellowship training in minimally invasive gynecologic surgery. As director of the Transabdominal Cerclage (TAC) Program, Dr. Douglass is an expert in TAC surgery, a procedure that prevents pregnancy loss in patients who have incompetent cervix (a weakened or short cervix). As a mentee of world-renowned gynecologic surgeon and TAC expert Arthur Haney, MD, Dr. Douglass was personally selected by Dr. Haney to lead the TAC Program upon his retirement in 2020.
She also performs a wide range of complex robotic and laparoscopic surgeries, specializing in the treatment of endometriosis, uterine fibroids, ovarian/tubal cysts and Mullerian anomalies. Dr. Douglass is passionate about providing safe, effective care using the least invasive and most individualized surgical approach for each patient's needs.
She further specialized her practice by receiving international training and mentorship in São Paulo, Brazil, with an emphasis on providing fertility-sparing surgical treatment for women with endometriosis. In 2015, Dr. Douglass assisted in the implementation of laparoscopy in the obstetrics and gynecology department at a medical center in American Samoa.