Treating Endometriosis: Do I Need Surgery?
[MUSIC PLAYING]
If you have endometriosis, you may have questions. While surgery may be the most effective way to relieve symptoms of endometriosis, it's not the right choice for everyone. It's often difficult to know how to treat your endometriosis. Endometriosis specialist Dr. Laura Douglas shares three questions for you to think about.
First, where is your endometriosis located? If your lesions are widespread or deeply embedded, removing them may help relieve your symptoms. Next, are your symptoms getting better with treatment? Non-surgical treatments such as medication and hormone therapy are sometimes effective for relieving pain, heavy bleeding, and other symptoms, but if these methods haven't relieved your suffering, it may be worth considering your options for surgery.
Finally, what are your plans for pregnancy? Endometriosis can interfere with your ability to become pregnant, especially if lesions grow on or around your ovaries. If you're trying to conceive or hope to someday, Laparoscopic Surgery or Laparatomy may make it possible to leave your uterus intact and improve your chances for pregnancy in the future.
Think about your symptoms and what's most important to you, and then connect with an expert who can help create a personalized treatment plan for you. To learn more, meet our team and schedule an appointment, visit UChicagoMedicine.org/Endometriosis.
At the University of Chicago Medicine, our experts are dedicated to improving the lives of our patients with endometriosis. Our team of endometriosis specialists has decades of experience to support you through challenges and discomforts at every step along the way, including:
Correcting or confirming your diagnosis
Providing treatment options to relieve your pain and other symptoms
Offering a second opinion
Performing advanced surgical techniques
Providing fertility treatment
Frequently Asked Questions about Endometriosis
Endometriosis vs. Adenomyosis
Adenomyosis and endometriosis are two different diseases. Some may refer to them as "sister" diseases because they cause similar types of lesions to grow — but in different places. Endometriosis lesions grow outside of the uterus, while adenomyosis lesions grow within the muscle wall of the uterus.
Yes. Endometriosis and adenomyosis can occur at the same time — and they often do. We often use specialized imaging such as pelvic ultrasound and MRI to evaluate your reproductive organs for endometriosis and/or signs of adenomyosis.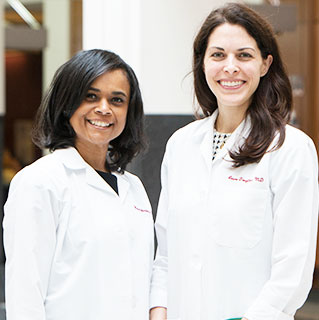 7 Silent Signs You Could Have Endometriosis
UChicago Medicine gynecologists Monica Christmas, MD, and Laura Douglass, MD, help explain signs and symptoms of endometriosis.
Read more
Meet Our Endometriosis Specialists
Obstetrics and Gynecology Articles