Lutetium-177 vipivotide tetraxetan PSMA therapy (Pluvicto) is a new theranostic medicine for advanced metastatic prostate cancer. It's a type of radiation that specifically targets a molecule on the surface of prostate cancer cells called PSMA. This therapy is used with the companion diagnostic gallium-68 gozetotide (Locametz), which is more commonly known as a PSMA PET scan. That latter uses imaging to identify cancer that make this PSMA molecule. Both lutetium-177 PSMA and gallium-68 PSMA were approved by the FDA in March 2022 and are proven to significantly improve prostate cancer survival rates and quality of life, as well as extend the time it takes for the disease to progress.

The University of Chicago Medicine was the first in Illinois to offer this novel theranostic agent, and our physicians are engaged in groundbreaking molecular therapy research to further advance the ways prostate cancer is treated.
How does lutetium-177 PSMA therapy work?
The idea behind theranostics is to harness the power of radioactivity, which can damage and kill cancer cells without indiscriminately attacking healthy cells in the body. Prostate cancer cells make something on their surface called PSMA – prostate specific membrane antigen. That PSMA is what the radioactive molecules lutetium-177 PSMA and gallium-68 PSMA attach to. In the case of gallium-68 PSMA, this radiotracer contains a low amount of radiation that lights up the cancer cells on a positron emission tomography (PET) scan so that we can see where the cancer has spread and whether it binds to the radiotracer.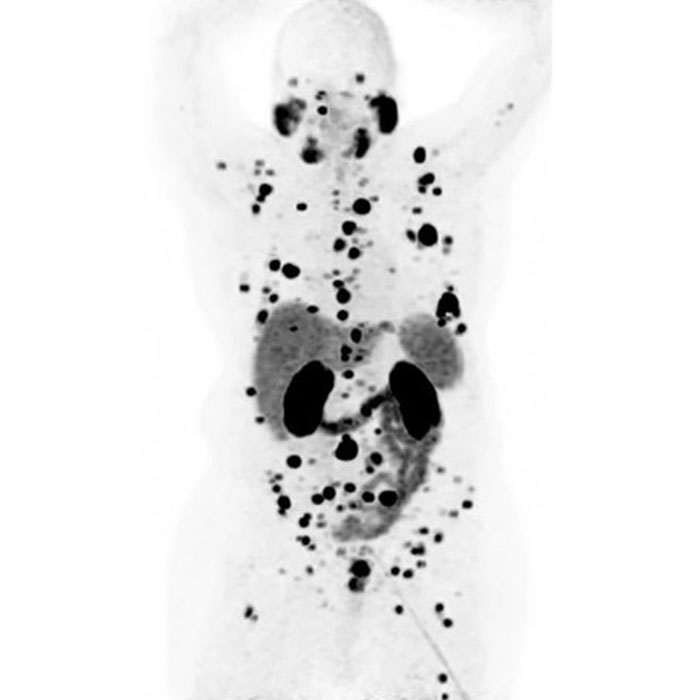 If the cancer cells do light up, that tell us they will also bind to lutetium-177 PSMA, which contains a similar PSMA tracer but a stronger type of radiation. During treatment, the PSMA grabs on to the lutetium-177 PSMA; the radiation it carries is absorbed into the cancer cell, damaging its DNA and ultimately causing cell death.
[MUSIC PLAYING] Theranostics is a growing field that's showing significant improvement for many cancer types, including thyroid, neuroendocrine, prostate, and neuroblastoma. A combination of therapeutics and diagnostics, Theranostics works very differently from chemotherapy or traditional radiation treatments. Theranostics uses special compounds called radiotracers, which are injected into the bloodstream.

Like using a GPS, the radio tracers travel through the body to target and bind to specific cancer cells, which are then visible on a PET scan. The first step is to use these radio tracers to simply identify the tumor cells in the body and determine if the patient is a good candidate for treatment. The second step is to add a more powerful radioactive component to the radiotracers that can kill the cancer.

By navigating a path which reduces the risk of harming nearby healthy tissues, the radiotracers can deliver targeted radiation to kill the cancer cells with lower side effects than many alternative treatments. For many patients, Theranostics offers new hope, helping them live longer, and with a better quality of life. At the only hospital in Illinois to have a medical cyclotron, physicians at University of Chicago Medicine Comprehensive Cancer Center, are leaders in research and development in this emerging field, and those same physicians are treating our patients. UChicago Medicine Comprehensive Cancer Center, at the forefront of Theranostics.
Who is a candidate for lutetium-177 PSMA therapy for prostate cancer?
If you have prostate cancer that has spread beyond the prostate and progressed after other therapies (including hormonal therapies and at least one chemotherapy), you may be eligible. Prior to treating your cancer with lutetium-177 PSMA and in order to make sure that you qualify, you must first have a
PSMA PET scan
, which is available at the University of Chicago Medicine.
What are the benefits of lutetium-177 PSMA therapy for prostate cancer?
This therapy extends the quantity and quality of life for patients who otherwise would have limited treatment options. More often than not, patients who are eligible for this therapy are already experiencing symptoms related to their cancer that are impairing their quality of life. As most patients respond to the treatment, their symptoms tend to get better and their quality of life improves. It's also very well tolerated, so from a risk/benefit, quality of life perspective, this therapy is highly impactful.
What are the possible side effects of lutetium-177 PSMA therapy for prostate cancer?
With lutetium-177 PSMA therapy, some patients experience fatigue and nausea. The radiation can impact your salivary glands, which can cause dry mouth. This is because aside from prostate cancers cells, a few normal organs express some PSMA, including the glands that make saliva. We also monitor a patient's blood cell counts, which can dip temporarily during the treatment, although this is usually not symptomatic.
What happens during PSMA PET imaging with gallium-68 PSMA?
The
PSMA PET imaging test
is a specific type of scan that shows us where in the body the cancer is by using the gallium-68 PSMA radiotracer. For this, patients change into a hospital gown to receive an intravenous injection of the radioactive element in their arm. After an hour, which gives time for the radiotracer to travel throughout the body, you'll lie still on the PET table for roughly 25 minutes as the machine scans your body. Those images are then sent to your nuclear medicine physician for evaluation, who sends a report on the images to your cancer doctor.
What does prostate cancer treatment with lutetium-177 PSMA involve?
Usually a few weeks later, we follow the PET scan up with the lutetium-177 PSMA, another injectable radioactive element that specifically targets the cancer that showed up on the PET scan. An IV is placed in the arm to deliver the treatment; the injection only takes a few minutes. There's a period of observation for one to two hours, and then patients go home.
We typically check patients every three weeks to assess for side effects, and this includes taking a blood sample. If you're doing well and responding well, we continue with therapy. The treatments are once every six weeks for a total of six treatments.
How do you prepare for lutetium-177 PSMA therapy?
Patients don't need to fast or do any other preparations before receiving the diagnostic imaging or treatment infusion. We provide all the supportive care the patient will need.
What happens after lutetium-177 PSMA therapy?
View our
Pluvicto patient guide (PDF)
about what to do for the two to three days after therapy to ensure the safety of the patient and family.
What sort of clinical trials is UChicago Medicine undertaking in this area?
We're participating in a Phase III clinical trial that is looking to add this same therapy as a first line treatment for patients with newly metastatic prostate cancer. The future is in using this very effective therapy in earlier disease states.
Why should someone come to UChicago Medicine for lutetium-177 PSMA therapy for prostate cancer?
At UChicago Medicine, we've treated more patients with this combination than anyone in the area because we were the only hospital in the region to be involved in lutetium-177 PSMA and gallium-68 PSMA's expanded access program prior to their approval. We have expertise across modalities – from the imaging and radioactive material handling to our healthcare providers who help patients navigate the process safely and efficiently. As theranostics is a new type of therapy, having the most experience in the region is critical to helping patients navigate the process. We are leaders in nuclear medicine and have participated in numerous clinical trials for theranostics. And with the only medical cyclotron in the state of Illinois and our partnership with Argonne National Laboratory, we continue to be at the forefront in theranostics research.
Request an Appointment
To request an appointment for Lu-177 PSMA therapy, call our cancer intake line at 1-855-702-8222 or complete the request form below.
Request an Appointment for Lu-177 PSMA Therapy for Prostate Cancer (Pluvicto)
The information you provide will enable us to assist you as efficiently as possible. A representative will contact you within one to two business days to help you schedule an appointment.
To speak to someone directly, please call 1-855-702-8222. If you have symptoms of an urgent nature, please call your doctor or go to the emergency room immediately.
Prostate Cancer Related Articles