Potential Benefits of Focal Therapy for Patients with Early-Stage Prostate Cancer
Lower risk for side effects such as urinary incontinence, impotence and compromised bowel function, as compared to surgery or radiation therapy
Minimally invasive, outpatient procedure
If necessary, focal therapies can be repeated in the future
Unlike some prostate cancer treatments, focal therapies do not limit the option to have radiation therapy or surgical treatment at a later time
Quick recovery; it is an outpatient procedure and patients can return to desk work the following day
Our prostate cancer experts describe focal therapy as being similar in concept to a lumpectomy for breast cancer. Rather than removing the entire prostate, focal therapy is a less invasive way to destroy just the cancer while leaving healthy tissue in place. Patients are followed closely after focal therapy. Short-term cancer outcomes are very favorable but longer-term outcomes are largely unknown.
Specific Type of Focal Therapy
HIFU (High-Intensity Focused Ultrasound): HIFU focuses the energy of sound waves to create heat and destroy cancer cells. Just like a magnifying glass concentrating sun rays to burn a hole in paper. During the procedure, an ultrasound probe is inserted into the patient's rectum while the patient is asleep from anesthesia. Guided by MRI and ultrasound 3D-images, the physician finds the tumor, plus the area to be treated, and delivers the energy aimed at the diseased tissue in the prostate gland. HIFU is a noninvasive precision treatment that spares healthy tissue and lowers the chances of negative side effects associated with radical prostate surgery or radiation, such as impotence, incontinence and bowel function disturbance.

UChicago Medicine is the first medical center in the Midwest to offer and perform this procedure with the newest Focal One advanced robotic HIFU technology. This fills a significant treatment void for men with localized prostate cancer who find themselves in between active surveillance and whole gland treatments such as radiation or surgery. The treatment has been used for years in both Europe and Asia.
Our Focal Therapy & HIFU Experts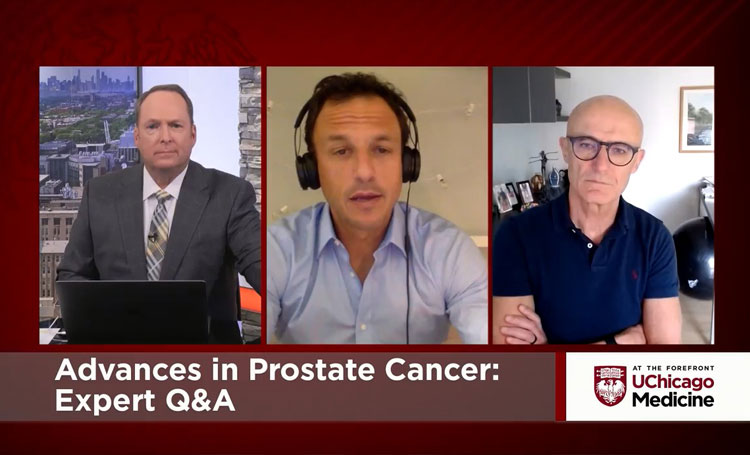 Request an Appointment for Prostate Cancer Care
The information you provide on this secure form to request an appointment with a UChicago Medicine prostate cancer expert will enable us to assist you as efficiently as possible. A representative will contact you within one to two business days to help you schedule an appointment.
You can also make an appointment with our providers by:
– Scheduling a virtual video visit to see a provider from the comfort of your home
– Requesting an online second opinion from our specialists
To speak to someone directly, please call 1-855-702-8222. If you have symptoms of an urgent nature, please call your doctor or go to the emergency room immediately.
For Referring Physicians
To refer a patient for prostate cancer care, please call UCM Physician Connect at 1-800-824-2282.