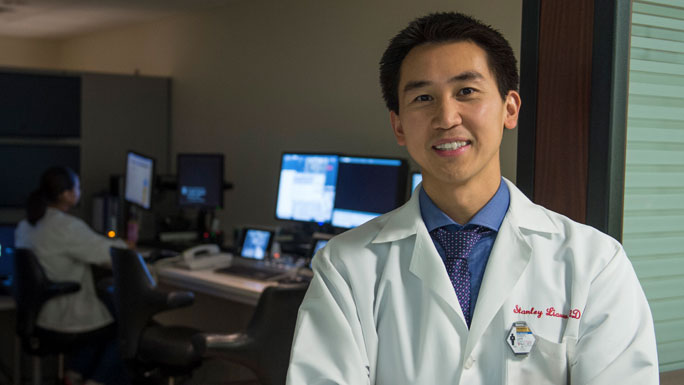 Radiation oncologists are specialists who use ionizing radiation to treat cancer. For prostate cancer, radiation therapy may be given as a curative treatment after initial diagnosis or after radical prostatectomy to either prevent or treat a recurrence. It can also be given to metastatic sites for local control or symptom relief. At the University of Chicago Medicine, our radiation oncologists are part of your collaborative care team that helps you decide on the best treatment for your prostate cancer.
Two common forms of radiation therapy used to treat prostate cancer are:
Intensity-Modulated Radiation Therapy (IMRT): IMRT is a specialized type of external beam radiation therapy in which multiple beams of radiation are focused on the prostate cancer as well as tissues at risk for cancer involvement. Treatment is typically performed on an outpatient basis over four to eight consecutive weeks. Advanced linear accelerators and sophisticated software help the radiation oncologist minimize the dose of radiation to normal tissues and offer better disease control with fewer side effects. The most current form of IMRT— called volumetric modulated arc therapy (VMAT) — typically allows therapy to be administered in less than 5 minutes.
Brachytherapy (seed implant radiation therapy): Brachytherapy is an internal form of radiation therapy in which radioactive sources are implanted directly into the prostate. This is done in the operating room as an outpatient procedure in tandem with a urologist, under ultrasound guidance. Seeds containing Iodine-125 are permanently implanted. The radiation treatment occurs in a controlled fashion over several months with the intent of treating the prostate cancer cells without damaging surrounding healthy tissue.
At the Forefront of Radiation Therapy for Prostate Cancer
UChicago Medicine has been at the forefront of developing innovative radiotherapy techniques for prostate and other cancers. Highlights include:
One of the first institutions to implement and report on the use of intensity-modulated radiation therapy for prostate cancer, which is now the standard of care for prostate cancer treated with external beam radiation therapy.
The development of novel methods of combining radiotherapy with adjunct therapies to enhance the treatment's effectiveness.
Innovative clinical trial options for men who have radiotherapy as their primary treatment or postoperatively.
In addition, our team maintains a detailed database of patient outcomes, which includes patient-reported quality of life after treatment. These outcomes have been regularly analyzed to help guide patient expectations, and to explore possible ways to improve the efficacy and safety of treatment.
Learn about radiation therapy for recurrent prostate cancer.
Learn about radiation therapy for metastatic prostate cancer.
Convenient Locations for Cancer Care
Request an Appointment for Prostate Cancer Care
The information you provide on this secure form to request an appointment with a UChicago Medicine prostate cancer expert will enable us to assist you as efficiently as possible. A representative will contact you within one to two business days to help you schedule an appointment.
You can also make an appointment with our providers by:
– Scheduling a virtual video visit to see a provider from the comfort of your home
– Requesting an online second opinion from our specialists
To speak to someone directly, please call 1-855-702-8222. If you have symptoms of an urgent nature, please call your doctor or go to the emergency room immediately.
For Referring Physicians
To refer a patient for prostate cancer care, please call UCM Physician Connect at 1-800-824-2282.