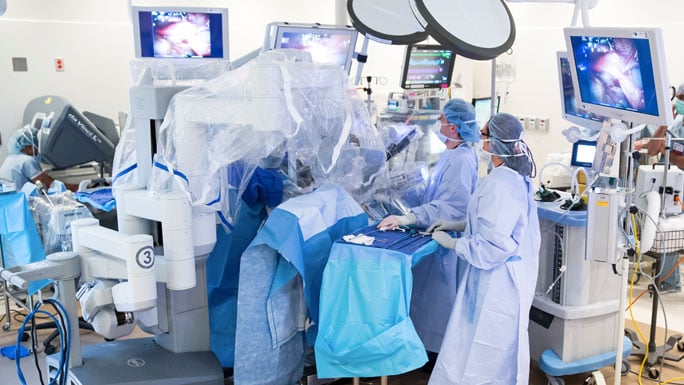 Surgery to remove the prostate gland (prostatectomy) is a common treatment for localized prostate cancer. Our team performed the first robotic prostatectomy in Illinois and has maintained the highest quality and volume since then. Surgery may be an option if:
The prostate cancer is newly diagnosed and localized to the pelvis
While on active surveillance, new cancer features are identified requiring a change in management
The prostate cancer recurs after radiation therapy
Our urologic surgeons use robot-assisted techniques for nearly all radical prostatectomies, which also includes the removal of the seminal vesicles and portions of the vas deferens. During this minimally invasive procedure, the surgeon controls the surgical tools from a console in the operating room. The robotic surgical system gives the surgeon a three-dimensional view and a greater range of motion and allows for better surgical precision while performing this highly technical procedure. Robotic surgery has many advantages for the patient including:
Smaller incisions
Less pain
Shorter hospital stay
Fewer complications
Quicker return to daily activities
Because the prostate gland is surrounded by nerves and involved in other structures important for sexual function and urination, radical prostatectomy is a complex procedure that requires a highly experienced urologist. Urologic surgeons at the University of Chicago Medicine specialize in techniques that remove prostate cancer tissue while preserving the surrounding nerves, when appropriate. This optimizes the chances of maintaining normal urinary and sexual function following the surgery. We maintain detailed data regarding the cancer, urinary function and sexual function for all of our patients. The goals of this data collection are to provide quality feedback to the surgeons, realistic expectations for patients and opportunities for constant improvement and information for research.
A Leader in Robotic Surgery for Prostate Cancer
The urology program at UChicago Medicine has one of the largest and most experienced robotic surgery teams in the country. Our urologists pioneered robot-assisted surgery for prostate cancer in the early 2000s and have performed more than 5,000 prostatectomies since that time.
Request an Appointment for Prostate Cancer Care
The information you provide on this secure form to request an appointment with a UChicago Medicine prostate cancer expert will enable us to assist you as efficiently as possible. A representative will contact you within one to two business days to help you schedule an appointment.
You can also make an appointment with our providers by:
– Scheduling a virtual video visit to see a provider from the comfort of your home
– Requesting an online second opinion from our specialists
To speak to someone directly, please call 1-855-702-8222. If you have symptoms of an urgent nature, please call your doctor or go to the emergency room immediately.
For Referring Physicians
To refer a patient for prostate cancer care, please call UCM Physician Connect at 1-800-824-2282.