PSMA PET Scans Are the Best Available Method to See Prostate Cancer Anywhere in the Body
University of Chicago Medicine is one of the first hospitals in Illinois to offer PSMA PET diagnostic testing for patients with prostate cancer. This powerful new tool is more accurate than previously used diagnostic imaging scans and promises improved prostate cancer care.
What is PSMA PET imaging for prostate cancer?
PSMA PET is a diagnostic tool that uses a type of medical imaging called positron emission tomography (PET) to detect prostate cancer anywhere in the body. PSMA stands for prostate specific membrane antigen, a protein found on the surface of prostate cancer cells.

How do PSMA PET scans work and what are their benefits?
We've been using PET imaging to detect cancers for decades. Until recently, however, we haven't been able to image prostate cancer well because older PET radiotracers – these are radioactive molecules that stick to cancer cells and can be seen on PET scans – do not routinely bind to prostate cancer. However, a new radiotracer, piflufolastat F-18 (also known as 18F-DCFPyL or PyL), does bind to the PSMA on prostate cancer cells. Doctors can look at a PET scan and see if piflufolastat 'lights up' prostate cancer cells anywhere in the body.

Today, PSMA PET is the single best method we have to precisely visualize prostate cancer in the body. Knowing the anatomic location of prostate cancer helps us make better treatment decisions and monitor a patient's response to therapy.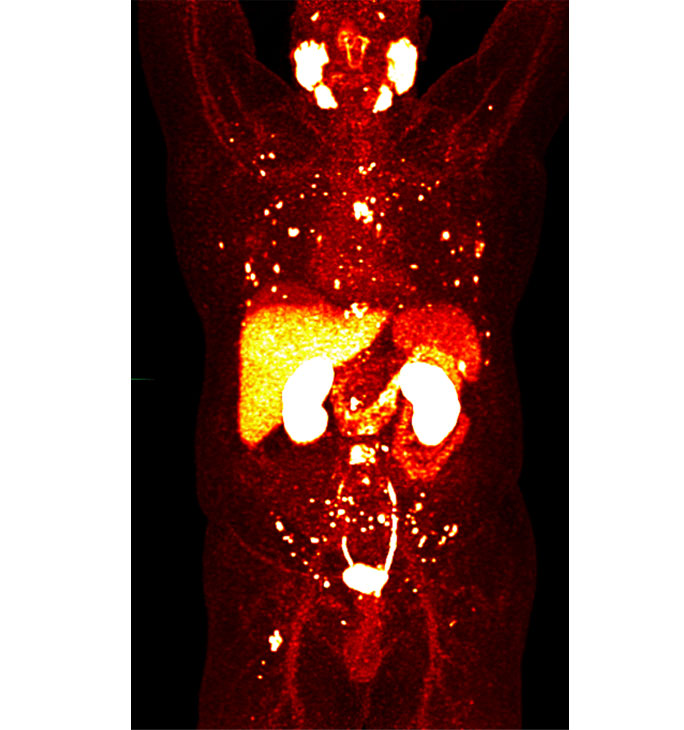 How do PSMA PET scans differ from current prostate cancer imaging options, such as CT or prostate MRI?
PSMA PET directly targets the tumor on a molecular level to show disease more accurately and at an earlier stage. It easily outperforms conventional imaging; CT, MRI and bone scans cannot match the ability of PSMA PET to find very small tumors.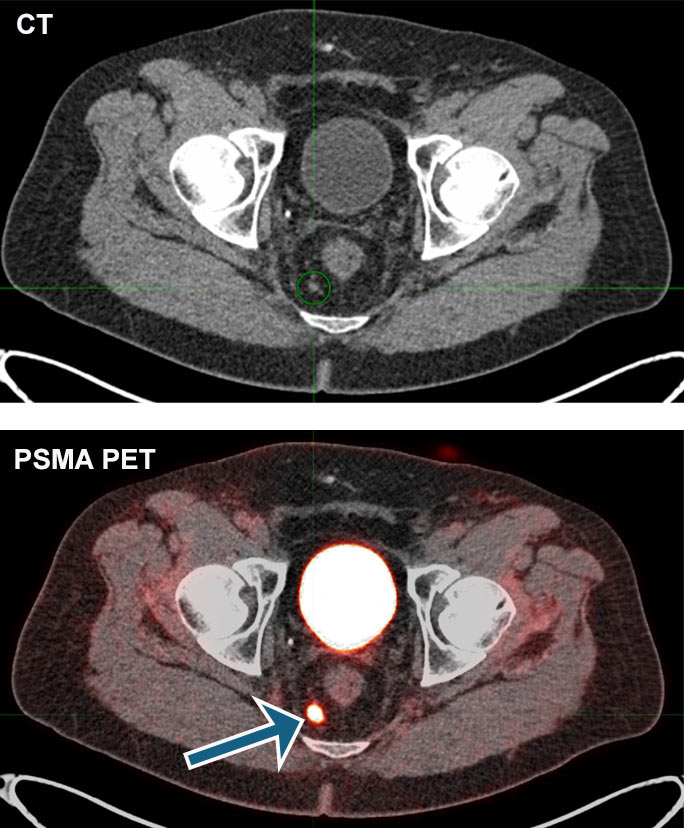 Who is a candidate for PSMA PET imaging?
PSMA PET is approved for patients whose prostate cancer has likely spread to other parts of the body and is potentially curable with radiation, surgery or other types of treatment. Patients with a suspected recurrence of prostate cancer (after local/prostate-directed therapy) based on a rise in their PSA level are also eligible.
What happens during a PSMA PET scan?
It's simple, and you don't have to prepare beforehand for the procedure:
Once you arrive at the clinic, you'll change into a hospital gown and receive an intravenous injection in your arm that contains the radiotracer. You'll wait roughly one hour so that it's absorbed throughout your body.

You'll be brought to our PET imaging machine, where you'll lie still for roughly 20 minutes as the machine scans your body. Once this is complete, you may leave.

The scans are sent (usually on the same day) to the nuclear medicine physician to evaluate. That report and the PET images are then reviewed by your cancer doctor.
Has the radiotracer used in PSMA PET scans been approved by the FDA?
The radiotracer piflufolastat, also known as Pylarify, is safe and FDA-approved. Side effects are rare and temporary and may include headache and a change in taste. Piflufolastat is a radionuclide dye, so it contains a small amount of radiation. The amount is similar to the exposure you receive during a CT scan and the tracer's radioactive element is entirely gone from your body within a few days.
What happens if my PSMA PET scan detects tumors?
It depends on the specifics of each individual patient's cancer. Your care team will discuss possible treatments with you. This may involve therapy targeting specific areas of cancer, systemic (body-wide) therapy, or both.
You may be a candidate for a new theranostic treatment called lutetium-177 PSMA therapy (also known as lu-177 PSMA therapy or Pluvicto), a companion treatment that also targets the PSMA molecule, but is made of a stronger type of radiation that kills the cancer cells.
Why should I choose UChicago Medicine for PSMA PET imaging?
Our physicians are highly knowledgeable in PSMA PET technology and interpreting the scans.
UChicago Medicine was the only institution in Chicago to participate in both the CONDOR and OSPREY clinical trials required for the FDA approval of Pylarify. Our urologists, medical oncologists, radiologists, nuclear medicine physicians, and radiation oncologists collaborate closely to provide therapies based on the entirety of a patient's diagnostic information.
We offer a specialized clinic, the University of Chicago Medicine High-Risk and Advanced Prostate Cancer Clinic (UCHAP), for patients at high risk for prostate cancer and those diagnosed with advanced disease.

UChicago Medicine uses state-of-the art PET imaging equipment and is increasing the number of PET machines it operates so you won't have to wait long for an appointment.

UChicago Medicine researchers conduct joint studies with the University of Chicago's Argonne National Laboratory, the only academic cyclotron in Chicagoland that allows us to develop and manufacture novel radiotracers like the ones used in PSMA PET.
Learn more from our prostate cancer experts about how PSMA PET improves prostate cancer care.
How can I get a PSMA PET scan at UChicago Medicine?
A PSMA PET scan requires a physician's order, whether or not you are a patient at UChicago Medicine. Our team can help you to determine if your insurance plan covers PSMA PET scans.
Call us to request an appointment:
Or complete the appointment request form below.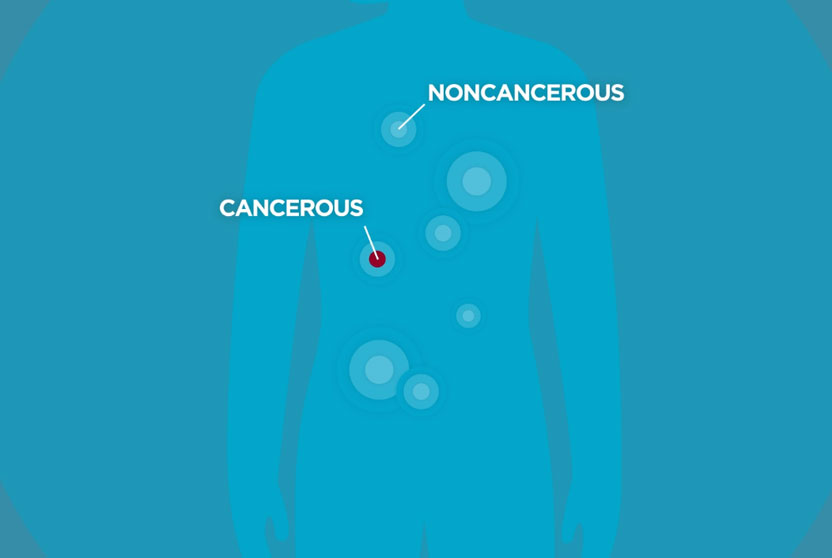 What is theranostics?
Theranostics is a growing field that's improving life expectancy and quality of life for people with certain types of metastatic cancers, including prostate cancer, thyroid cancer, neuroendocrine tumors and neuroblastoma. Learn how theranostics can kill cancer anywhere in the body.
Watch Video
Watch Video With Transcript
Convenient Locations for PSMA PET Scans
Request an Appointment for a PSMA PET Scan
The information you provide will enable us to assist you as efficiently as possible. A representative will contact you within one to two business days to help you schedule an appointment.
To speak to someone directly, please call 1-855-702-8222. If you have symptoms of an urgent nature, please call your doctor or go to the emergency room immediately.
Prostate Cancer Related Articles