Focused Care for Men at High Risk for Prostate Cancer and Those with Advanced Disease
Prostate cancer is one of the most common and deadly cancers for American men. To better assist men at risk for the disease, we created the University of Chicago Medicine High-Risk and Advanced Prostate Cancer Clinic (UCHAP). The program provides a comprehensive genetic evaluation and multifaceted screening plan for men with an increased prostate cancer risk. If you've been recently diagnosed with aggressive forms of prostate cancer, our team also offers novel treatment strategies as well as access to leading-edge clinical trials.
Why Choose Us?
Our team works with men who've been diagnosed with aggressive prostate cancer as well as those who have an elevated risk for developing prostate cancer in the future, typically due to genetic or inherited risk factors.

Prostate cancer risk factors:
A family history of prostate cancer (including your brothers, father, grandfathers or uncles)
Multiple family members who've had prostate cancer
A single family member who's had high-grade, advanced or metastatic prostate cancer
African ancestry
Ashkenazi Jewish ancestry
You or certain family members have certain genetic risk factors (e.g. BRCA1, BRCA2, ATM, CHEK2)
A family history of breast, ovarian or pancreatic cancer
Indications of aggressive or high-risk prostate cancer:
Metastases (cancer in more than one location) at your initial diagnosis
A PSA (prostate-specific antigen) score that's greater than 20 ng/ml
A Gleason score that's greater than or equal to 8 and a Gleason grade group that's greater than or equal to 4
High volume of Gleason 7 and a Gleason grade group that's greater than or equal to 3
Evidence that your prostate cancer is extending outside the prostate capsule into the seminal vesicles or pelvic lymph nodes
Clinical Trials
UChicago Medicine is a major center for conducting prostate cancer research through the National Cancer Institute and private sponsors. Additionally, UChicago Medicine sponsors many clinical trials that are designed by our own prostate cancer experts.

These clinical trials are testing novel surgical, radiation and medical treatments to fight prostate cancer and improve patients' quality of life. Men who participate in prostate cancer research studies have a chance to benefit from treatments that have shown promise in previous research but are not yet widely available to the public.

If you've already been diagnosed with prostate cancer, you may be eligible to participate in a clinical trial to test new treatment strategies.
Team-Based Care
Our clinic includes a multidisciplinary team of specialists who provide high-quality screening and treatment strategies for men with prostate cancer, including:
Access to novel blood, urine and tissue-based biomarkers
Advanced, PSMA PET imaging technology and high-quality multiparametric 3T MRI imaging
Lutetium-177 PSMA therapy, a new theranostic treatment that targets metastatic prostate cancer anywhere in the body
Access to the latest clinical trials to improve cure rates for men with high-risk prostate cancer.
Our expert team includes urologists, geneticists, medical oncologists, radiation oncologists, radiologists, pathologists, care navigators and research scientists who work together to provide the most advanced clinical care for men with prostate cancer.

Beyond our treatment strategies, we're also committed to conducting comprehensive patient profiling and biobanking to advance scientific knowledge and ultimately improve prostate cancer treatment for men everywhere.
High Risk & Advanced Prostate Cancer Clinic Physician Team
Genetic Counselor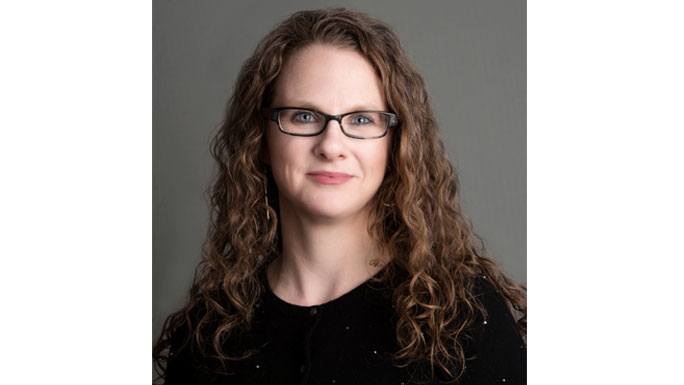 Feighanne Hathaway, MS, CGC, is a licensed and board-certified genetic counselor in the Section of Hematology/Oncology at the University of Chicago Medicine. Hathaway received her bachelor of science in liberal arts and sciences from the University of Illinois Champaign-Urbana and a master of science in genetics from Sarah Lawrence College. Prior to joining the University of Chicago, Hathaway established genetic counseling services at the NYU Clinical Cancer Center when it opened. She was a part of the National Ovarian Cancer Early Detection Program and co-started a support group for young women with BRCA mutations at NYU. Her research interests include genetic susceptibility to breast, ovarian and prostate cancers, as well as other rare cancers. Additionally, she is interested in making genetic services available to underrepresented or underserved populations as well as training more professionals in genetics to meet the growing demands of genetic testing. She is a member of the National Society of Genetic Counselors (NSGC) and the Genetic Task Force of Illinois and currently serves as the co-chair for the Cancer SIG Communications Division at NSGC.
Early detection, effective treatment eases fears for third brother with prostate cancer
Ken Karr, 56, has a family history of prostate cancer. So after his doctor found a small lesion in his prostate, Karr came to the UChicago Medicine High-Risk and Advanced Prostate Cancer clinic for help.

Read Karr's Story
Clinical trial evaluates prostate cancer screening technique for high-risk patients
A clinical trial at the UChicago Medicine is evaluating a novel cancer screening protocol for men with a high risk of developing prostate cancer. Mark Vazzana, 47, participated in the new screening regimen in June 2020. Testing found that he is susceptible to cancer. He now has yearly screening tests and a prostate MRI every three years.
Read Vazzana's Story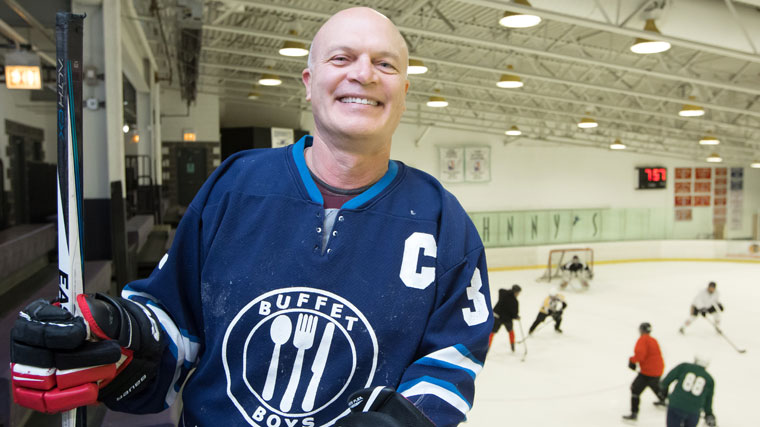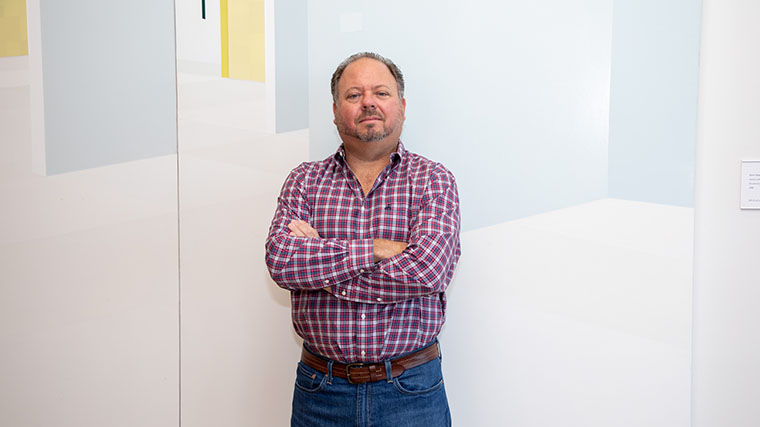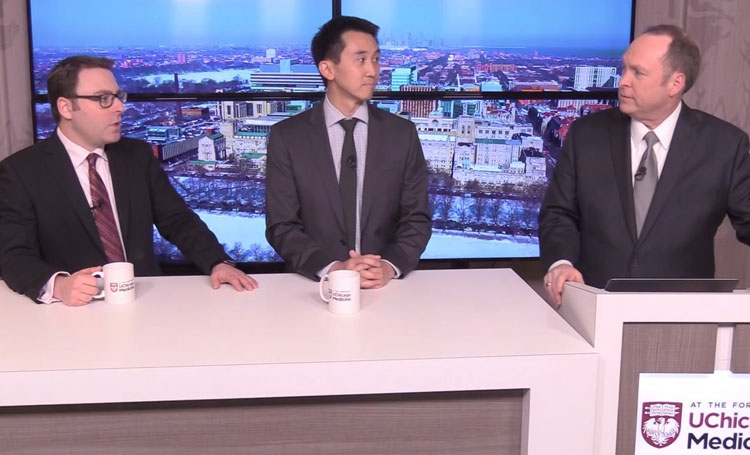 Prostate Cancer Q & A
UChicago Medicine prostate cancer experts answer questions about the latest prostate cancer treatments, hereditary factors that increase the risk for prostate cancer and advanced research under way to improve the diagnosis and treatment of prostate cancer.
Watch Video
Watch Video With Transcript
Request an Appointment for Prostate Cancer Care
The information you provide on this secure form to request an appointment with a UChicago Medicine prostate cancer expert will enable us to assist you as efficiently as possible. A representative will contact you within one to two business days to help you schedule an appointment.
You can also make an appointment with our providers by:
– Scheduling a virtual video visit to see a provider from the comfort of your home
– Requesting an online second opinion from our specialists
To speak to someone directly, please call 1-855-702-8222. If you have symptoms of an urgent nature, please call your doctor or go to the emergency room immediately.
For Referring Physicians
To refer a patient for prostate cancer care, please call UCM Physician Connect at 1-800-824-2282.