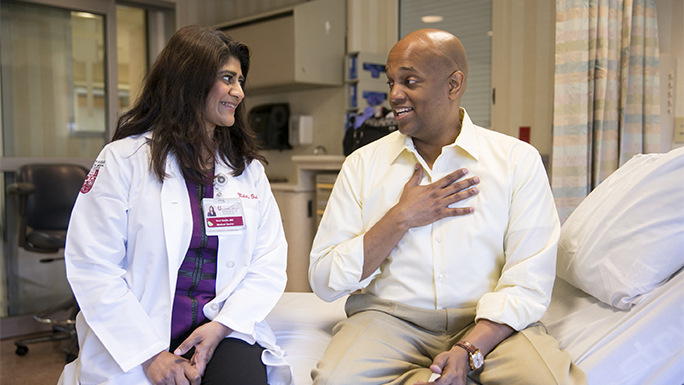 Our Comprehensive Cancer Center is committed to exploring and developing innovative ways to prevent and reduce cancer's devastating effects through a collaborative research program. With more than 200 cancer specialists, leading-edge research, and new and better treatments, we are attacking cancer from every angle.
The Center is:
Nationally ranked in cancer care by U.S. News & World Report
One of two NCI-designated Comprehensive Cancer Centers in Illinois
One of 30 U.S. institutions selected as Lead Academic Participation Sites for the NCI's National Clinical Trials Network (+300 open therapeutic trials with +1,000 patients enrolled each year)
Transplant & Cell Therapy Program
First site in U.S. to be certified for FDA-approved CAR T-cell therapies for specific blood cancers in both adult and pediatric patients. More than 150 patients infused to date
More than 200 bone marrow/stem cell transplants performed annually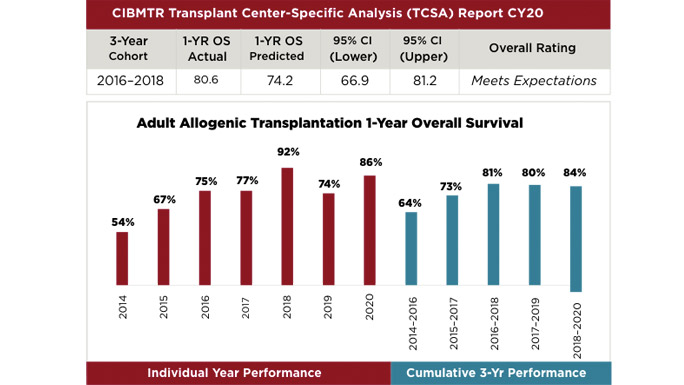 Regional Therapies (HIPEC) Program
One of the world's few hospitals to offer Hyperthermic Intraperitoneal Chemotherapy (HIPEC) for both adult and pediatric patients
One of highest-volume HIPEC programs in the U.S.: 114 cases (FY20) (Source)
30-day mortality (FY20): 1% (vs. 4.9% of benchmark programs)
Learn how HIPEC works
Head & Neck Cancer
Neuroendocrine Tumors
One of the country's first centers to offer Peptide Receptor Radionuclide Therapy
Learn about neuroendocrine tumors
Gastrointestinal Cancers
Approximately 100 Whipple procedures for pancreatic cancer annually
Rated High Performing in Colon Cancer Surgery by U.S. News & World Report
What Is the Whipple Procedure?
[MUSIC PLAYING] Surgery may be an option for patients with pancreatic cancer. The Whipple procedure is the most common surgery to remove cancer in the pancreas. This is also called the pancreaticoduodenectomy. The goal of the Whipple surgical procedure is to remove an entire tumor in the head or neck of the pancreas.

UChicago Medicine is one of few centers in the country that offer the Whipple procedure using both traditional open and robot-assisted techniques. An expert multi-disciplinary team of cancer doctors needs to go over every patient's case. The surgeon then discusses the risks and benefits with each patient to determine if the Whipple is right for them.

During the procedure, the surgical team removes the head of the pancreas. Then they remove the first portion of the small intestine, or duodenum, gallbladder, part of the bile duct, and nearby lymph nodes. In some cases, a small part of the stomach and portions of the nearby artery and vein may also need to be removed.

The final step is to reconnect the pancreas with the bile duct, stomach, and intestine so food can pass through the digestive system once again.

UChicago Medicine works to enhance recovery so patients can go home as soon as possible. Depending on the type and stage of the tumor, patients may undergo outpatient chemotherapy before or after surgery, or both. Because the Whipple surgery is a complex procedure, it's important to be treated by a highly experienced surgical team.

The American Cancer Society recommends patients have the Whipple operation at a hospital that does at least 15 to 20 of these surgeries per year. Surgeons at UChicago Medicine perform up to five times that many Whipple procedures annually. Want more information about pancreatic cancer and the Whipple procedure? UChicago Medicine is here to help.
Lung Cancer
Rated High Performing in Lung Cancer Surgery by U.S. News & World Report
Urologic Cancer
Top 10 programs in the world for highest volume of robotic surgeries (>7,000)
One of the nation's first medical centers to offer focal therapies (MRI-guided laser ablation and high-intensity focused ultrasound, or HIFU) for early-stage prostate cancer
Gynecologic Cancer
The UChicago Medicine gynecologic oncology team is led by Ernst Lengyel, MD, PhD, who has performed more than 500 surgeries for all stages of ovarian cancer, achieving a five-year survival rate of 70%, compared to the national average of 40%.
Request an Appointment
Please complete this secure form. The information you provide will enable us to assist you as efficiently as possible. A representative will contact you within 24 hours to help you schedule an appointment.
Please note that electronic request form is not for same- or next-day appointments. If you prefer to speak to someone directly, please call +1-773-702-0506. If you have symptoms of an urgent nature, please call your doctor or go to the emergency room immediately.