How Does CAR T-cell Therapy Work?
Clinical trials at UChicago Medicine helped develop CAR T-cell therapy for leukemia and lymphoma patients. By removing, supercharging, then returning white blood cells into the bloodstream with instructions to find and kill cancer cells, this living drug can often result in full remission. The process works like this, CAR T-cell therapy uses genetically engineered versions of the patient cells to find tumor cells and kill them with minimal damage to healthy cells.

In the first part of the process, T-cells, the workhorse of the immune system, are collected from the patient's blood. Then scientists insert instruction that enable those T-cells to find specific cancer cells. While the T-cells multiply in the lab, the patient receives chemotherapy to reduce the number of cancer cells. And finally, the engineer T-cells are returned to the patient's bloodstream, where they seek out and kill remaining cancer cells. For more information about this exciting new treatment, visit UChicagoMedicine.org/defeatcancer or call 844-482-7823
CAR T-cell therapy is a multi-step process that takes place over several weeks:
Collecting the T cells. T cells are collected through apheresis. This simple, non-invasive process removes the T cells from the blood (similar to the method for blood donation) and returns the remaining blood back into the body.
Supercharging the T cells. Scientists in a laboratory insert an antibody-like protein called a chimeric antigen receptor (CAR) on the surface of the T cells.
Multiplying the CAR T cells. CAR T cells multiply in the lab until they number in the millions. The cells are then frozen and returned to the patient's hospital.
Infusing the CAR T cells. While waiting in the hospital, many patients will undergo a brief course of chemotherapy. When the CAR T cells are returned to the patient's bloodstream, they continue to multiply. They now act as "attacker" cells: seeking out, recognizing and destroying cancer cells that have the targeted antigen on their surface.
After CAR T-cell therapy. Patients stay in the hospital for a minimum of two weeks for monitoring and treatment of side effects, including potential adverse events. CAR T cells can remain active in the body and continue to safeguard the patient against recurrence of the cancer, bringing long-term remission.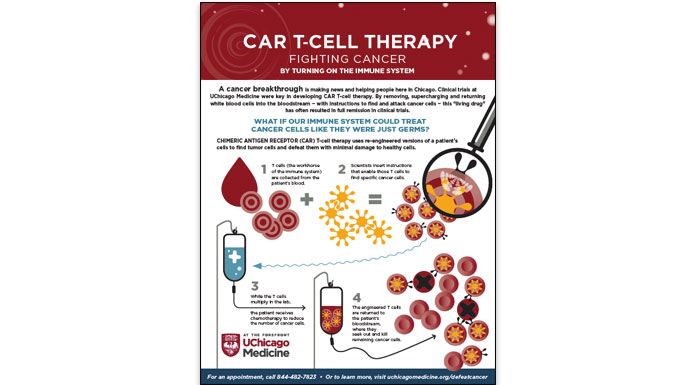 Convenient Locations for Cancer Care
Request an Appointment for CAR T-Cell Therapy
The secure form to request an appointment with a UChicago Medicine CAR T-cell therapy expert will enable us to assist you as efficiently as possible. A representative will contact you within one to two business days to help you schedule an appointment.
You can also make an appointment with our providers by:
– Scheduling a virtual video visit to see a provider from the comfort of your home
– Requesting an online second opinion from our specialists
– Filling out an online questionnaire (e-visit) to get a same-day diagnosis and treatment for common conditions.
To speak to someone directly, please call 1-844-482-7823. If you have symptoms of an urgent nature, please call your doctor or go to the emergency room immediately.
For Referring Physicians
To refer a patient for CAR T-cell therapy, please call 1-844-482-7832.
CAR T-Cell Therapy Articles