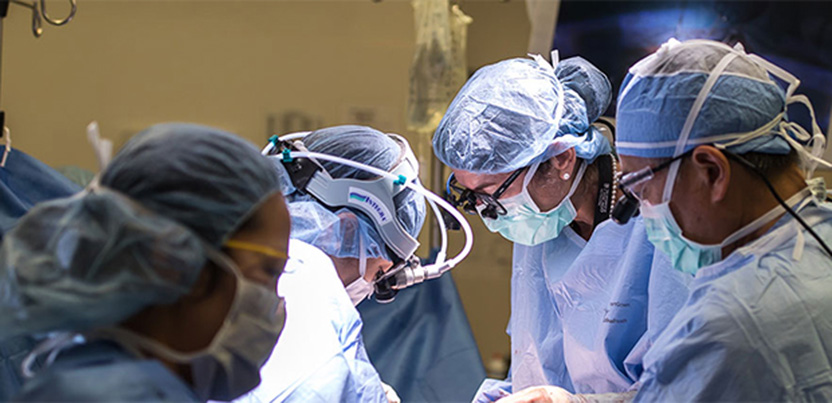 Ever since the first human organ transplant was performed at UChicago Medicine, our transplant program has continued to be a world leader. Our experts use revolutionary approaches and strive to complete transplants quickly with exceptional outcomes. We are a world leader in multi-organ transplant for the sickest patients.
One-Year Survival of Multi-Organ Transplant Patients

Liver Transplant
Performed the first successful living-donor liver transplantation in the world
One of the few centers offering liver autotransplant for tumors in hard-to-reach locations
Lung Transplant
The first hospital in Illinois to use ex vivo lung perfusion (EVLP) to prepare donor lungs for transplant, increasing the number of available donor lungs and decreasing the risk of life threatening complications
Kidney Transplant
The least invasive technique for nephrectomy involves making a single, small incision inside the belly button, thereby concealing the scar afterward
Pancreas & Islet Transplant
One of a few U.S. hospitals to offer autologous islet cell transplantation after total pancreatectomy
One Year After Triple Transplant Surgery
In December 2018, Sarah McPharlin and Daru Smith received new hearts, livers and kidneys. The story of their friendship captured the attention of millions. Since their surgeries, UChicago Medicine has performed four more triple transplants. No other medical facility in the world has done as many.
Read more about Sarah and Daru's transplant story

Request an Appointment
Please complete this secure form. The information you provide will enable us to assist you as efficiently as possible. A representative will contact you within 24 hours to help you schedule an appointment.
Please note that electronic request form is not for same- or next-day appointments. If you prefer to speak to someone directly, please call +1-773-702-0506. If you have symptoms of an urgent nature, please call your doctor or go to the emergency room immediately.