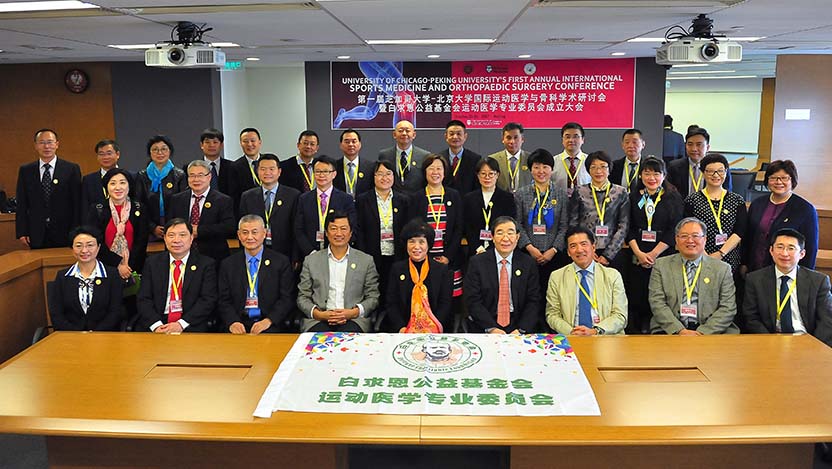 Our clinical and administrative experts are committed to sharing the best practices in medicine and hospital operation with the rest of the world. We offer practical education and training programs customized to meet the specific needs of international healthcare organizations and professionals.
Leadership Education
Experts at UChicago Medicine share their expertise and best practices in hospital management and operations with healthcare leaders from all over the world through customized programs such as hospital executive training and nursing leadership education.
Clinical Observership Program
UChicago Medicine provides international physicians, nurses and allied health professionals the opportunity to observe a variety of clinical specialties. This allows them to learn about clinical practice and management through various teaching methods.
Global Clinical Conferences
In collaboration with selected global partners, UChicago Medicine hosts clinical conferences and webinars to share our clinical expertise and knowledge with clinicians all over the world.
Hospital Management Training
UChicago Medicine offers a unique experience to learn the best practices of hospital management and operations throughout lectures, discussions and onsite shadowing for different level of trainees, including management leaders and junior staff. Training is customized based on the organization's specific needs, and varies from one to four weeks for completion.
Upcoming Courses
See a list of upcoming events
The Sino-US Forum of Treatment of Intracranial Vascular Diseases
As a part of a collaborative engagement with Shanghai Blue Cross Brain Hospital (SBCBH) to support its neuroscience service line improvement starting from January of 2020, UChicago Medicine co-hosted an Annual Neuro International Summit along with SBCBH presenting our expertise in intracranial vascular diseases to 3,000 Chinese physicians who attended the summit either in-person or virtually.
Comprehensive Management and Mechanical Ventilation Course for Patients with COVID-19
UChicago Medicine hosted a joint virtual education course on the comprehensive management and mechanical ventilation for patients with COVID-19 in partnership with CEMIC, a non-profit academic medical center in Argentina.
​UChicago Medicine China Forum on Innovations in Cancer Treatment
UChicago Medicine International Programs hosts its annual China Forum at UChicago Center in Beijing. In 2019 forum, our experts in cancer cellular therapy shared their expertise with colleagues in China.
2nd Global Health Executive Training
UChicago Medicine organizes its annual Global Health Executive Training program to share our best practices in hospital management and operation with hospital executives from all around world. Hospital leaders in China and South Korea attended the 2nd UChicago Medicine Global Health Executive Training.
1st Global Health Executive Training
The first Global Health Executive Training was offered to hospital leaders from Saudi Arabia and South Korea.
China Health Executive Training
UChicago Medicine offers customized education programs to meet the specific needs of international partners. We worked with a Chinese government agency to offer customized leadership education to Chinese hospital executives.