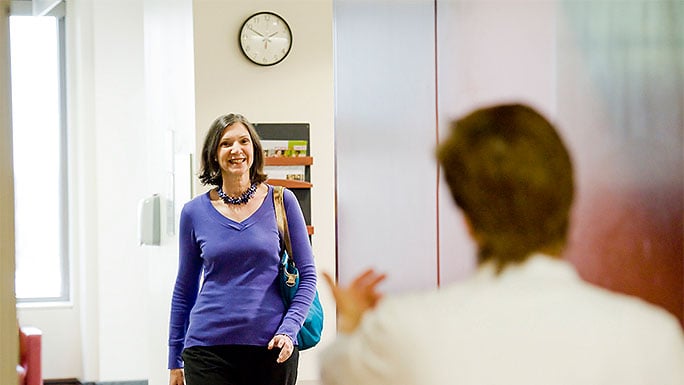 Menopause is the natural phase of life after your menstrual cycles come to an end. It is diagnosed one year after the last period due to decreased production of estrogen from the ovaries. Women in menopause can no longer become pregnant.

If you are age 40 or above and you haven't had a period for 12 consecutive months, you most likely have entered menopause. For some, menopause may begin after certain medical procedures, such as an oophorectomy (removal of the ovaries, with or without removal of the uterus), radiation or chemotherapy. A small percentage of women experience menopause earlier than most due to surgery, medical treatments, or genetic disorders.
What is perimenopause?
For some women, menopause is associated with bothersome symptoms that often start several years before the final menstrual period. Perimenopause is the time leading up to the final period, when menstrual cycles become irregular and other symptoms begin.
Our Unique Approach to Menopause Care
The Center for Women's Integrated Health offers a personalized approach to managing symptoms associated with menopause. Our certified menopause practitioners are experts in helping women through this natural phase of life. Every woman experiences menopause differently. At UChicago Medicine, your care reflects that uniqueness. 
Our gynecologists provide customized menopause consultations on an individual basis. We offer comprehensive evaluations and treatment for numerous medical problems that affect women in midlife, and our interdisciplinary approach provides patients with leading-edge care in state-of-the-art facilities.
Schedule an In-Person or Virtual Consultation with a Menopause Specialist

Menopause Symptoms
Symptoms can vary in duration and severity. Some women experience mild symptoms for a short period of time, while others may have more severe symptoms lasting up to 10 years — sometimes longer.
Usually most bothersome during the years around the final menstrual period, symptoms of menopause may include:
Irregular menstrual cycles
Hot flashes and night sweats (vasomotor symptoms)
Mood changes, such as anxiety, depression or irritability
Skin irritation, such as dryness, redness or acne
Genitourinary symptoms, such as vaginal dryness, irritation, pain or bleeding with sex, urinary frequency/urgency or recurrent UTIs
Decreased libido (sex drive)
Sleep loss
Cognitive deficits (difficulty thinking or understanding)
Menopause Treatment Options
Menopause is a natural process. For many, treatment is unnecessary; however, for those who experience severe symptoms that impact quality of life, treatment may be beneficial. Fortunately, there are numerous safe and effective treatment options that can help.
Hot Flashes and Night sweats (Vasomotor Symptoms)
Almost 80% of women will experience vasomotor symptoms, most commonly referred to as hot flashes and night sweats. For some, these symptoms are mild and infrequent; while others experience them more severely throughout the day and night, sometimes leading to disrupted sleep and daily function.

Treatments include:
Behavioral intervention, such as:


Cognitive behavioral therapy (CBT) for sleep loss
Weight management
Clinical hypnosis

Stellate ganglion blockade, an injection of medication into nerves in the lower neck
Prescription drugs (Talk with your doctor about options based on your symptoms and your health history.)
Genitourinary Symptoms
During perimenopause and menopause, you may also experience genitourinary symptoms such as:
Vaginal dryness, irritation or itching
Pain or bleeding with intercourse
Urinary frequency, urgency or recurrent UTI
There are two estrogen-free medications approved to manage vaginal and urinary symptoms associated with menopause:
Oral ospemifene
Dehydroepiandrosterone sulfate (DHEAS) steroid hormone vaginal insert
Over-the-counter vaginal moisturizers and lubricants can also help to minimize dryness and pain with intercourse.
Additionally, low-dose estrogen therapy options — include vaginal cream, vaginal tablets or a vaginal ring — are safe to start after menopause for use as long as needed. Progesterone supplementation is not required.
Menopause Research and Clinical Trials
UChicago Medicine frequently conducts research on health issues affecting women both before and during menopause. As a participant in UChicago Medicine clinical trials, you may gain access to experimental treatments that are not widely available at other hospitals. Ask your doctor if participating in a clinical trial could be right for you, or check UChicago Medicine's listing of clinical trials for obstetrics and gynecology studies currently enrolling patients.
Meet Our Certified Menopause Practitioners
Center for Women's Integrated Health
Our specialists focus on your hormones and other factors that uniquely impact you to create personalized care plans for complex health challenges, including: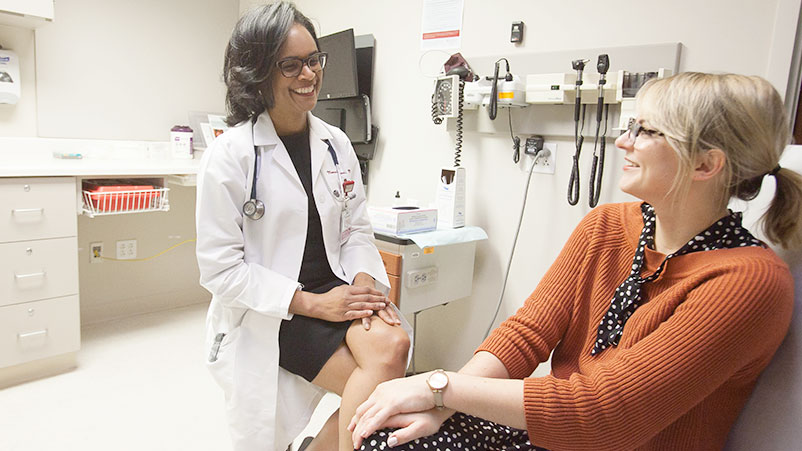 Find a Menopause Specialist in Chicago a Suburb Near You
Request an Appointment
You can also schedule an appointment instantly for in-person and video visits through our online scheduling portal.
The information you provide will enable us to assist you as efficiently as possible. A representative will contact you within one to two business days to help you schedule an appointment.
To speak to someone directly, please call 1-888-824-0200. If you have symptoms of an urgent nature, please call your doctor or go to the emergency room immediately.
Obstetrics and Gynecology Articles