Recognized as Top Gastroenterologists in Chicago and its Nearby Suburbs
The University of Chicago Medicine has a long history of digestive discoveries. Today, our gastroenterologists are proud to continue the tradition, which offers you access to some of the best minds in medicine.
GI specialists at UChicago Medicine's Digestive Diseases Center provide outstanding gastrointestinal care near you. Our highly specialized physicians have decades of experience treating patients with rare and complex gastrointestinal conditions.
Our GI Specialists are Pioneers in the Latest Treatments
These medical leaders are the same gastroenterologists who are researching new GI treatments and shaping the future of digestive disease care. That means our patients receive the most advanced treatments available because our GI doctors are the ones pioneering them.
Our gastroenterology specialists believe in providing personalized medicine, which is not only best for patients but is key to an accurate GI diagnosis and productive treatment plan.
Our style of truly individualized care requires years of expertise, forward-thinking and, most importantly, physician collaboration. This approach allows our gastroenterologists to deliver truly exceptional patient care.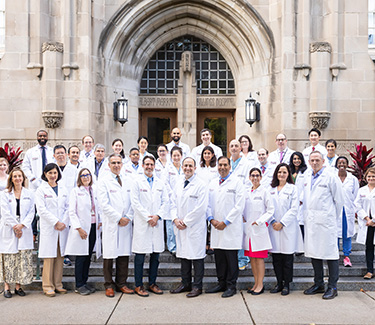 World-Renowned Gastroenterology Specialists
The University of Chicago Medicine is home to top gastroenterologists in Chicago and its surrounding suburbs. Use our Find a Doctor tool to filter your search, or explore our gastroenterology specialists team pages below.
Find a GI Doctor
GI Specialist Teams at UChicago Medicine
Our Gastroenterology Locations