At the Forefront of Transplant Surgery in Chicagoland
Transplant surgeons at the University of Chicago Medicine recognize the importance of curing disease while also preserving a patient's quality of life. This means offering high quality, state-of-the-art medical care at convenient locations near you, with attention to your emotional and spiritual needs.
Under the leadership of world-renowned physicians John Fung, MD, PhD, and Michael Charlton, MD, our transplant surgeons are at the forefront of transplantation. We are dedicated to our mission of providing superior health care in a compassionate manner, mindful of each patient's dignity and individuality. With these goals in mind, we partner with top UChicago Medicine physicians to support our patients and offer the best care possible.
In addition to doctors and transplant surgeons, our specialty team includes transplant nurses, nutritionists, social workers, pharmacists and other experts devoted to providing the best transplant care possible.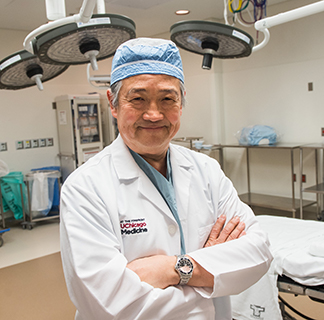 World-Renowned Transplant Specialists
The University of Chicago Medicine is home to hundreds of medical experts. Explore our team pages below.
Chicagoland Transplant Care Locations