At the University of Chicago Medicine, our pancreatic disease care team comprises of physicians of several specialties, including gastroenterology, interventional endoscopy, surgery, oncology, radiology, pathology, pain management and genetics. These experts are recognized leaders in pancreatic disease care and can offer top of the line diagnostic and treatment options that are not widely available.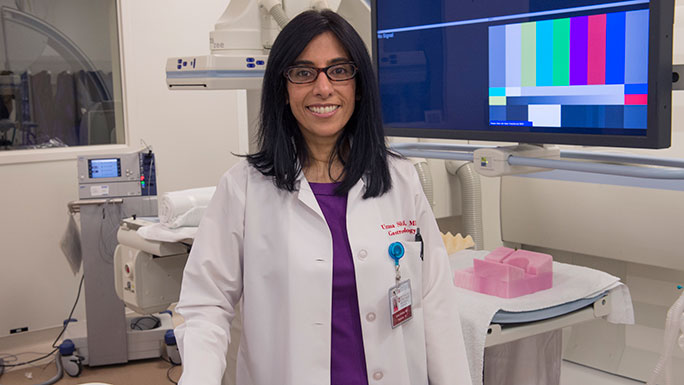 What is Pancreatitis?
Pancreatitis is inflammation of the pancreas activated by its own digestive enzymes inside the organ. Treatments are geared toward helping the pancreas recover from inflammation, preventing problems with other organs such as the kidneys and lungs and reducing pain and other symptoms.
UChicago Medicine gastroenterologists and gastrointestinal surgeons are experienced in diagnosing and treating all forms of pancreatitis.
Types of Pancreatitis
Diagnosis & Treatment
Our interventional endoscopy specialists can perform sophisticated, minimally invasive procedures to provide a more thorough diagnosis of chronic pancreatitis and other complex problems. We are one of a handful of hospitals in the country to offer total pancreatectomy with islet cell autotransplantation (autologous islet cell transplantation). Our surgical specialists offer treatment alternatives beyond traditional approaches, such as minimally invasive procedures and duodenum-sparing and spleen-sparing pancreatic resections.
Our pancreatic care team offers the full spectrum of diagnostic and treatment options for pancreatitis. In the few cases where surgical treatment of the pancreas is required, our specialists can perform a number of advanced procedures, including:
Autologous islet cell transplantation (islet cell autotransplantation) to prevent diabetes or limit diabetes after total pancreatectomy. This treatment is only available at select hospitals.
Duodenum-sparing pancreatic head resection, including the Beger procedure, the Frey procedure, and the Bern modification
Spleen-preserving pancreatic tail resection (distal pancreatectomy)
Minimally invasive (laparoscopic) pancreatic operations, such as pseudocyst drainage and distal pancreatectomy
Endoscopic (non-surgical) placement of pancreatic stents and drainage of pancreatic fluid collection
Request an Appointment
The information you provide will enable us to assist you as efficiently as possible. A representative will contact you within one to two business days to help you schedule an appointment.
You can also make an appointment with our providers by:
– Scheduling a virtual video visit to see a provider from the comfort of your home
– Requesting an online second opinion from our specialists
To speak to someone directly, please call 1-888-824-0200. If you have symptoms of an urgent nature, please call your doctor or go to the emergency room immediately.