Specialized Oncology Care & Research in the Elderly (SOCARE) Clinic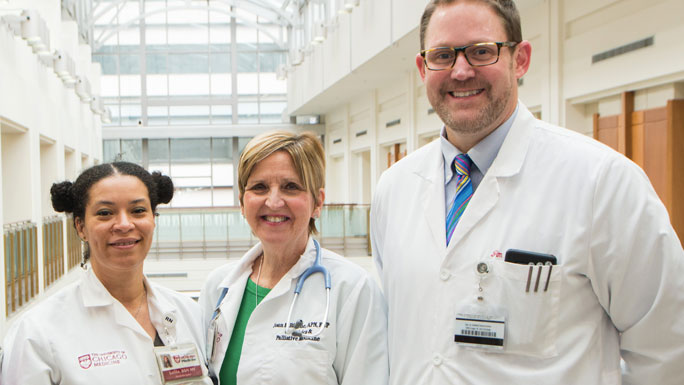 Older adults with cancer, especially frail older adults, often have different needs than younger adults who have cancer. The Specialized Oncology Care & Research in the Elderly (SOCARE) clinic at the University of Chicago Medicine campus was created in 2006 to anticipate and address the specific care needs of older adult cancer patients. The SOCARE clinic is unique in Chicago and is staffed by board-certified physicians with expertise in geriatric medicine and medical oncology.
In the SOCARE clinic, our specialists serve as partners in cancer care decision-making. We help patients, family members, loved ones and other physicians understand the benefits, risks and limitations of treating cancer in older adults. Our physicians work closely with each patient's cancer specialists (medical, surgical and radiation oncologists) to coordinate care and to help craft a comprehensive treatment plan that accounts for co-existing illness, functional limitations, cognitive impairment and socioeconomic barriers that may impact patient care.
It is our aim to balance patient expectations with a personalized approach toward maintaining and/or improving quality of life. We help support family and patient wishes by providing shared decision-making (whether it's to advocate for aggressive care versus a less intensive, balanced approach).
SOCARE clinic services are available to all older cancer patients who are at least 65 years old:
Consultative service providing comprehensive geriatric assessment
Cancer treatment including chemotherapy, radiation and/or surgery
Help with social and economic barriers to treatment
Multidisciplinary symptom management
Partnering with primary care physicians and/or providing primary support for cancer patients
Also, recognizing the distinct needs of either stem cell transplant or CAR T-cell therapy patients, the SOCARE team partners with UChicago Medicine cellular therapy experts to offer the Transplant Optimization Program (TOP) for adults (60 and over).
Our Geriatric Oncology Locations