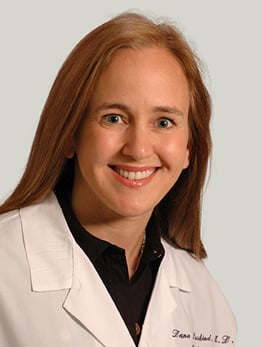 Pediatric Otolaryngology (ENT), Otolaryngology (ENT), Head and Neck Surgery | More
Professor of Surgery and Pediatrics Director, Pediatric Cochlear Implantation Program
Co-Director, TMW Center for Early Learning + Public Health
UChicago Faculty Physicians hold faculty positions with the University of Chicago and provide care for patients on the academic health system's main campus in Hyde Park and in care centers throughout the Chicago region.
Close
773-702-1865
Dana Suskind, MD, is a pediatric otolaryngologist who specializes in hearing loss and cochlea implantation. She directs the University of Chicago Medicine's Pediatric Hearing Loss and Cochlear Implant program.
Recognized as a national thought leader in early language development, Dr. Suskind has dedicated her research and clinical life to optimizing foundational brain development and preventing early cognitive disparities and their lifelong impact. She is founder and co-director of the TMW Center for Early Learning + Public Health, which aims to create a population-level shift in the knowledge and behavior of parents and caregivers to optimize the foundational brain development in children from birth to five years of age, particularly those born into poverty.
Her book "Thirty Million Words: Building a Child's Brain" was published in 2015.
Dr. Suskind has received several awards for her work, including the Weizmann Women for Science Vision and Impact award, the SENTAC Gray Humanitarian Award, the LENA Research Foundation Making a Difference Award, the Chairman's Award from the Alexander Graham Bell Association for the Deaf and Hard of Hearing in 2018, and the John D. Arnold, MD Mentor Award for Sustained Excellence from the Pritzker School of Medicine.
Connect with Dr. Dana Suskind at @drdanasuskind.
Read More About Otolaryngology