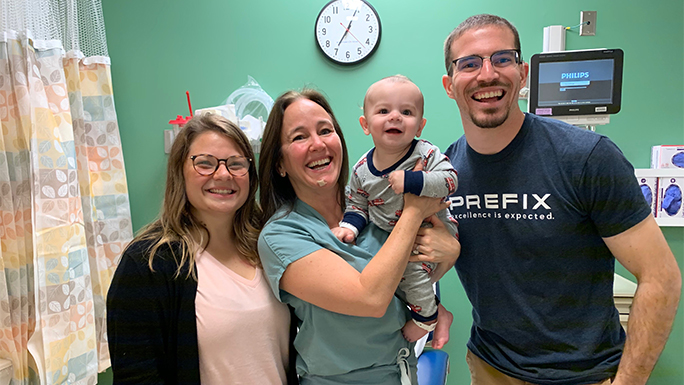 When considering a cochlear implant (CI), patients and their families should consider that the implant process is the start of a lifetime relationship with the institution and CI team where the surgery is performed Patients can feel confident that the University of Chicago CI program is outstanding. We routinely treat even the most complex cases, serving as one of the most comprehensive and experienced CI teams in the Chicagoland region
What is a cochlear implant?
A cochlear implant is different than a traditional hearing aid. In simple terms, a traditional hearing aid picks up sound via a microphone and makes it louder, sending the signal through your auditory system. This is considered an ACOUSTIC signal. With different hearing losses, a hearing aid may not provide enough audibility and speech clarity.
Cochlear implants use an ELECTRICAL signal to stimulate the hearing nerve and send the information to your brain using a surgically placed internal component. The sound is picked up by the microphones of an external piece worn behind the ear or on the head and communicates with the internal implant. This external processor can be taken off throughout the day. The image below shows the internal and external components of a cochlear implant.
Cochlear implant services
Our Cochlear Implant Program provides comprehensive testing for pre-implant candidacy, as well as post-implant rehabilitation and mapping services. Below please find a comprehensive list of available services:
Comprehensive hearing assessment
Cochlear implant consultations
Educational liaison to provide educational support
Mappings
Equipment checks and maintenance
Bimodal hearing aid services
Auditory verbal therapy
Aural habilitation therapy
Candidate speech-language evaluations
Who is a candidate for cochlear implants?
Cochlear implants are not for everyone. To know whether a cochlear implant may be right for your child, we first need to know the extent of his or her hearing loss.
Cochlear implants are used to help children who have sensorineural hearing loss who get little or no benefit from hearing aids.
Your UChicago provider will work with you to determine whether a hearing aid or cochlear implant is right for your child.
Cochlear implantation can be performed on children as young as 9 months old.
The earlier your child receives an implant, the greater the potential is that he/she will develop listening/speaking skills at the same level as their peers who have no hearing loss. Our multidisciplinary cochlear implant team has the ability and resources to help your child make as much progress as possible with listening/speaking skills.
For your child to be successful with their cochlear implant, your family must make this strong commitment together. We know that you are the most important part of the process for any child.
If you are considering this treatment for your child, there are many families with children have had cochlear implants at Comer Children's that would be happy to share their experiences with you during your decision-making process.
Frequently asked questions: Cochlear implant surgery
Additional resources
There are a variety of resources available for parents of children with cochlear implants.
Meet Our Pediatric Cochlear Implant Experts
Pediatric Audiologists
Dr. Dixon is a pediatric audiologist specializing in diagnostic evaluations (including Auditory Evoked Potentials) and hearing loss interventions, such as hearing aids, osseointegrated devices, and cochlear implantation. She is the coordinator for the Newborn Hearing Program, and audiology coordinator for the Craniofacial/Cleft Lip and Palate team. Dr. Dixon received her Bachelor of Science degree at Florida State University, and her Doctorate of Audiology at Missouri State University. She completed her clinical externship at University of Chicago Medicine. Dr. Dixon provides audiology services at Hyde Park (Tuesday and Thursday) and Orland Park (Wednesday and Friday) locations.
Dr. Sevier is a cochlear implant audiologist and the clinical program manager of our hearing loss program. His clinical interests include cochlear implants and providing services via telepractice. He was formerly an assistant professor at a doctor of audiology program where he taught classes and supervised students in the department's cochlear implant program. Dr. Sevier has published numerous articles in peer-review journals and continues research of cochlear implants. He graduated with his Doctor of Audiology degree from Pacific University and completed his clinical fellowship training here at the University of Chicago Medicine. Dr. Sevier is certified by the American Speech-Language-Hearing Association and is a Fellow at the American Academy of Audiology.
Dr. Swail is a pediatric audiologist specializing in cochlear implantation and vestibular evaluation. She received her bachelor's degree from University of Illinois Urbana-Champaign, and she received her Doctorate of Audiology from Rush University. Dr. Swail completed her audiology externship at University of Chicago Medicine, and continues to be a contributing member of the Pediatric Hearing Loss Team.
Additional Members Of Our Team
Dr. Brittney Sprouse, Au.D., Manager of Audiology
Dr. Emily Trittschuh, Au.D.
Pediatric Speech Language Pathologists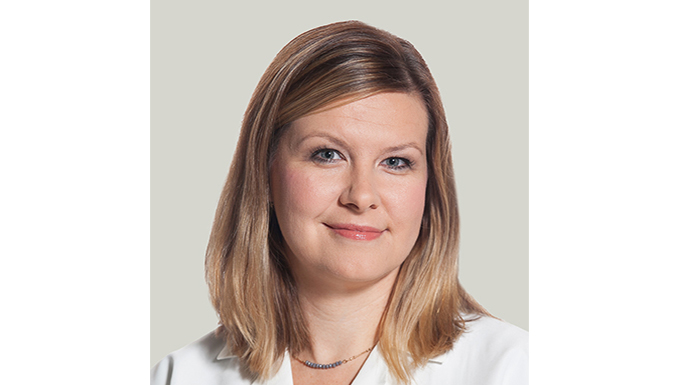 Michelle Havlik, MHS, CCC-SLP, LSLS Cert AVT is a licensed American Speech Language Hearing Association (ASHA) certified speech-language pathologist who specializes in listening and spoken language development in children with hearing loss. She has worked at UChicago Medicine and has been a member of the Pediatric Cochlear Implant and Hearing Loss Program since 2009. She became a Listening and Spoken Language Specialist Certified Auditory Verbal Therapist (LSLS Cert. AVT) in 2014 and has been a credentialed Early Intervention Specialist and Evaluator since 2007. She obtained her Master of Health Science degree in Communication Disorders from Governors State University in 2006 and her Bachelor of Arts degree in Speech-Language Pathology from Elmhurst College in 2001.
Additional Members Of Our Team
Caitlin Egan, M.S., CCC-SLP
Dennis Hears for the First Time
We caught on tape when 10-month-old Dennis heard for the first time with a cochlear implant. Dana L. Suskind, MD also gave one to his dad, Michael, nine years earlier at UChicago Medicine.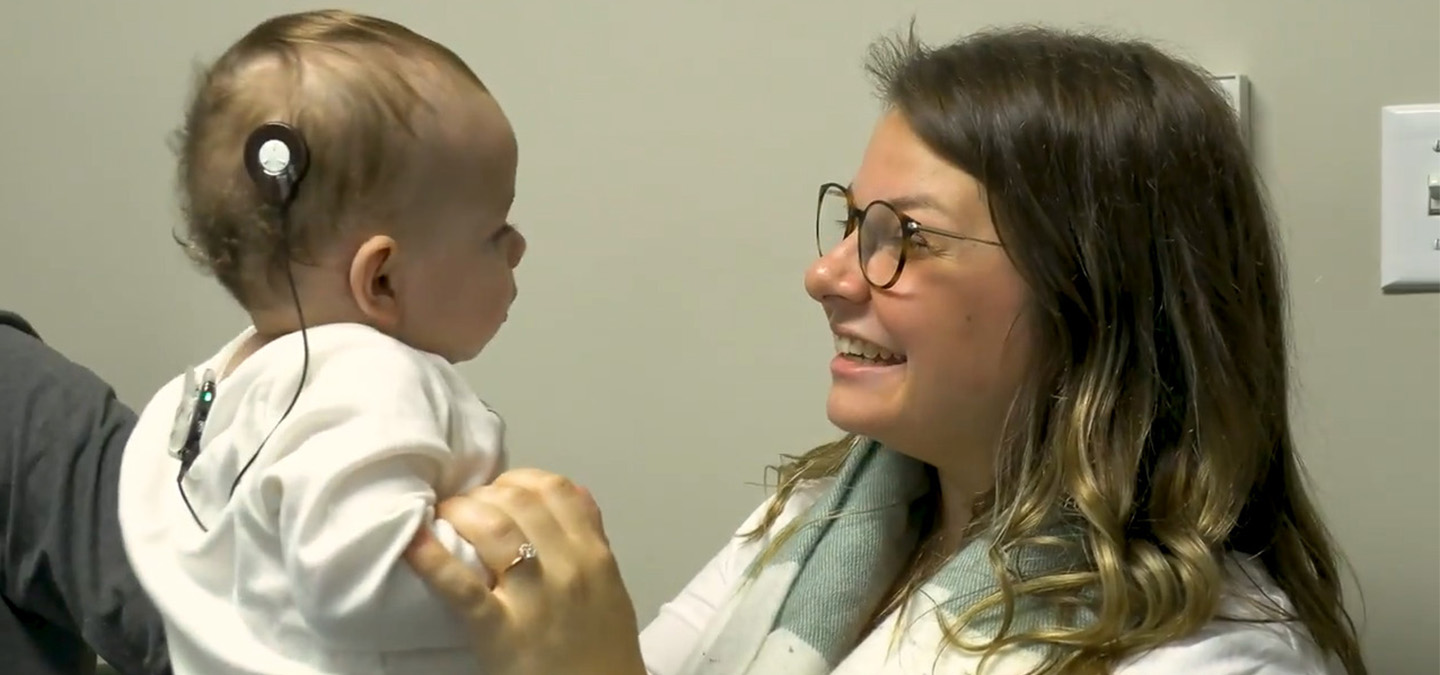 Find a Hearing Loss Location Near You
Request an Appointment
The information you provide will enable us to assist you as efficiently as possible. A representative will contact you within one to two business days to help you schedule an appointment.
To speak to someone directly, please call 1-773-702-1865. If you have symptoms of an urgent nature, please call your doctor or go to the emergency room immediately.
Pediatric Articles & News