Hearing Loss in Children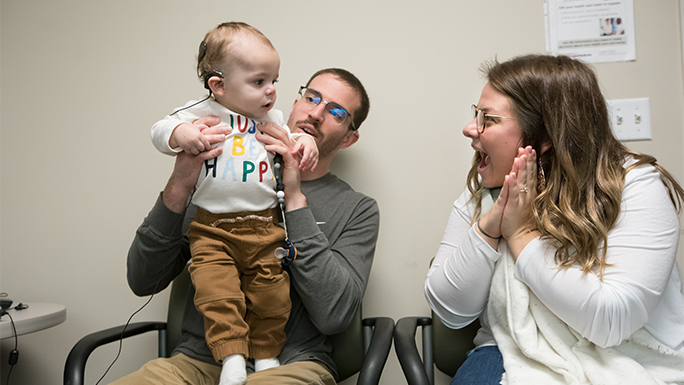 It can be challenging as a parent if your child as hearing loss, and it can be even more daunting that pediatric hearing loss can lead to developmental delays in language, speech and social skills. That is why selecting a pediatric hospital you can trust is a critical first step to treating your child's hearing loss.
The University of Chicago Medicine Comer Children's Hospital provides comprehensive and personalized care for children with hearing loss. Our pediatric hearing loss team provides a family-centered approach in a warm and welcoming environment. We have the skill and experience to diagnose and treat everything from common ear infections to complex conditions.
We are also very proud of the Thirty Million Words Center. Led by Dr. Dana Suskind and Dr. John List, the center is at the nexus of hearing health, speech, economics and social science. The principle goal of the center is to study the role that parents and caregivers play in enhancing children's foundational brain development.
Types of Hearing Loss
Hearing loss is more common than parents likely know, and understanding the types and causes of hearing loss in their child is the first step to improving their health.
Conductive hearing loss results from something blocking the sound conducting mechanism of the ear. This can be due to a buildup of earwax, fluid in the middle ear, a growth of tissue (cholesteatoma) or problems with the small hearing bones (ossicles). Treating conductive hearing loss can range from taking antibiotics to surgical intervention depending on the type and severity of the condition.
Sensorineural hearing loss is often considered permanent hearing loss because of nerve or inner ear damage caused by advanced age, continued exposure to loud noises, illness, ear trauma and more. Sensorineural hearing loss is typically addressed with hearing aids, but depending on the severity of your child's hearing loss, may treated through surgical or implantable devices, such as a cochlear implant.
Mixed hearing loss occurs when your child has hearing issues resulting from both conductive and sensorineural causes. With mixed hearing loss, there is typically a combination of issues that impact the outer, middle and/or inner ears.
Risks and Signs of Childhood Hearing Loss
Not every child with hearing loss was at risk, but it is still important to know what can predispose your child to having hearing loss before or after birth. Common risk factors include:
Family history of hearing loss (including genetic conditions)
Neurodegenerative disorders, such as Hunter syndrome and Friedreich ataxia
Syndromes related to hearing loss, such as neurofibromatosis and Ushers syndrome
In-womb infections
Contracting a disease that can impact hearing loss, including meningitis, chickenpox and rubella
Severe head trauma
It can be difficult to identify if your child has hearing loss, but some common signs of hearing loss include:
Doesn't startle at loud noises

Doesn't respond when his or her name is called

Is not progressing with speech or language

Difficulty following conversations and having issues responding or articulating

Is having issues following/understanding lessons at school

Turns up the volume of the TV, tablet, cellphone or other digital devices to extremely high levels

Suffers from reoccurring earaches and ear pain
Contact your physician if you are worried that your child may be at risk for hearing loss and are experiencing one or more of the above symptoms.
Meet Our Pediatric Hearing Loss Team
Pediatric Audiologists
Dr. Dixon is a pediatric audiologist specializing in diagnostic evaluations (including Auditory Evoked Potentials) and hearing loss interventions, such as hearing aids, osseointegrated devices, and cochlear implantation. She is the coordinator for the Newborn Hearing Program, and audiology coordinator for the Craniofacial/Cleft Lip and Palate team. Dr. Dixon received her Bachelor of Science degree at Florida State University, and her Doctorate of Audiology at Missouri State University. She completed her clinical externship at University of Chicago Medicine. Dr. Dixon provides audiology services at Hyde Park (Tuesday and Thursday) and Orland Park (Wednesday and Friday) locations.
Dr. Sevier is a cochlear implant audiologist and the clinical program manager of our hearing loss program. His clinical interests include cochlear implants and providing services via telepractice. He was formerly an assistant professor at a doctor of audiology program where he taught classes and supervised students in the department's cochlear implant program. Dr. Sevier has published numerous articles in peer-review journals and continues research of cochlear implants. He graduated with his Doctor of Audiology degree from Pacific University and completed his clinical fellowship training here at the University of Chicago Medicine. Dr. Sevier is certified by the American Speech-Language-Hearing Association and is a Fellow at the American Academy of Audiology.
Dr. Swail is a pediatric audiologist specializing in cochlear implantation and vestibular evaluation. She received her bachelor's degree from University of Illinois Urbana-Champaign, and she received her Doctorate of Audiology from Rush University. Dr. Swail completed her audiology externship at University of Chicago Medicine, and continues to be a contributing member of the Pediatric Hearing Loss Team.
Additional Members Of Our Team
Dr. Brittney Sprouse, Au.D., Manager of Audiology
Dr. Emily Trittschuh, Au.D.
Pediatric Speech Language Pathologists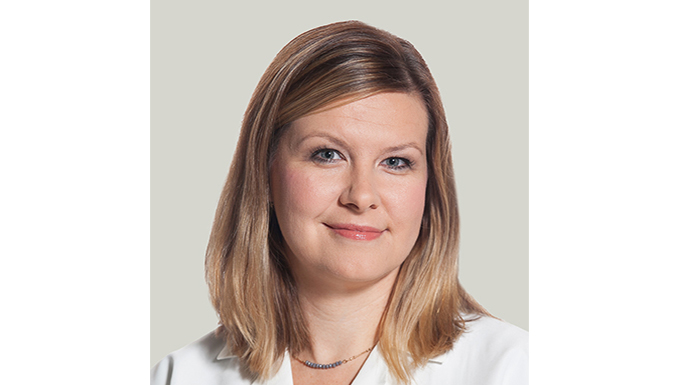 Michelle Havlik, MHS, CCC-SLP, LSLS Cert AVT is a licensed American Speech Language Hearing Association (ASHA) certified speech-language pathologist who specializes in listening and spoken language development in children with hearing loss. She has worked at UChicago Medicine and has been a member of the Pediatric Cochlear Implant and Hearing Loss Program since 2009. She became a Listening and Spoken Language Specialist Certified Auditory Verbal Therapist (LSLS Cert. AVT) in 2014 and has been a credentialed Early Intervention Specialist and Evaluator since 2007. She obtained her Master of Health Science degree in Communication Disorders from Governors State University in 2006 and her Bachelor of Arts degree in Speech-Language Pathology from Elmhurst College in 2001.
Additional Members Of Our Team
Caitlin Egan, M.S., CCC-SLP
Find a Hearing Loss Location Near You
Request an Appointment
The information you provide will enable us to assist you as efficiently as possible. A representative will contact you within one to two business days to help you schedule an appointment.
To speak to someone directly, please call 1-773-702-1865. If you have symptoms of an urgent nature, please call your doctor or go to the emergency room immediately.
Pediatric Articles & News