Our medical weight loss services help adults manage their weight and any medical conditions associated with excess weight. Medical weight loss specialists provide patients with customized weight management plans that follow a comprehensive, interdisciplinary care model.
We treat obesity and coordinate care for obesity-related diseases such as diabetes, hypertension, dyslipidemia and obstructive sleep apnea in a specialized approach that is centered on promoting weight loss and improving metabolic and cardiovascular health.
Our medically supervised weight loss program will also identify other causes of weight gain, including hormonal imbalances, endocrine disorders or lifestyle factors.
Obesity specialist answers FAQs about medical weight loss
[MUSIC PLAYING]
Most individuals are able to achieve short-term weight loss. However, maintaining that weight loss is another story. So recent studies are showing our biological adaptations to the initial weight loss, which are limiting the weight loss and not promoting weight regain over time.
So skipping breakfast, or skipping breakfast and lunch and then having a dinner -- we see a couple of things with that phenomenon. First of all, when people skip meals, the meals that they tend to have tend to be much larger than meals that someone would have if they had the actual three meals a day. So it is possible that someone, in that one or two meals, could be getting all the calories that they needed, in addition to additional calories.
The other thing that happens in that phenomenon is they are missing out on opportunities to burn calories through eating. So there's something called the thermic effect of eating. So actually, eating is what burns about 10% of our calories in the day.
Some of the other things that can contribute to weight gain are endocrine disorders. So we often screen for those as well. Those can include thyroid disease, Cushing's, or polycystic ovarian syndrome. So we'll screen for those. And then we'll also look at some medications that you might be taking that contribute to weight gain. Some psychiatric conditions can contribute to weight gain or obesity. These include binge eating disorder or night eating. So we'll look into that as well.
There's been a variety of weight loss approaches studied that have been effective. So really, it boils down to finding something that we are going to reduce, to have a calorie deficit in some way, but also not restrict too much, especially different food groups. Many times there's a lot of restriction in ingredients or food groups, macronutrients. And they all are very important unless medically necessary to restrict something.
So at Chicago Weight, we really educate people on finding something that's sustainable and a sustainable approach that is really increasing the nutrient density of the food and decreasing those really energy-dense foods that are maybe laden with your solid fats, added sugars, sodium.
[MUSIC PLAYING]
Personalized Medical Weight Loss Services
Our highly skilled, interdisciplinary team, which includes obesity medicine experts, dietitians, exercise specialists and psychologists, will create personalized weight management plans for patients to help them achieve and maintain a healthier lifestyle.
Individualized plans include weight loss strategies, diets, exercises and suggestions for behavior modifications that can lead to better weight control and overall health. Plans may also include FDA approved medications and information about surgery depending on your weight management needs and options.
Our experts use several weight loss tools to support our patients. Download a guide to our weight management tools.
What to Expect at your Medical Weight Loss Consultation
During your visit, our team of medical weight loss professionals will:
Assess the weight problem and review secondary causes of weight gain, including drug-induced weight gain and endocrine (hormonal) disorders like thyroid diseases, Cushing's syndrome and polycystic ovary syndrome

Recommend ways to change behavior that suits patients' needs and personalities to ultimately help patients manage their weight

Evaluate patients' risk factors for major life-threatening chronic diseases such as heart disease, diabetes and stroke

Assess the presence of obesity-associated comorbidities such as diabetes and obstructive sleep apnea and provide/refer for counseling and treatment for those conditions

Determine if bariatric surgery would be a good option for patients and, if so, collaborate with our Center for Surgical Treatment of Obesity to guide the patient through the surgery, follow-up care and adjustment period

Help patients manage their diabetes and other comorbidities before and after the bariatric surgery procedure
Meet Our Medical Weight Loss Specialists
Request an Appointment
The information you provide will enable us to assist you as efficiently as possible. A representative will contact you within one to two business days to help you schedule an appointment.
To speak to someone directly, please call 1-773-702-1618. If you have symptoms of an urgent nature, please call your doctor or go to the emergency room immediately.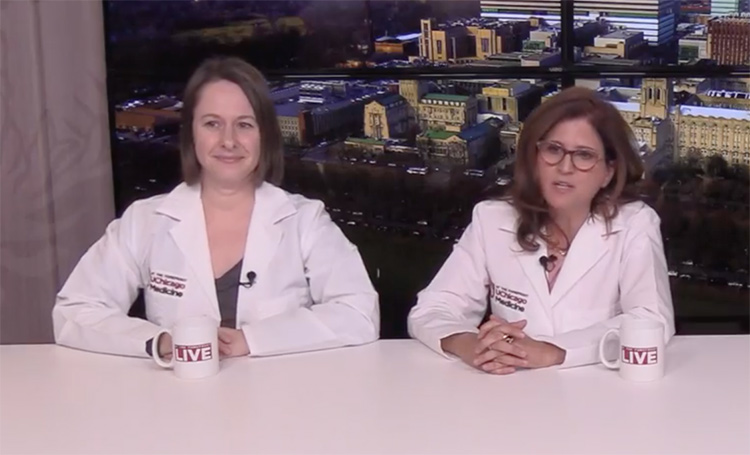 Weight Management Q&A
What are the main reasons people struggle to lose and maintain weight? We spoke with weight management experts Silvana Pannain, MD, obesity specialist and endocrinologist, and Andrea Busby, PhD, health psychologist answering viewer questions.
Watch Video
Watch Video With Transcript