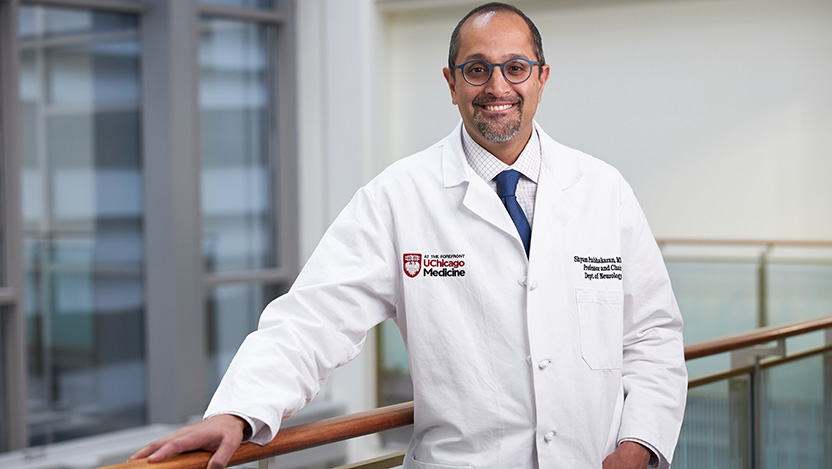 Multispecialty Stroke & Neurovascular Care
At the University of Chicago Medicine, our specialists provide the most contemporary, innovative care for the full range of common and complex stroke and neurovascular conditions. Our collaborative approach draws on the talents and internationally recognized expertise of leading clinicians in neurology, neurosurgery and neurointerventional surgery. Our team includes pioneering experts in these specialties, offering a depth and breadth of experience that enables us to help people with the most challenging stroke and neurovascular problems. Our team provides thorough and compassionate care at every level of illness and for patients at every age.
Heart-Brain Clinic
The UChicago Medicine Heart-Brain Clinic provides specialized treatment options and preventive care for patients with heart conditions that increase their risk of stroke.
Treatment for Stroke Conditions
Our team provides emergency care and treatment for stroke patients with the following emergent and less urgent neurovascular conditions:
Acute stroke
Arteriovenous malformations (AVM)
Brain (cerebral) aneurysms
Brain and spinal cord dural arteriovenous malformation/fistula
Carotid surgery and cerebral revascularization
Cerebral cavernous malformations(CCM)
Cerebral venous sinus thrombosis
Childhood stroke and pediatric neurovascular lesions
Cryptogenic strokes
Hereditary hemorrhagic telangiectasia (HHT)
Intracerebral hemorrhage
Pediatric vascular malformations
Skull base tumors
Subarachnoid hemorrhage and aneurysms
Transiet ischemic attack (TIA or "mini stroke")
Interdisciplinary Neurovascular Team, Comprehensive Expertise
Sometimes, there is more than one way to help patients with stroke or neurovascular problems. Our patients benefit from having experts in multiple specialties collaborating to customize care, based on each individual's medical problems, history, and life perspective. Patients will be able to see several specialists in one clinic visit.
Our physician team is led by specialists in:
Our stroke team is always available for rapid evaluation and treatment of stroke patients. UChicago Medicine is one of the few major medical centers in the region with an acute stroke care team that is available 24 hours a day, seven days a week.
Our neurosurgeons have experience using several neurointerventional techniques to treat all types of stroke and neurovascular emergencies.
UChicago Medicine offers a variety of stroke rehabilitative services. Our center was the first in Illinois to receive a three-year stroke specialty accreditation by the Commission on Accreditation of Rehabilitation Facilities (CARF).
Our goal is to fully support patients along their entire journey from stroke to recovery, both while they're in the hospital and after they have left. We provide the following resources to patients to make their transitions as seamless and safe as possible:
Remote patient monitoring (RPM). Stroke patients are sent home with a tablet that provides stroke education and videos on how to appropriately conduct and track various screenings. The RPM device tracks the daily results of their blood pressure, depression and swallow screenings, as well as glucose levels for patients with diabetes. If the results of any of these tests are outside normal parameters, then a specialized nurse will follow up by phone to assess if any interventions are needed.
Community health workers work with patients who are discharged to their homes and assist these patients with follow-up appointments and stroke education. They ensure patients are taking medications appropriately, monitoring their vital signs and using the remote patient monitoring tablet correctly. Community health workers also make sure each patient has access to food and a safe home environment.
Population health care coordination nurses work with patients who are discharged to a post-acute rehabilitation center to ensure these patients have follow-up appointments with the appropriate providers and are receiving the care they need from their rehab facility.

We strive to continuously improve the quality of care for our stroke patients. To maintain certification as a Comprehensive Stroke Center, our facility voluntarily undertakes a regular thorough evaluation by The Joint Commission. The Joint Commission is an independent, not-for-profit organization that certifies nearly 21,000 health care organizations and programs in the United States. Joint Commission accreditation and certification is recognized nationwide as a symbol of quality that reflects an organization's commitment to meeting certain performance standards.
Achieving Joint Commission certification means that our staff has made an extra effort to review and improve the key areas that can affect the quality and safety of your care. Below you will find some of our key quality measures that are reviewed by the Joint Commission.
| Quality Metrics (2019-2021) | University of Chicago Medicine | Academic Hospitals Nationally | Chicago Stroke Center Hospitals |
| --- | --- | --- | --- |
| Venous Thromboembolism Prophylaxis Initiated | 99% | 97% | 97% |
| Patient Discharges on Antithrombotic Therapy | 99% | 99% | 98% |
| Anticoagulation Therapy for Atrial Fib/Flutter Initiated | 97% | 91% | 96% |
| Thrombolytic Therapy Completed | 94% | 93% | 75% |
| Antithrombotic Therapy Initiated by End of Hospital Day 2 | 98% | 97% | 98% |
| Discharged on Statin Medication | 98% | 98% | 99% |
| Stroke or Death from Carotid Procedures* | 3.5% | N/A | N/A |
Source: Publically Reported Data retrieved from American Heart Association's "Get with the Guidelines"
*Based on internal data sources; data not available for other institutions
Expedited patient transfer, urgent transfers and consultations
If you are a healthcare provider and wish to transfer a patient with a neurologic emergency or to speak with our team directly, call our dedicated NeuroICU transfer line at 1-773-834-NSICU (6742). It will be answered by an attending neuro-intensivist, addressing ischemic stroke, brain bleeding, status epilepticus, neurotrauma, hydrocephalus, tumors and other neurologic emergencies.
If requested, we will facilitate seamless transfer and make arrangements for bed assignment

To schedule a consultation for a less urgent neurovascular condition, call us at:

Stroke Neurology: 773-702-6222
Neurovascular Surgery: 773-702-2123
Neurointerventional Surgery: 773-702-5004
Transfer Center
Convenient Locations for Stroke & Neurovascular Care
Read More About Stroke and Neurovascular Diseases