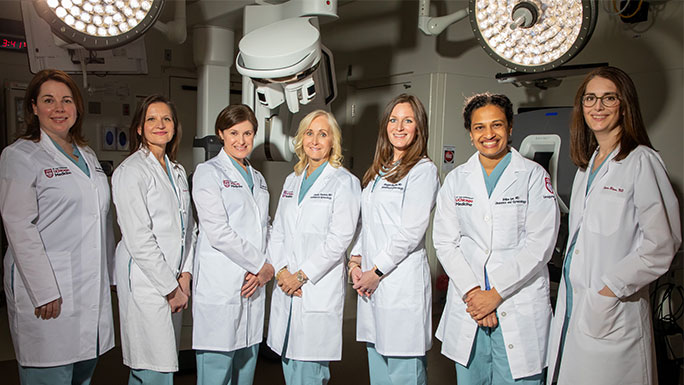 The urogynecologic surgeons at the University of Chicago Medicine are leading surgeon-scientists at the forefront of evidence-based efforts to improve the quality of life for patients with pelvic floor disorders and other pelvic health conditions.
Specialists in Complex Pelvic Floor Disorders
A urogynecologist is a board-certified and fellowship-trained subspecialty surgeon with expertise in treating pelvic floor disorders and other pelvic conditions in women.

Urogynecologic surgeons complete seven years of surgical training after medical school, including three years of fellowship training in urogynecology and reconstructive pelvic surgery. With this subspecialty training and certification, urogynecologic surgeons offer patients integrated, personalized care plans and minimally invasive surgical treatments for pelvic floor disorders.

Our multidisciplinary team also includes experienced physical therapists, advanced practice nurses and physician assistants. Through the Center for Pelvic Health, we also work alongside other skilled specialists, including colorectal surgeons, radiologists and gastroenterologists to provide integrated, patient-centered care to address common and complex pelvic floor disorders.
Our Mission
As UChicago Medicine urogynecologists, our mission is to improve outcomes and offer individualized care for all women with pelvic floor disorders and other pelvic conditions.

We achieve this goal through:
World-class care and minimally invasive surgical treatments
Innovative, cutting-edge clinical and translational research
Improved access to subspecialty care across Chicago and the suburbs
A commitment to educating future leaders in urogynecology and reconstructive pelvic surgery
Pelvic Floor Conditions We Treat
Find a Urogynecologist Near You
Learn More About Urogynecology and Pelvic Floor Conditions