The University of Chicago Medicine Vascular Ultrasound Laboratories use advanced diagnostic tools to quickly and effectively evaluate patients. Our vascular laboratory was among the first group of vascular laboratories in the nation to be awarded accreditation by the Intersocietal Commission for the Accreditation of Vascular (IAC) Laboratories, which demonstrates our commitment to exceptional patient care.

In addition to our IAC "Accreditation," our imagining technologists are all specialty trained and board certified. Our imaging technologists regularly collaborate with vascular surgeons, and other healthcare providers, in order to provide accurate diagnoses of complicated vascular conditions. While primary care physicians and vascular surgeons make up the majority of patient referrals, we welcome referrals from a wide range of specialties. Because vascular disease is complex and is throughout the body, we get patient referrals from podiatrists, nephrologists, transplant surgeons, neurologists, radiologists, neurosurgeons and more.

Vascular testing is often used by healthcare providers to analyze how well blood is flowing through the arteries and veins. It can provide detailed information when diagnosing arterial or vein disease or before surgeries to evaluate a patient's vascular condition. Doppler ultrasound uses sound waves to create images that show how the blood is flowing through your blood vessels.
Vascular Testing Accreditation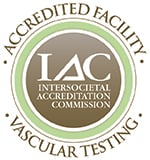 UChicago Medicine's vascular laboratories located in Hyde Park and Orland Park have been granted accreditation by the Intersocietal Accreditation Commission (IAC) in visceral vascular testing, extracranial cerebrovascular testing, peripheral venous testing and peripheral arterial testing. Accreditation awarded to University of Chicago Medical Center Vascular Laboratory demonstrates the facility's ongoing commitment to providing quality patient care in vascular testing.
What happens during an ultrasound exam?
Your ultrasound test is performed by specially trained technologists and interpreted by a board-certified vascular surgeon
You will likely lie on a padded exam table during the test.
A small amount of water-soluble gel is applied to the skin over the area to be examined. The gel does not harm your skin or stain your clothes.
A small device called a transducer, which looks like a microphone, is held in place on the skin. The transducer sends sound waves through the skin and captures information about blood flow. The ultrasound signal is turned into graphs or color pictures that are shown on a display screen.
There is virtually no discomfort during the test. You may experience some minor pressure as the transducer is pressed against your skin.
You will need to keep still and avoid talking during some of the exams.
Ultrasound exams usually take about 30 to 60 minutes to complete.
After the test, the gel will be wiped off your skin.
Common Vascular Lab Tests
Our vascular lab is dedicated to evaluating the arteries and veins in the body, and examining how blood flow is moving to and away from the heart. These are some of our common tests performed.
Food & Drink Instructions
If you are having an abdominal, renal or mesenteric exam, you cannot eat or drink for 12 hours before your appointment. Abstaining from eating or drinking before your test lowers the amount of gas in your belly and allows us to get the best test results. Most exams are done early in the day, typically around 8 or 9 a.m., but If you eat or drink before your tests, the vascular lab may need to reschedule your appointment
If you have a prescription medication that your doctor recommends you take at the same time every morning, you may take your medication with a small amount of food or water (whatever you need to take the pill).
About Your Vascular Lab Results
By logging into to our MyChart patient portal, you can see any test results within 4 to 7 days after your test. If you have any problems seeing your test results, please contact the doctor who ordered the test.
You should expect that your test results are written in medical language for doctors. Because you may feel concerned or worried when you do not understand your test results, we recommend you talk with your doctor or health care provider before looking at any test results.
Request an Appointment
The information you provide will enable us to assist you as efficiently as possible. A representative will contact you within one to two business days to help you schedule an appointment.
To speak to someone directly, please call 1-773-702-6128. If you have symptoms of an urgent nature, please call your doctor or go to the emergency room immediately.
Learn more about heart and vascular disease