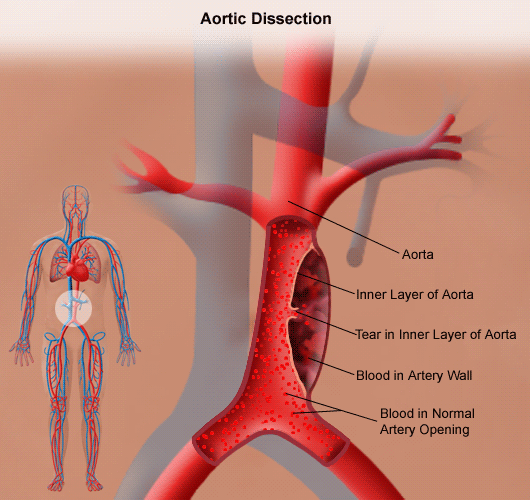 What is aortic dissection?
An aortic dissection begins as a tear in the aortic wall, so the main artery in the body is split into two channels. If the dissection is not treated immediately, the tear can continue to worsen, ripping the outer layer of the aorta and allowing blood to escape the artery. The loss of blood flow caused by an aortic dissection can compromise the oxygen delivered to vital organs like the brain, kidneys and heart.
Type A Aortic Dissection
Type A dissections begin in the ascending aorta (where the aorta exits the heart) and requires immediate treatment because the complications of an acute aortic dissection are life threatening. The most common concerns of a Type A dissection are heart attacks due to injury to the coronary arteries from the dissection; acute failure of the aortic valve due to the tear, which prevents blood from being pumped from the heart correctly; and a rupture that causes the sac that surrounds the heart to fill with blood.

At UChicago Medicine, heart surgeons specialize in repairing Type A dissections.
Type B Aortic Dissection
With Type B aortic dissections, a tear occurs in the upper part of the thoracic aorta. Because Type B dissections can be equally fatal without immediate care, the aortic dissection is treated by expert UChicago Medicine vascular surgeons who repair the damaged blood vessels when needed. The first step of care is making sure the patient's blood pressure is controlled, and if surgery is required, the dissection is more commonly repaired with a stent to eliminate flow to the false lumen, which is one of the two channels of the dissected aorta.
Risk Factors for Aortic Dissection
Even though some may have symptoms such as constant chest and/or upper back pain, by that point as many as 40 percent of people who suffer from an aortic dissection die almost instantly. The best defense against aortic dissection is knowing what risk factors are common with this condition and taking active steps to eliminate or reduce your known risks in order to minimize your chances of serious aortic disease. Risk factors include:
Age: Greater than 60
Pre-existing Connective Tissues Disease: Being born with a congenital disorders such as, Marfan syndrome, Ehlers-Danlos syndrome and other collagen vascular diseases
High blood pressure: Uncontrolled blood pressure puts you at the most risk of a dissection
Existing aortic aneurysm: Untreated aneurysms increase the likelihood of a dissection
Chest trauma: Traumatic chest injuries can weaken the aorta wall
Polycystic kidney diseases (PKD): Having PKD creates a higher risk of heart and aorta damage
Prevention for Aortic Dissection
Having a long-term blood pressure management plan is critical for aortic dissection prevention. Getting and keeping control over your blood pressure will protect your aorta from complications that could leave to serious, or fatal, damage.
Aortic Dissection Surgery and Treatment Options
Each patient's aorta has a unique size and shape, and because we offer a comprehensive range of treatment options for dissections, we can customize our care to you specifically. With advanced research, techniques and medical deceives, we design treatments focused on your aortic anatomy, severity of the dissection and location to find the best solution. Each personalized treatment plan may include one or more of the following:
NEXUS Aortic Arch Clinical Trial
Our NEXUS Aortic Arch Clinical Study is investigating the safety and effectiveness of the NEXUS aortic arch stent graft system treatment option.
Learn more about this clinical trial.
Thoracic Aortic Injury Registry Study
This clinical trial is collecting treatment and outcomes data for blunt thoracic aortic injuries (BTAI) for the Aortic Trauma Foundation global registry.
Learn more about this clinical trial.
Other Conditions We Treat
Request an Appointment
The information you provide will enable us to assist you as efficiently as possible. A representative will contact you within one to two business days to help you schedule an appointment.
To speak to someone directly, please call 1-773-702-6128. If you have symptoms of an urgent nature, please call your doctor or go to the emergency room immediately.
Learn more about aortic disease