Medical Heart Failure Devices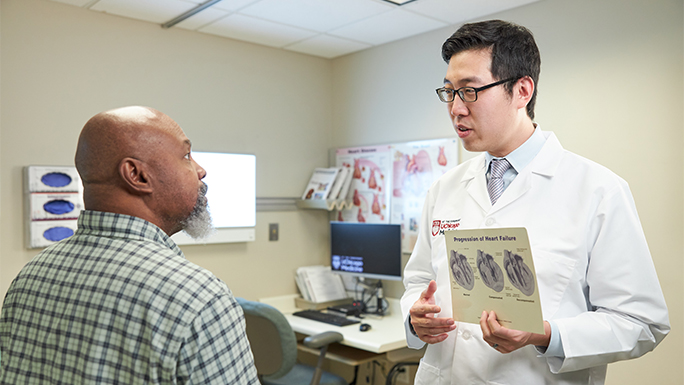 What is VAD?
As one of the most respected heart failure programs in the world, the University of Chicago Medicine offers proven therapies including ventricular assist devices (VADs) — surgically implanted, portable pumps that mechanically support the heart. VADs, such as LVADs, are designed to extend the lives of people with heart failure. Now, with the evolution of VAD technology, our heart failure patients are living longer, fuller lives.
Ventricular Assist Device Types and Technology
With decades of experience in mechanical circulatory support, UChicago Medicine has earned international recognition for VAD expertise and research. As VAD technology has evolved, we have remained at the forefront of VAD research and implementation. Our surgeons were the first in the world to successfully implant one of the earliest VADs. We also participated in clinical trials to test and approve Thoratec and HeartWare devices and evaluate other new technology for use with heart failure patients. Today, we continue to test the next generation VADs in order to deliver the best treatment opportunities all our heart failure patients. Additionally, by offering the total artificial heart, we have the capability to treat patients who require complete cardiac support.
Our heart specialists are equipped to manage complex cases. We often treat high-risk patients — some who were not accepted for consideration at other institutions — and can readily identify which candidates would benefit from mechanical circulatory support. We specialize in all available FDA-approved VAD technologies and quickly implement the newest advancements in mechanical circulatory support. This enables us to provide the widest scope of VAD options to our patients, and to select the ideal device to maximize benefit for each patient.
Innovative VAD Therapies
As a bridge to transplant, a VAD supports the heart and prolongs the life of a patient while he or she is waiting for a heart transplant. The temporary implant reduces physical stress on the patient's body and weakened heart.
As a destination therapy, a VAD can serve as a long-term treatment for patients who are not candidates for transplant, such as those with end-stage congestive heart failure. For these patients, the pumps are placed permanently to support the heart. With as many as 70 percent of VADs being used as destination therapy, it is becoming an increasingly more popular treatment for patients with advanced heart failure.
UChicago Medicine is certified by the Joint Commission to offer VAD treatment as a destination therapy. Our medical center earned this special designation after undergoing a rigorous review process of our high-quality, effective VAD care.
For patients suffering heart and lung failure, we offer extracorporeal membrane oxygenation (ECMO) to support heart and lung function, allowing patients to recover or stabilize for additional treatment. Learn more about ECMO.
Frequently Asked Questions About Ventricular Assist Devices (VADs)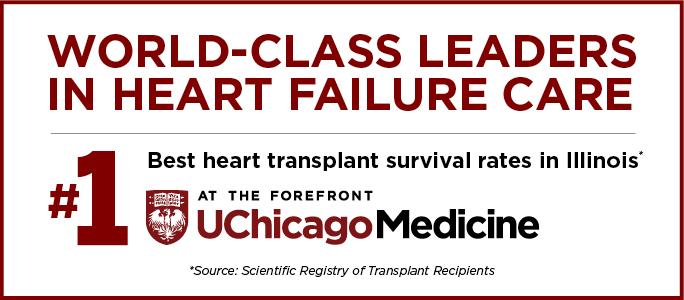 Request an Appointment
The information you provide will enable us to assist you as efficiently as possible. A representative will contact you within one to two business days to help you schedule an appointment.
To speak to someone directly, please call 1-773-702-9461. If you have symptoms of an urgent nature, please call your doctor or go to the emergency room immediately.
Learn more about heart failure and transplants