Expert Diagnosis & Treatment
Anorectal conditions affect the anus and rectum. Fissures, fistulas, condyloma and hemorrhoids are among the most common anorectal conditions. In some cases, symptoms like pain, itching, burning, bleeding and/or swelling can significantly affect a patient's lifestyle. While most conditions are benign, a careful evaluation by a specialist is important to exclude anal cancer or another serious disorder. Colon and rectal surgeons at the University of Chicago Medicine have expertise in the diagnosis and management of these disorders.
Diagnosing Anorectal Conditions
Colorectal surgeons may use the following tools to confirm or rule out the presence of an anorectal disorder.
Anoscopy: A diagnostic procedure in which a small, tubular instrument with a light attached is used to view the last few inches of the rectum and anal canal.
Biopsy: Removal of a small piece of tissue for examination.
Colonoscopy: This procedure allows physicians to view the entirety of the large intestine. A colonoscopy is similar to a flexible sigmoidoscopy, but usually requires a more thorough bowel prep and is performed under moderate sedation.
Digital rectal exam
Flexible sigmoidoscopy (flex sig): A diagnostic procedure in which a small, tubular instrument with a video camera is used to view the last few feet of the large intestine.
Physical exam and history
Ultrasound or MRI: Noninvasive imaging tests that show the structure and function of the anal canal, sphincter muscles and rectum.
Types of Anorectal Conditions
Treatment Options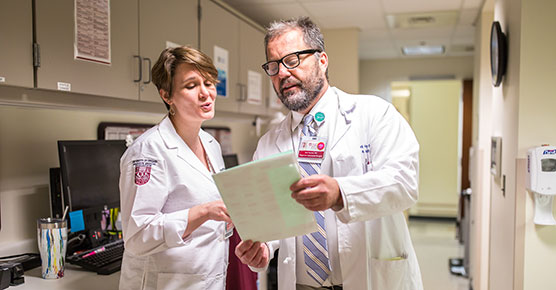 Colectomy
A colectomy is the removal of part or all of the colon, also known as the large intestine.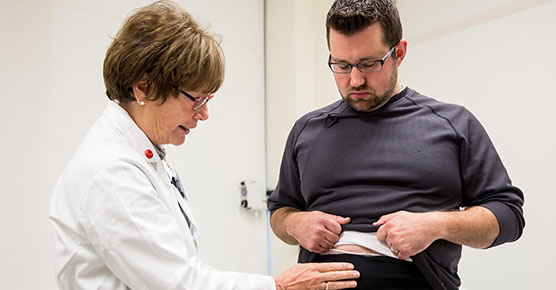 Ostomy
An ostomy is a surgically created opening in which the small or large intestine is brought out through an opening in the abdominal wall.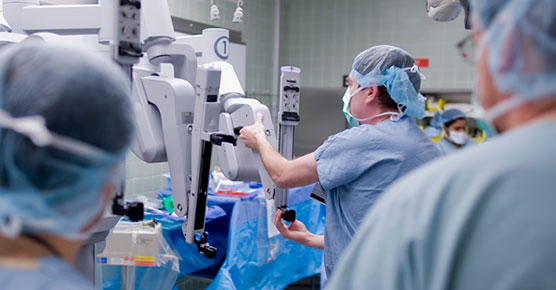 Robotic Surgery
Whenever possible, our surgeons offer robotic surgery to help patients recover quickly and get back to their lives as soon as possible.
Request an Appointment
The information you provide will enable us to assist you as efficiently as possible. A representative will contact you within one to two business days to help you schedule an appointment.
You can also make an appointment with our providers by:
– Scheduling a virtual video visit to see a provider from the comfort of your home
– Requesting an online second opinion from our specialists
To speak to someone directly, please call 1-888-824-0200. If you have symptoms of an urgent nature, please call your doctor or go to the emergency room immediately.
Patient Information
Your care and well-being are our primary concerns, and we want your stay to be as comfortable as possible.
See all patient resources
Second Opinions
Seeking the opinion of an expert can ease your mind and help you feel more secure in the medical decisions you are making.
Request a second opinion
U.S. News & World Report Rankings
We continue to place highly in categories in the U.S. News & World Report annual rankings. See our full list of ranked specialties.
U.S. News & World Report Rankings
---
Directions & Parking
Step-by-step instructions on how to get to our main campus by car and public transportation.
Get directions
Classes & Events
We offer relevant classes, screenings and support groups to help you lead a healthier life.
See all classes and events
Colon & Rectal Surgery Related Articles