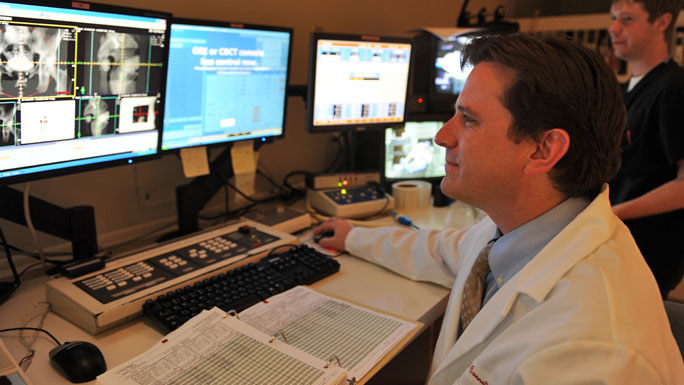 How Does Pediatric Radiation Therapy Treat Cancer?
Radiation therapy can be useful in the treatment of nearly any type of cancer that may affect children anywhere in the body. Radiation therapy often is recommended to treat solid tumors in the organs and also may be used to treat cancers in the soft tissues (such as muscles), bones, brain, or blood (such as leukemia). Children of all ages can benefit from radiation therapy, from infants to school-age children, to adolescents and older teens. At the University of Chicago Medicine Comer Children's Hospital, pediatric radiation oncology specialists have experience treating common and very rare forms of childhood cancers with radiation therapy.

Depending on each child's specific diagnosis, radiation therapy may be used as the primary form of treatment, or may be used before or after other types of treatment including surgery, chemotherapy or stem marrow transplant.

Comer Children's is on the leading edge in offering state-of-the-art radiation oncology options. The pediatric program here builds upon the University of Chicago Medicine's world-renowned radiation oncology program for adults. While drawing from the vast scientific and therapeutic resources available for adult patients, the pediatric radiation oncology program here provides a completely child-friendly approach — with physicians, nurses and staff who specialize in working with children of all ages, from infants through older teenagers.
Pediatric Radiation Oncology Services at Comer Children's Hospital
Radiation therapy uses a special type of very high-energy X-rays to destroy cancer cells and shrink tumors. In order to give children and their parents the most effective treatment options to meet their needs, Comer Children's offers a complete array of radiation oncology services for children, from long-established conventional approaches to the very newest methods available at only a few select centers across the U.S. We use approaches that target tumors as precisely as possible. That means more impact where it's needed and less damage to normal tissue nearby. The bottom line: more effective disease control and fewer short- or long-term side effects.
Unlike some pediatric cancer programs, all radiation oncology services are provided on-site at the University of Chicago Medicine medical campus. In addition to offering convenience for parents and families, the on-site services allow seamless coordination of each patient's care by the team of physicians.
Some highlights of our pediatric radiation oncology services include:
Convenience and Comfort for Pediatric Radiation Oncology Treatment
All radiation oncology equipment is located on site at the University of Chicago Medicine's Hyde Park medical campus, so there's no need to go outside or be transported by vehicle to receive treatment. A convenient tunnel connects Comer Children's to the radiation oncology department, so kids can receive their treatment and then recover in the comfort of their patient room without dealing with weather, traffic or other outside distractions.

Radiation therapy for cancer uses X-rays or electron beams, so your child will feel no pain during treatment. Although the therapy is generally not painful, the equipment can be scary to some kids. Our pediatric anesthesiologists can provide sedation to keep younger children calm and comfortable throughout their treatment.

In order to provide the safest and most effective treatment, radiation therapy is delivered in many small doses over a period of time. Most children require brief treatment sessions five days a week for several weeks.
Your Family's Care Team
Our patients benefit from a multidisciplinary approach that combines the expertise of many specialists in different areas of cancer care. Many members of our team focus their work exclusively or primarily on childhood cancers. Throughout the week, multidisciplinary conferences draw together experts in pediatric radiation oncology, pediatric medical oncology, neurosurgery, pathology, orthopedic surgery, pediatric surgery and diagnostic radiology. By considering these diverse areas of expertise, the multidisciplinary team can determine the best ways to treat your child's disease.

In addition to pediatric radiation oncologist Philip Connell, MD, other members of the care team include:
Nurses with advanced training in radiation oncology
Dietitians
Licensed clinical social workers who work exclusively with children
Physicists, who play an essential role behind the scenes, by providing the scientific expertise that is so essential for targeting tumors while avoiding healthy tissue
Pediatric Radiation Oncology Research
Research focused on improving treatment options is an important component of the pediatric radiation oncology program here. Many of our physicians, physicists, other scientists and nurses actively participate in research through the national Children's Oncology Group. With our stature and experience, Comer Children's often is among the first medical centers in the country using promising new drug therapies and technologies for childhood cancers.

In addition to treating patients, some of our specialists also focus on improving treatment techniques at the ground-floor level. In fact, several of our physicians and physicists were involved in developing IMRT technology and even wrote one of the first medical textbooks on this treatment tool — which has become a gold standard for treating certain types of tumors.

In addition, radiation oncology services sometimes may be integrated into protocols for clinical trials of new drug therapies. For example, a child may undergo radiation therapy to shrink a tumor before being given an investigative new treatment as part of a clinical trial here.

With their focus on finding cures for childhood cancers, some of our radiation oncologists also conduct laboratory-based research to study new drug therapies for targeting cancer cells.
Pediatric Cancer Articles