The University of Chicago Medicine Comer Children's Hospital provides comprehensive care for children with Wilms tumor, a rare form of kidney cancer that is also known as nephroblastoma. Our pediatric cancer team offers state-of-the-art diagnostic and treatment services.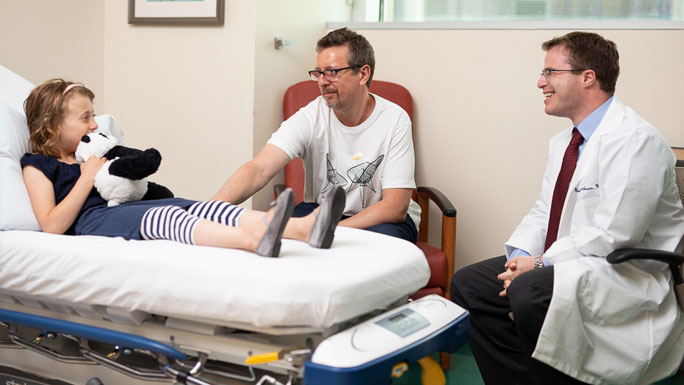 Wilm's Tumor (Nephroblastoma) Expertise
As active members of the Children's Oncology Group (COG), our physicians network with more than 250 medical centers worldwide. We participate in clinical trials of the newest, most promising treatments for all childhood cancers, including Wilms tumor.
Advanced Services Available at Comer Children's Hospital
Comer Children's offers comprehensive diagnosis and treatment for Wilms tumor. As one of the busiest pediatric cancer programs in the Midwest, we have the expertise and resources to care for children with any type of Wilms tumor.
Diagnosing Wilm's Tumor
The most important initial test used to diagnose Wilms tumor is a CT scan. The scan reveals the location of the tumor in one or both kidneys and shows the extent of the disease. This begins the staging process to determine if the tumor has spread to other parts of the abdomen or to the lungs.
In most cases, the affected kidney must be removed. A pathologist examines a microscopic sample of the kidney tissue to verify the diagnosis and to determine the aggressiveness and invasiveness of the tumor.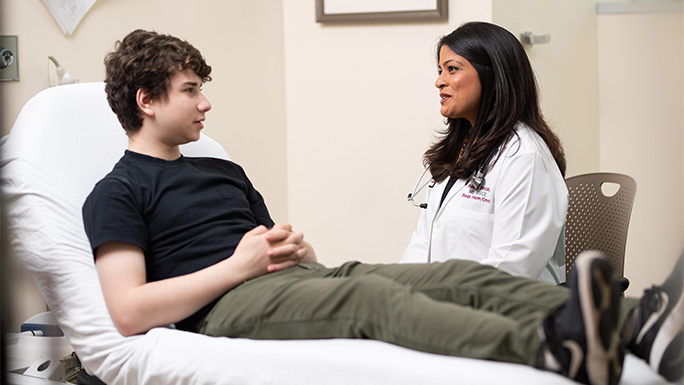 Wilm's Tumor Treatment at Comer Children's Hospital
Each patient is assigned a stage based on the results of the CT scan, the pathology and other tests. Wilms tumor treatment is always treated with a combination of surgery and chemotherapy and, in some cases, radiation therapy.
Some children will be eligible to participate in COG clinical trials. These treatment protocols are part of a nationwide, National Cancer Institute-sponsored effort to evaluate and monitor newer therapies.
Genetic Counseling for Wilm's Tumor
In cases where there is a suspicion of a genetic link, Wilms tumor patients may be referred to our Pediatric Familial Cancer Clinic. This highly specialized clinic is dedicated to helping children and their families with inherited cancers.
Support services for Patients
Children facing cancer often have ongoing medical, emotional, social and developmental needs. Our doctors, nurses, social workers and child life specialists recognize these issues and can provide your family with the resources and tools to keep you informed, find assistance and help you cope.
Wilm's Tumor Long-Term Care
While the cure rate for Wilms tumor is more than 90 percent, these patients may face other health issues as they grow older. Comer Children's Childhood Cancer Survivors Center is an integrated program aimed at the prevention and treatment of long-term issues associated with cancer therapy.
Why Choose Comer Children's?
At Comer's Children, we take a multidisciplinary approach to treating every pediatric cancer patient. Your child's specific treatment plan depends on a variety of factors and will be mapped out by our full team of pediatric cancer experts. We offer conventional treatments, as well as the latest innovative therapies, and tailor the plan to each patient's unique needs.
Our Pediatric Cancer Locations in Chicago and Merrillville
Request an Appointment
The information you provide on this secure form to request an appointment with a UChicago Medicine pediatric cancer expert will enable us to assist you as efficiently as possible. A representative will contact you within one to two business days to help you schedule an appointment.
You can also make an appointment with our providers by:
– Scheduling a virtual video visit to see a provider from the comfort of your home
– Requesting an online second opinion from our specialists
To speak to someone directly, please call 773-702-6169. If you have symptoms of an urgent nature, please call your doctor or go to the emergency room immediately.
For Referring Physicians
To refer a pediatric patient for care, please call UCM Physician Connect at 1-800-824-2282.
Pediatric Cancer Articles