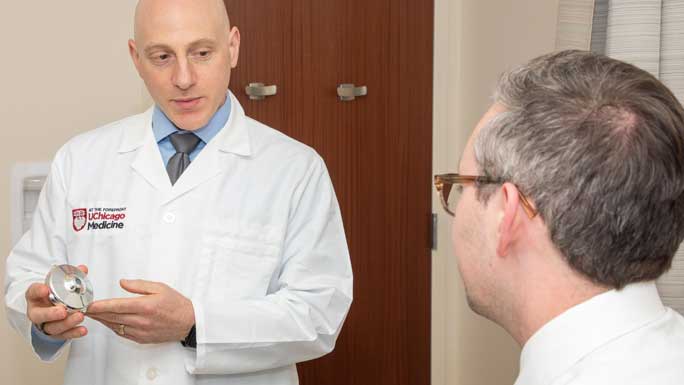 Learning you have metastatic, or stage 4, colorectal cancer can be distressing, but you do not have to feel hopeless or alone. Our internationally recognized cancer experts at the UChicago Medicine Comprehensive Cancer Center are committed to helping people who have colorectal cancer that has spread to their liver, lungs or other areas of the body. Working collaboratively, our team can offer a full range of patient-centered care options, including many that are not available elsewhere.

New treatments are changing the outlook for many people with metastatic colorectal cancer, even for some who have been told their condition is untreatable. Our colorectal cancer physicians are among the nation's leading authorities on the latest therapies that may prolong survival and improve quality of life in patients with colorectal cancer that has spread to a limited number of sites.

The multidisciplinary team at UChicago Medicine designs personalized care plans using detailed molecular profiling of the patient's tumor and combining cancer therapies that may not be available at most hospitals. This includes advanced radiation techniques like stereotactic body radiation therapy (SBRT) plus immunotherapy, which uses the body's own immune system to kill cancer. We also specialize in the latest interventional and surgical options, including ablation to destroy tumors and hyperthermic intraperitoneal chemoperfusion (HIPEC), which uses heated chemotherapy to kill cancer cells. We are also the only hospital in Illinois to offer hepatic artery infusion that delivers chemotherapy directly to tumors in the liver. For select patients with liver-only disease, we also offer living donor liver transplants.

Our physicians are also leading research to discover even better ways to help patients with metastatic colorectal cancer live longer and with less pain and fewer side effects from treatment. UChicago Medicine physician-scientists conducted groundbreaking research into new methods to predict which patients with metastatic colorectal cancer are more likely to have a favorable treatment outcome after removal of liver metastases.
Request an Appointment for Cancer Care
The information you provide in this form will enable us to assist you as efficiently as possible. A representative will contact you within one to two business days to help you schedule an appointment.
For your convenience, you can make a virtual visit appointment with a cancer expert in the following ways:
– Schedule a virtual video visit to see a provider from the comfort of your home
– Newly diagnosed patients can schedule a 15-minute introductory Express Expert Cancer Opinion virtual session at no cost
– Request an online second opinion from our specialists
To speak to someone directly, please call 1-855-702-8222. If you have symptoms of an urgent nature, please call your doctor or go to the emergency room immediately.
For Referring Physicians
To refer a patient for cancer care, please call UCM Physician Connect at 1-800-824-2282.
Hepatic Artery Infusion (HAI) Pump Chemotherapy for Liver Metastases
Hepatic artery infusion pump chemotherapy, or HAI, is an advanced treatment for tumors that have spread to the liver due to metastatic colorectal cancer or metastatic bile duct cancer. HAI is a powerful tool to shrink liver tumors and reduces the risk of tumor recurrence.