Skip to content
UChicago Medicine photo exhibit documents life in Washington Park in summer of 1987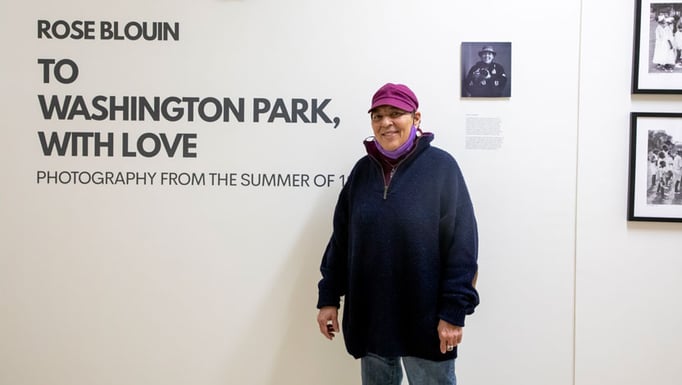 Rose Blouin in front of her exhibit "To Washington Park, With Love," at UChicago Medicine, April-July 2022.
Every weekend in the summer of 1987, with camera in tow, photographer Rose Blouin visited Washington Park on Chicago's South Side. There, she documented moments of everyday recreation — a man tending to his grill along the water, children enjoying the "Adventure Land" play area, parents embracing their children — as well as special, historic and community events like weddings and the Bud Billiken Parade.
In total, Blouin took nearly 3,000 black-and-white photographs of Washington Park and the people and activities that brought it to life.
A curated selection of these photographs is now on display at the University of Chicago Medicine as part of the medical center's Healing Arts program, which shares fine arts and music with patients, visitors, staff and the surrounding community. Running through July 28, the exhibit is located on the bridge between the Duchossois Center for Advanced Medicine (DCAM) and the Center for Care and Discovery (CCD).
Blouin processed the Washington Park film decades ago, but never exhibited them.
"I put them away because life goes on. I had two young kids, I was a single parent, and I worked full time," said Blouin, who is a retired professor of English from Columbia College Chicago. "While I never really had a chance to get back to that project, it always stayed in my heart."
It was not until 35 years later that the photographs were shared with the public. In February 2022, Blouin's photographs were featured in the inaugural exhibition, "To Washington Park, With Love," hosted by the University of Chicago's Arts + Public Life at the Arts Incubator on Garfield Boulevard.
Blouin said that she was inspired by both the park and the people enjoying it.
"I recognized that the landscape was as much a subject as anything else," she said. "And I really wanted to capture people in that environment, and how they related to the environment, through photographs."
"It was also important to me to document families enjoying the park together," she added. "I got a lot of photographs of fathers with their children and the mothers, too. But there's a strong element in the body of work of families, children enjoying the park, having fun."
Blouin's images are resonating with community members with connections to Washington Park, and with some who have connections to people featured in the photographs.
Shantia Thomas, a UChicago Medicine public safety coordinator, identified her father in one of the photos included in the medical center's exhibit. Blouin recently met with Thomas to give her a copy of the print. Others have approached Blouin to purchase her photos, including a resident whose home borders Washington Park, as well as employees of the medical center and University. Three of Blouin's photos were selected for the 10th Annual Bridgeport Art Center Competition.
With hundreds of photos still unseen by the public, Blouin is considering additional exhibitions.
"It has been part of the dream I had since 1987 to get this work out into the world," she said.
Community Outreach and Health Equity Articles