[MUSIC PLAYING] Hi, I'm Nishant Agrawal. My specialty is ENT or Otolaryngology-- head and neck surgery. Within ENT, I specialize in head and neck cancer surgery. And I treat benign and cancerous masses and growths on the head and neck area.

I chose medicine probably very early on in my childhood. My maternal grandmother, my grandmother, fought and ultimately died from breast cancer. And I think that left a major impression on me growing up. So as long as and as far as I can remember, I've always wanted to pursue cancer, both its treatment and research.

Our emphasis is truly a multidisciplinary approach to treat and cure head and neck cancer. Every case is discussed in a multidisciplinary head and neck tumor board with representation from surgical oncology, medical oncology, radiation oncology, and other health care experts. And we have very high volume of head and neck cancer that we treat with some of the best outcomes in the country and the world.

My philosophy of care is I treat every patient and their family as they were my family. I maintain a fairly informal relationship with them, which is good or bad. But a lot of times, we're on first name basis.

And I always get asked, what would you do? And my answer is I would only tell you what I would do for myself or my family. That's how we approach it. That's how I think of things, and your interest is the only thing I care about.

The procedures we focus on are the gamut of procedures related to the management of head and neck cancer and other benign masses. And they range from minimally invasive approaches, such as procedures through the mouth, open procedures, and also robotic procedures. We personalize and customize each approach based on the tumor and the patient.

[MUSIC PLAYING]
UChicago Faculty Physicians who provide services at UChicago Medicine Ingalls Memorial are not employees or agents of UChicago Medicine Ingalls Memorial.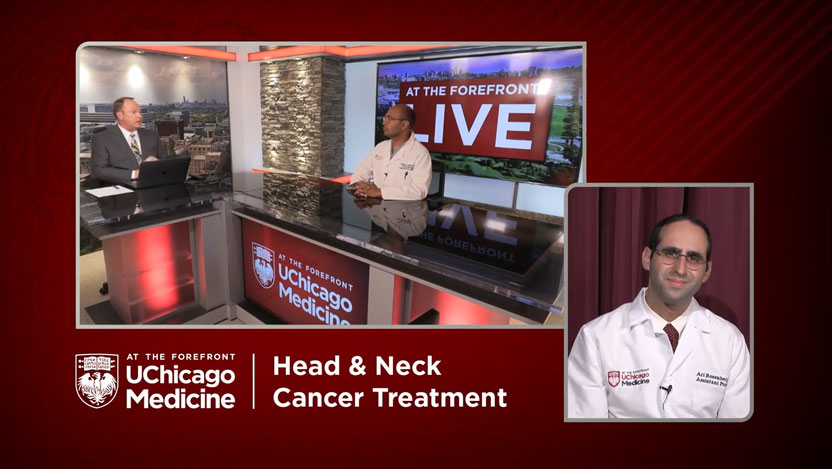 Read More About Otolaryngology