When cancer strikes the larynx, or voice box, many patients have two primary concerns. One is beating the cancer. The other is the risk of losing their voices and their ability to swallow and breathe due to cancer or cancer treatment.

At UChicago Medicine Comprehensive Cancer Center, we share these same two priorities. That's why our internationally renowned head and neck cancer specialists are continually working to refine surgical, radiation and drug therapies to successfully treat laryngeal cancer while also maintaining quality of life. As a result, we can point to outstanding survival outcomes for our patients, and many patients are able to retain or regain their ability to speak, breathe and swallow.
About Laryngeal Cancer
Laryngeal cancer is a type of throat cancer that affects the voice box in your neck. The vocal cords within your voice box allow you to speak and sing. In addition, the larynx plays key roles in your ability to swallow and breathe.

There are three parts of the larynx:
The supraglottis, or the upper part of the larynx
The glottis, or the middle of the larynx, including the vocal cords
The subglottis, or the bottom of the larynx
Most laryngeal cancers begin in the glottis or supraglottis. In addition, most cancers affecting the voice box are called squamous cell carcinomas because they develop in the squamous cells that line the voice box.
Symptoms and Diagnosis
Symptoms of laryngeal cancer include:
A chronic sore throat or cough
A lump in the neck
Ear pain
A hoarse voice
Trouble swallowing
Most cases of laryngeal cancer are linked to tobacco and alcohol use. More rarely, these cancers can be caused by the human papillomavirus (HPV), gastroesophageal reflux disease (GERD) or other health issues.
A variety of tests may be used to diagnose and stage laryngeal cancer. You may undergo some imaging exams, such as an MRI or CT scan. In addition, our cancer specialists may want to look inside your larynx using a scope for a biopsy, which involves removing a small piece of tissue from your larynx. Our pathologists, who specialize in diagnosing head and neck cancers, will then use various laboratory techniques to give us more information about the biology of your cancer, which can help us determine the best treatment for you.
Treatment
We've assembled one of the most experienced and renowned teams of head and neck cancer clinicians in the world, which ensures our patients have access to the best medical, surgical and radiation oncology expertise as well as knowledgeable support from speech pathologists, nurse practitioners, nutritionists and others.
In addition, UChicago Medicine offers more head and neck cancer clinical trials than any other Chicago hospital. Clinical trials test various novel treatments and treatment combinations.
The following is a broad overview of how early-stage and advanced laryngeal cancer is treated. However, at UChicago Medicine, we place a major emphasis on listening to what matters to our patients. By working closely together, our team members will combine their knowledge to work to achieve your treatment goals and preferences, taking into account your specific cancer diagnosis.
At UChicago Medicine, we have successfully treated many early-stage cancers with surgery or radiation alone. When radiation is used, our goal is to target the radiation to the precise location of the cancer and to use the lowest dose possible. This approach helps reduce the toxicity of the treatment, reducing possible side effects.
Typically, in early-stage cancer, only a part of the vocal cord needs to be removed surgically, which means patients retain (or soon regain) their ability to communicated effectively with their voice without the need for radiation therapy. For these operations, our surgeons use an innovative approach called transoral laser microsurgery when possible. This minimally invasive approach involves operating through the mouth, eliminating the need for an incision in the neck. This approach is associated with improved rates of preservation of the voice box during cancer treatment.
For advanced laryngeal cancers, we may first try a combination of chemotherapy and radiation (known as chemoradiation) to cure the cancer, followed by surgery only if the tumor cancer does not respond.
Other types of drug therapies may also be used. Immunotherapy, which helps the immune system fight cancer, may be helpful in some patients with laryngeal cancer. In addition, targeted drug therapies, such as Cetuximab (Erbitux) may be prescribed. These drugs help block certain proteins in the body that help cancer spread. Promising new drug therapies for laryngeal cancer are being used at University of Chicago through the clinical research program to help patients live better and longer.
In other cases, the entire voice box and nearby tissues may need to be surgically removed to help ensure that we have gotten all of the cancer. When this is necessary, we will help you and your family sort through options for rehabilitation so you can communicate via alternative approaches. Choices include a voice prosthesis that can be surgically placed in your neck and an artificial larynx, which is a handheld device that you hold up to your neck before speaking.
Our dedicated team of speech pathologists work one-on-one with our laryngeal cancer patients, from the very beginning of their treatment to many years after their cancer care is complete. The speech pathologists create a relationship with the patient at the time of diagnosis, which is focused on helping patients preserve and regain speech and swallowing function. Early evaluation identifies problems, and provides the speech pathologist with information to develop an individualized care plan. This proactive approach helps patients maintain function during treatment and optimize recovery after treatment is completed.

Our patients often begin working with a speech pathologist at the start of treatment, where patients are introduced to various exercises. Patients are followed throughout treatment to optimize speech and to help maintain safe and effective swallow function. The goal is to help patients preserve or regain their ability to speak, swallow and breathe during and adfter treatment and to support the recovery process with proactive care.

Other rehabilitation and support services available to laryngeal cancer patients and their families include:
Nurse practitioners who will help you navigate your cancer treatment

Nutritionists to help maintain a healthy diet

Pain control experts

A dedicated supportive oncology program, which provides mental health counseling, social work services and other services
Convenient Locations for Cancer Care
Request an Appointment
The information you provide on this secure form to request an appointment with a UChicago Medicine head and neck cancer expert will enable us to assist you as efficiently as possible. A representative will contact you within one to two business days to help you schedule an appointment.
You can also make an appointment with our providers by:
– Scheduling a virtual video visit to see a provider from the comfort of your home
– Newly diagnosed patients can schedule a 15-minute introductory Express Expert Cancer Opinion virtual session at no cost
– Requesting an online second opinion from our specialists
To speak to someone directly, please call 1-855-702-8222. If you have symptoms of an urgent nature, please call your doctor or go to the emergency room immediately.
For Referring Physicians
To refer a patient for head and neck cancer care, please call UCM Physician Connect at 1-800-824-2282.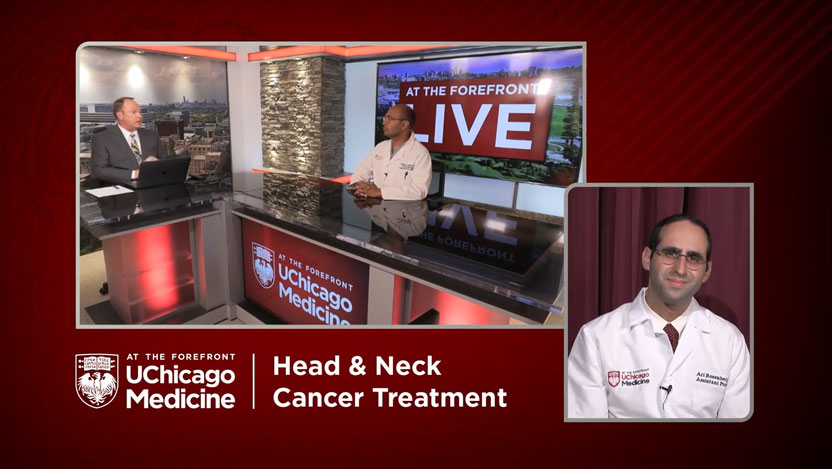 Head & Neck Cancer Articles