Dedicated to Supporting Latino and Hispanic Transplant Patients in Chicago
The Latino Transplant Program at UChicago Medicine is one of only a few programs in the country dedicated to supporting Latino and Hispanic patients and their families. We know receiving an organ transplant is life-changing for you and your entire family. Our goal is to provide the highest level of care and education you need before, during and after your transplant. En español
Our organ transplant team includes native Spanish-speaking hepatologists, surgeons, nurses, pharmacists and financial counselors who can directly answer any questions you and your loved ones have — without the need for a translator. We not only speak your language, but we also respect your Hispanic culture, traditions and values.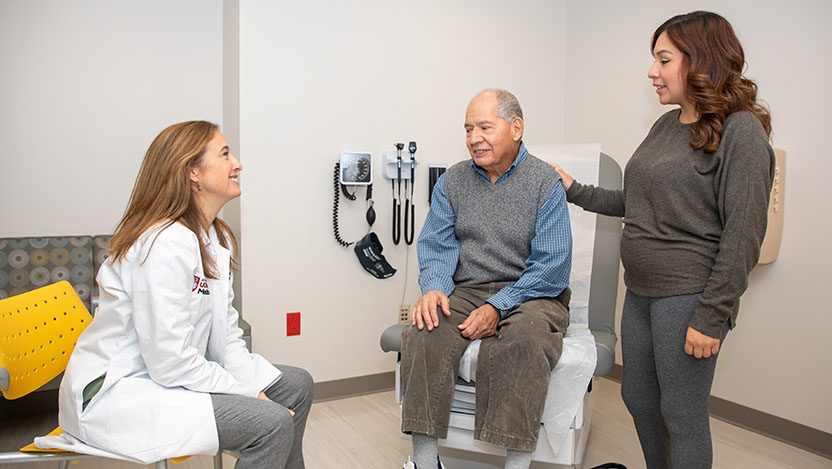 Our Spanish-speaking intake coordinators will help you through the pre-transplant process, including arranging doctor appointments and tests you need. We also provide medical documents and educational sessions in both Spanish and English for you and your family members.
Through our dedicated Latino Transplant Program, we aim to develop a more personal, cultural connection while being sensitive to your needs and providing you with the best medical care possible.
Call 773-702-4500 to speak with a Spanish-speaking transplant coordinator.
Programa de Trasplantes para Hispanos
El Programa de Trasplantes para Hispanos de UChicago Medicine es uno de los pocos programas en el país dedicados a apoyar a pacientes hispanos y a sus familias. Sabemos que al recibir un trasplante de órgano la vida del paciente y de su familia cambia. Nuestro objetivo es brindarle el nivel más alto de atención y educación que necesite antes, durante y después de un trasplante.
Nuestro equipo de trasplante de órganos incluye médicos hepatólogos, cirujanos, enfermeros, farmaceutas y coordinadores financieros cuya lengua materna es el español y pueden responder directamente a cualquier pregunta que usted y sus seres queridos puedan tener, sin necesidad de un traductor. No solo hablamos su idioma, sino que también respetamos su cultura, tradiciones y valores.
Nuestros Coordinadores de admisiones bilingües lo ayudarán en el proceso de preparación para el procedimiento de trasplante, incluyendo la organización de citas médicas y los exámenes requeridos. Le ayudaran también con los documentos médicos y las sesiones educativas tanto en español como en inglés para usted y su familia.
A través de nuestro Programa de Trasplantes para Hispanos, buscamos desarrollar conexión personal y cultural con la sensibilidad requerida para atender sus necesidades y brindarle la mejor atención médica posible.
Llámenos al 773-772-4500 para conversar con nuestro Coordinador de Transplantes bilingüe.
Transplants for Latinos: Filling an Unmet Need
Through the Latino Transplant Program at UChicago Medicine, our providers aim to help more Latinos receive the highest level of transplant care. We want to help our Latino community overcome language and cultural barriers to receive life-saving transplants so they can lead longer, fuller lives. En español
National data show Latinos in the United States are less likely to receive organ transplants despite having greater needs than many other groups. Our teams work tirelessly to help our Latino and Hispanic transplant patients overcome any barriers to receiving life-saving care.
Latinos face a higher risk for certain diseases that can often lead to organ failure and require a transplant, including:
Some liver and kidney diseases are worsened by obesity and diabetes, which are especially common in Latinos.
Other factors can also raise the risk for advanced lung disease among Latinos. Smoking, as well as certain genes, may raise Latinos' risk for developing a lung disease that becomes severe enough to require a transplant.
Satisfaciendo una necesidad insatisfecha
A través del Programa de Trasplantes para Hispanos de UChicago Medicine, nuestros proveedores tienen como objetivo apoyar a más latinos para que reciban el más alto nivel de atención en procedimientos de trasplantes. Queremos que nuestra comunidad hispana supere las barreras lingüísticas y culturales para este tipo de procedimientos de trasplantes que salvan la vida y así puedan llevar una más plena y duradera.
Los datos nacionales muestran que los latinos en Estados Unidos tienen menos probabilidades de recibir trasplantes de órganos a pesar de tener mayores necesidades que muchos otros grupos. Nuestros equipos trabajan incansablemente para ayudar a nuestros pacientes hispanos que requieren de un trasplante a superar cualquier barrera para recibir atención oportuna para salvar sus vidas.
Los latinos enfrentan un mayor riesgo de ciertas enfermedades que a menudo puede resultar en una falla de un órgano y que requiere de un trasplante, incluyendo los siguientes:
La enfermedad del hígado graso no alcohólico (NAFLD) y la esteatohepatitis no alcohólica (NASH), cuando la inflamación y el daño provocan la acumulación de tejido fibrótico (cicatriz) relacionada con la acumulación excesiva de grasa en el hígado.
Enfermedad hepática relacionada con el alcohol, que es el daño hepático causado por el consumo excesivo de alcohol.
Carcinoma hepatocelular, el tipo más común de cáncer hepático primario.
La Diabetes Tipo 2

La diabetes mellitus tipo 2 (DM Tipo 2) es más común en la población hispana y una de las principales causas de la enfermedad renal.

La Hipertensión, también conocida como presión arterial alta.
La Enfermedad renal, también conocida como enfermedad renal en etapa terminal (ESRD).
Algunas enfermedades del hígado y riñones empeoran debido a la obesidad y la diabetes, que son especialmente comunes en los latinos.
Otros factores también pueden aumentar el riesgo de enfermedad pulmonar avanzada entre los hispanos. Fumar y ciertos genes, pueden aumentar el riesgo en los latinos de una enfermedad del pulmón que puede ser lo suficientemente grave como para requerir un trasplante.
Our Transplant Services
Kidney Transplant
During the past two decades, the number of Latinos with kidney disease has increased by 70%. If you are suffering from end-stage kidney disease (ESRD), a kidney transplant can significantly improve your quality of life and eliminate your need for dialysis. We offer virtual kidney transplant education sessions in Spanish for patients with ESRD. These video or phone meetings are designed to teach you what it's like to have a kidney transplant at UChicago Medicine so you know what to expect. We also offer bloodless kidney transplants for those who do not want to receive blood transfusions because of religious beliefs.
Liver Transplant
Latinos are twice as likely to have chronic liver disease than the white population, but they are less likely to receive an organ transplant. Our goal is to help Latino families through the transplant process and overcome any barriers to organ transplant. Our Liver Transplant Program is the most experienced in the Midwest, with surgeons and hepatologists who are native Spanish speakers.
Living Donor Transplant
Our living donor transplant programs help many people avoid the long wait for an organ from a deceased donor.
Heart Transplant
UChicago Medicine is ranked as one of the best cardiology and cardiac surgery programs in the country. Our heart transplant wait times are lower than average, and our outcomes are among the best in the nation because of our team's medical and surgical expertise.
Lung Transplant
We have one of the most skilled lung transplant teams in the country and specialize in single and double lung transplants for advanced lung disease. We can provide education about these treatments for you and your family in your native language, so nothing is lost in translation.
Multi-Organ Transplant
Our surgeons are among the world's leading experts in complex transplants, including multiple-organ transplants, such as:
Liver-kidney transplant
Heart-kidney transplant
Heart-liver transplant
Heart-liver-kidney transplant
We specialize in helping people with complex cases or rare conditions, including many who have been turned away from other transplant centers.
Nuestros servicios de trasplante
Trasplante de riñón
Durante las últimas dos décadas, el número de latinos con enfermedad renal ha aumentado en un 70%. Si usted está sufriendo de enfermedad renal en etapa terminal (ESRD), un trasplante de riñón puede mejorar significativamente su calidad de vida y eliminar la necesidad de diálisis. Ofrecemos sesiones educativas virtuales sobre trasplante de riñón en español para pacientes con ESRD. Estas reuniones por videoconferencia o por teléfono son diseñadas para enseñarles nuestro programa de trasplante de riñón en UChicago Medicine para que comprendan qué esperar. También ofrecemos trasplantes de riñón sin sangre para aquellos que no desean recibir transfusiones de sangre debido a creencias religiosas.
Trasplante de Hígado
Los hispanos tienen el doble de probabilidad de padecer de una enfermedad hepática crónica que otros grupos, pero tienen menos probabilidades de recibir un trasplante de órgano. Nuestro objetivo es ayudar a las familias latinas durante todo el proceso de trasplante y superar cualquier barrera para lograr un trasplante de órgano. Nuestro Programa de Trasplante de Hígado es el de mayor experiencia en el Medio Oeste (Midwest) de los Estados Unidos, con cirujanos y hepatólogos que hablan español como su lengua materna.
Trasplante de Donante Vivo
Nuestro Programa de Trasplantes de Donante Vivo ayuda a muchas personas a evitar una larga espera para lograr un órgano de donante fallecido.
Nuestro Programa de Trasplantes de Hígado de Donante Vivo permite que familiares, amigos y personas generosas anónimas y habilitadas para que donen de manera segura una parte de su hígado a otra persona con necesidad de un órgano.
Nuestro Programa de Trasplantes de Riñón de Donante Vivo también brinda a muchas personas la opción de recibir un riñón donado de una persona viva que cumpla con los requisitos.
Trasplante de Corazón
El programa de transplantes de UChicago Medicine está clasificado como uno de los mejores programas de cardiología y cirugía cardíaca del país. Nuestros tiempos de espera para trasplante de corazón son inferiores al promedio y nuestros resultados están entre los mejores del país gracias a la experiencia médica y quirúrgica de nuestro equipo de especialistas.
Trasplante de Pulmón
Contamos con uno de los equipos de trasplante de pulmón con más experiencia en el país y nos especializamos en trasplantes de pulmón simple y doble para enfermedad pulmonar avanzada. Podemos proporcionar sesiones de educación sobre nuestros tratamientos para usted y su familia en su idioma nativo de tal manera que no se pierda nada en la traducción.
Trasplante de Múltiples Órganos
Nuestros cirujanos se encuentran entre los principales lideres expertos globales en trasplantes complejos, incluyendo trasplantes de múltiples órganos, como:
Trasplante de hígado-riñón
Trasplante de corazón-riñón
Trasplante de corazón-hígado
Trasplante de corazón-hígado-riñón
Nos especializamos en ayudar a personas con casos complejos o condiciones raras, incluidos casos que han sido rechazadas por otros centros de trasplantes.
Meet Our Team
The number of Spanish-speaking transplant surgeons and other specialists at UChicago Medicine continues to grow.
Our team also includes a Spanish-speaking transplant pharmacist who can help you understand your medications, as well as a financial counselor and intake coordinator who are happy to communicate with you in Spanish.
Conoce a Nuestro Equipo
La cantidad de cirujanos de trasplante y otros especialistas de habla hispana en UChicago Medicine continúa creciendo.
Nuestro equipo también incluye a un profesional farmacéutico de trasplante de habla hispana que puede ayudarlo a comprender sus medicamentos, así como a un coordinador financiero y un coordinador de admisiones que estarán encantados de comunicarse con usted en español.
Anesia Reticker, PharmD, Clinical Pharmacist Specialist, Solid Organ Transplant
Ana Avila, MSN, RN, Post-Transplant Discharge Coordinator
Elizabeth Barbosa, Medical Assistant
Selenia Sosa, Intake Services Specialist
Claire McGivern, Manager, Outreach and Networking
Sabrina Torres, Outreach Coordinator
Nisa Torres, Outreach Coordinator
Juanita Zamora, Administrative Assistant
Request an Appointment (Solicite una Cita)
The information you provide will enable us to assist you as efficiently as possible. A representative will contact you within one to two business days to help you schedule an appointment.
To speak to someone directly, please call 1-773-702-4500. If you have symptoms of an urgent nature, please call your doctor or go to the emergency room immediately.
Para hablar directamente con alguien, llame al 1-773-702-4500. Si tiene síntomas de urgencia, llame a su médico o vaya a una sala de emergencia de inmediato.
La información que nos proporcione nos permitira ofrecerle opciones para poder ayudarlo de la manera más efectiva posible. Un representante se comunicará con usted dentro de uno o dos días para ayudarle a programar una cita.