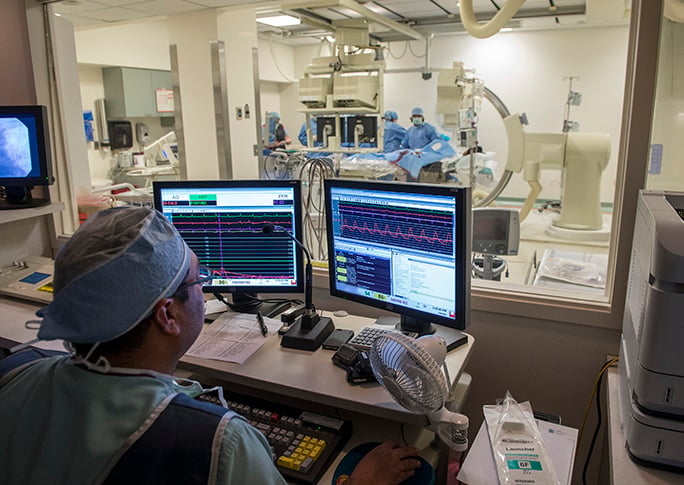 Transcatheter (otherwise know as percutaneous) procedures are performed in our state-of-the-art catheterization lab by a team of highly skilled interventional cardiologists. For patients with heart valve disease or congenital heart defects that are too high risk for traditional surgical procedures, catheterization offers an alternative treatment solutions that uses minimally invasive techniques to treat patients with valvular disease, intracardiac shunts, and minimize the risk of strokes.
Transcatheter Aortic Valve Replacement (TAVR)
TAVR is a minimally invasive alternative for patients who are looking for alternatives for traditional aortic replacement surgery, including those that are considered too high-risk for surgery. Instead of opening the chest, a small tube (catheter) is guided through an artery in the groin into the heart. The new artificial valve is compressed and fed through the catheter until it reaches the aortic valve. Once in place, the artificial valve is placed and the catheter is removed. The new valve replaces the old valve, increasing blood flow throughout the body. Patients can go home as early as the next day. We utilize both Edwards Sapien and Medtronic EvolutPro+ valves to adapt best to our patient's individual needs. Our team also treats patients who require bloodless therapies for heart disease.
Transcatheter Mitral Valve Repair with MitraClip
For patients with mitral valve regurgitation (leaky valve) who are too high-risk, or don't want for traditional or robotic surgery, transcatheter mitral valve repair offers an alternative solution. During this minimally invasive procedure, a mechanical clasp, called the MitraClip, is implanted into the heart using a catheter that is guided to the chest through the femoral vein. The MitraClip clamps the mitral valve leaflets together, reducing leakage and associated symptoms of regurgitation. This procedure can also be used for for patients who require bloodless therapies. Patients can go home as early as the next day post MitraClip treatment. Learn more about MitraClip.
Transcatheter Aortic Valve Fusion
Some heart failure patients that have a left ventricular assist device (LVAD) may develop aortic insufficiency that requires additional treatment. A transcatheter aortic valve fusion is a minimally invasive procedure used to treat stenosis for heart failure patients with circulatory support devices. The University of Chicago has extensive experience in treating these patients and has developed techniques to improve their quality of life.
Left Arterial Appendage Closure
The left atrial appendage (LAA) is a small pouch in the muscle wall of the left atrium. When a patient has atrial fibrillation, this pouch can collect blood that can form clots, creating an increased risk of stroke. Doctors prescribe anticoagulants (blood thinners) to help reduce this risk. Some patients have increased risk bleeding and/or episodes of bleeding with this type of medication.
To minimize this risk, our interventional cardiologists can seal the LAA through catheterization, preventing blood from gathering in the appendage and giving patients the ability to safely come off blood thinner therapy. During this procedure a tube (catheter) is placed in the groin into the heart, and the device is placed directly in the appendage. Patients can go home as early as the next day. We offer both the WATCHMAN and AMULET devices to seal the appendage. Our team also treats patients who require bloodless therapies for heart disease.
Transcatheter Heart Valve Repair of Congenital Defects
Our interventional cardiologists use percutaneous techniques to treat a wide range of congenital heart defects. Through catheterization, a "plug" can be fed through a thin tube and inserted in the heart to block any leaks or close holes for patients with atrial septal defects, patent foramen ovales and ventricular septal defects. Learn more about congenital heart disease.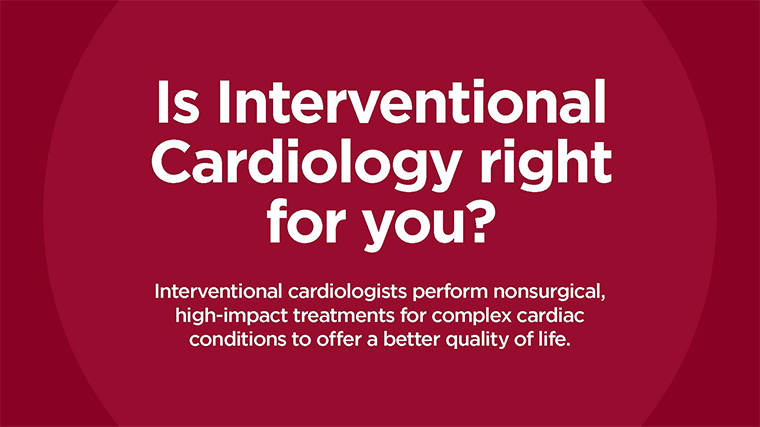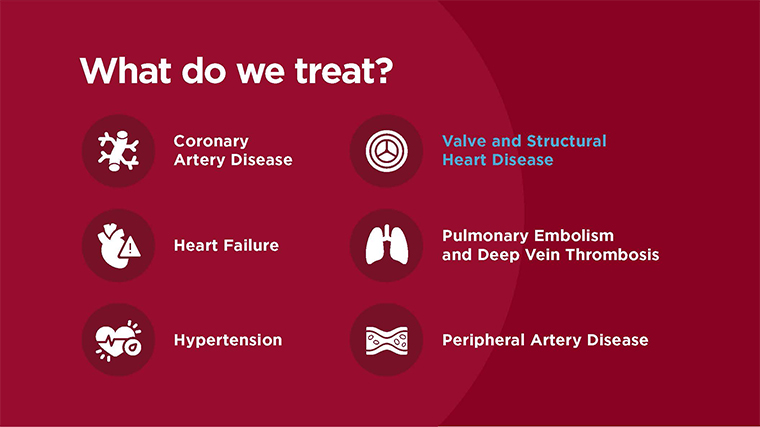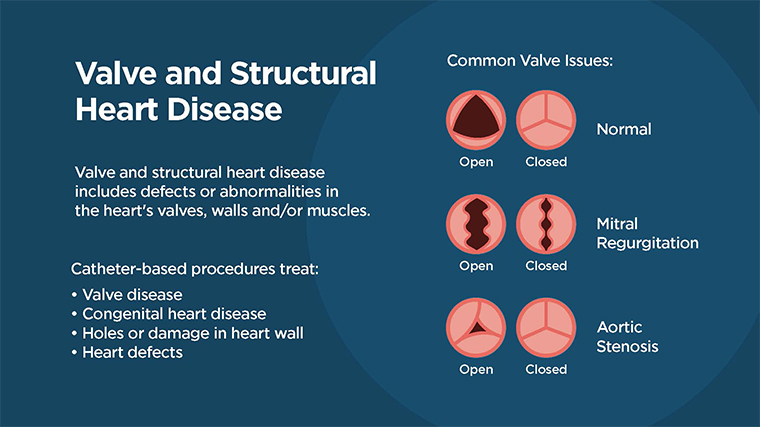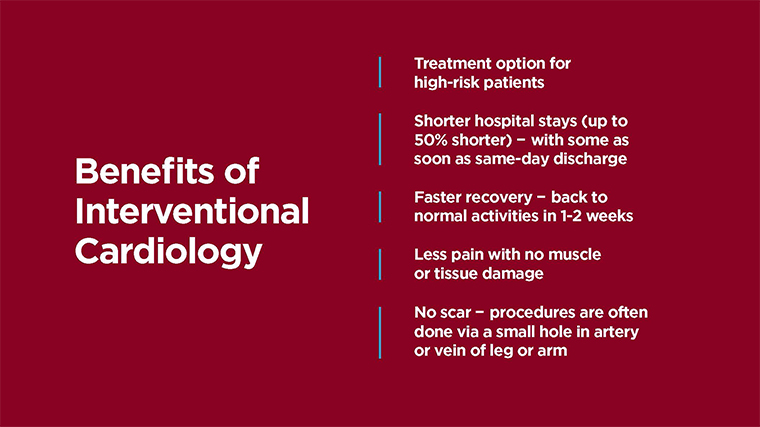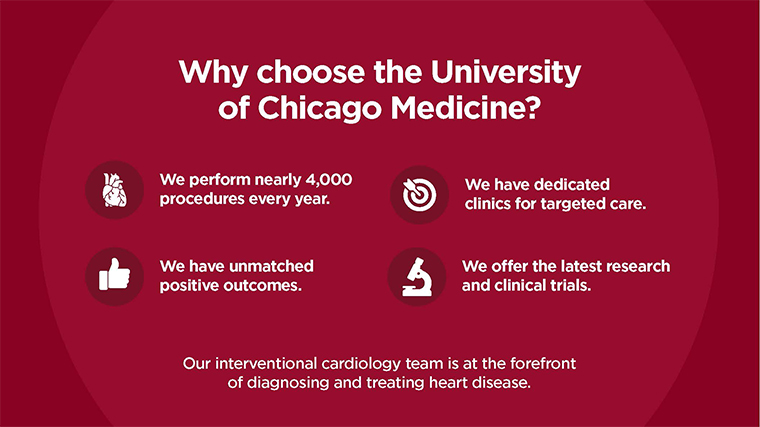 Transcatheter Interventional Cardiology Team
Request an Appointment
The information you provide will enable us to assist you as efficiently as possible. A representative will contact you within one to two business days to help you schedule an appointment.
You can also make an appointment with our providers by:
– Scheduling a virtual video visit to see a provider from the comfort of your home
– Requesting an online second opinion from our specialists
– Filling out an online questionnaire (e-visit) to get a same-day diagnosis and treatment for common conditions.
To speak to someone directly, please call 1-888-824-0200. If you have symptoms of an urgent nature, please call your doctor or go to the emergency room immediately.
Learn more about heart and vascular disease