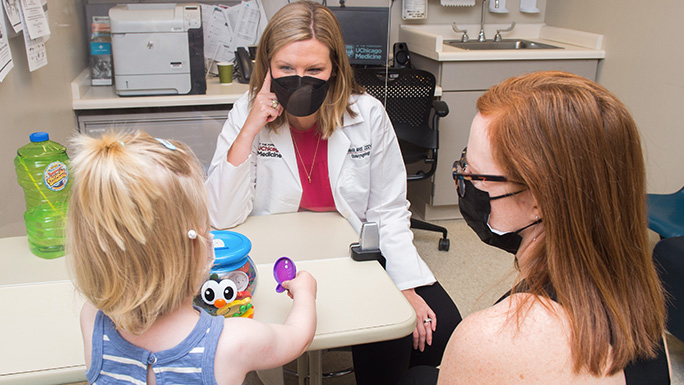 The Center for Speech & Swallowing Disorders
The Center for Speech and Swallowing Disorders provides diagnostic and therapeutic services for individuals of all ages who have problems with speech, language comprehension and production or swallowing function.
Our program utilizes a multidisciplinary approach to address a wide variety of disorders that stem from equally diverse causes, including, but not limited to, chemoradiation therapy and surgery. Our specialized team is capable of providing state-of-the-art diagnostic services, such as oropharyngeal motility studies or FEES, both used to ascertain a patient's ability to swallow.

Head and neck cancer may have a significant impact on communication and swallowing ability. In addition, the treatment modalities of surgery, chemotherapy and radiation therapy each have specific toxicities that may intensify when treatments are used in combination. Speech and swallowing problems related to head and neck cancer may range from mild and transient to severe and chronic, affecting the patient's daily life. Our goal is to optimize communication skills and swallowing function during and after cancer treatment.
Our services include:
Consultation and counseling
Instrumental, radiographic assessment of swallowing function through an oropharyngeal motility (OPM) study to evaluate the physiology of swallow function and to assess the safety of oral feeding and risk for aspiration
Administration of a functional performance status scale
Individualized therapy
Pre-operative counseling is a critical component of rehabilitation for patients receiving primary surgical treatment. Surgical resections of the head and neck may result in articulation, resonance or voice disorders. Objective assessment and aggressive therapy are provided to maximize communication and swallowing function after surgery. Patients receiving a total laryngectomy can benefit from surgical voice restoration with the placement of a silicone voice prosthesis, which promotes optimal voice rehabilitation with natural sound quality.
Read More About Otolaryngology