At the UChicago Medicine Voice Center, we provide a holistic approach to voice care, taking into account your personal treatment goals.
Request an Appointment

Voice Center
Dedicated to Helping You Restore and Maintain Your Vocal Health
Has your voice quality changed? Are you experiencing discomfort or strain while speaking or singing? Our fellowship-trained laryngeal surgeon (laryngologist) and speech-language pathologists are here to help. At the UChicago Medicine Voice Center, we offer state-of-the-art care, advanced diagnostics, in-office and surgical procedures, plus personalized voice therapy to treat a wide range of conditions that affect the voice.

We welcome all types of patients, including professional and amateur singers and actors, teachers, lawyers and anyone who is experiencing a problem with their voice. Whether it's your first time seeking voice care or you're looking for a second opinion, we can provide a tailored care plan that's right for you.
Video Visits and Safe, In-Person Care
In-person care services are provided at three convenient locations: Downtown Chicago and Chicago's historic Hyde Park neighborhood, as well as in Orland Park.
For your convenience, we also offer secure, virtual visits by video with our voice center specialists.
Common Symptoms of Voice Concerns
Breathy or weak voice
Raspy or rough voice
Difficulties with raising the voice
Pain with speaking or singing
Changes in the quality of the singing voice
Voice fatigue (changes in voice quality with speaking)
Changes in the voice after surgery or trauma to the neck
Treating the Full Spectrum of Voice Disorders
Voice and airway conditions treated by our experts include the following, and more:
Acute, chronic and reflux laryngitis
Vocal cord conditions such as vocal cord cysts, vocal cord nodules, vocal cord paralysis, vocal cord polyps and vocal fold hemorrhage
Recurrent respiratory papillamatosis
Chronic cough
Reinke's edema, or swelling of the vocal cords
Dysphonias, including muscle tension dysphonia and spasmodic dysphonia
Laryngeal cancer
Voice problems due to trauma or prior medical procedures
Vocal tremor
Airway stenosis, or narrowing of the airway
Specialized Care for Vocal Professionals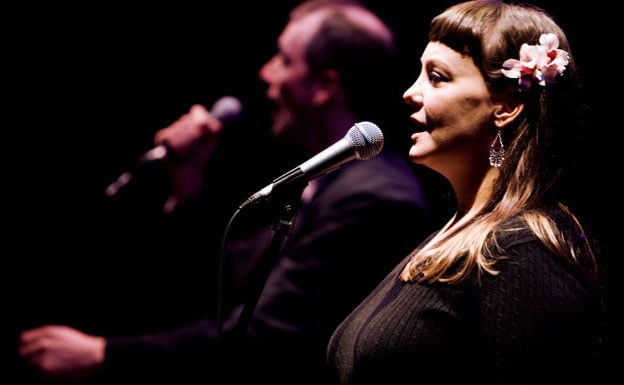 The UChicago Medicine Voice Center team is highly experienced at diagnosing and treating voice concerns in vocal professionals and anyone who relies on their voice for their profession.

We regularly care for vocal professionals, including the following:
Singers
Actors
Professional speakers
Lawyers
Religious leaders
Teachers
Broadcasters
Politicians
Salespeople
Coaches and fitness instructors
The Voice Center team includes experienced singers in both classical and popular voice who know how to help vocal professionals perform at their best. Services provided by the Voice Center team are personalized to the needs of the patient. Our laryngeal surgeon, Brandon Jackson Baird, MD, has a background in vocal performance which positions him well for understanding and treating patients with complex vocal pathology, diverse backgrounds in voice, and busy performance commitments. His training in professional voice care and rehabilitation at Harvard University — Massachusetts General Hospital makes him uniquely equipped to care for the elite professional vocalists of Chicago.
Advanced Vocal Treatment Options
At UChicago Medicine Voice Center, we provide a holistic approach to voice care, taking into account your personal treatment goals. We offer the full range of voice treatment options, including in-office procedures, voice therapy and surgical solutions. These treatments include the following:
Phonomicrosurgical treatment of benign nodules, polyps, cysts and other disorders
Customized voice therapy delivered by certified speech-language pathologists
In-office injection medialization for vocal cord paralysis
Botox injections for spasmodic dysphonia
In-office laser ablation of vocal cord cancer, dysplasia and papilloma using KTP (Potassium Titanyl Phosphate) laser
Sophisticated voice analysis, including office strobolaryngoscopy, acoustic and aerodynamic measures
Our Voice Center Team
The UChicago Medicine Voice Center team includes surgeons Brandon Jackson Baird, MD and William Gao, MD, and three advanced speech and language pathologists:
Derek Palmer, MA, CCC-SLP, BCS-S
Meg Thorsen, MA, CCC-SLP
Sweta Soni, MA, CCC-SLP
If needed, your care team may extend to include other UChicago Medicine specialists, such as neurologists, gastroenterologists, pulmonologists, oncologists and other experts who may contribute to your care.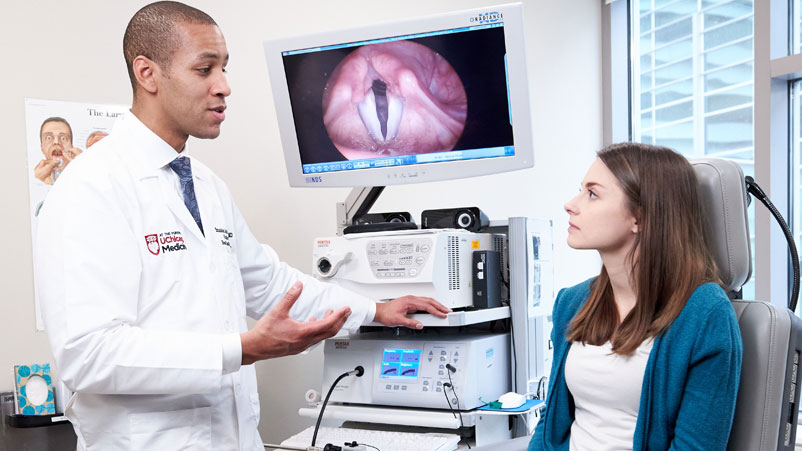 What to Expect at Your First Voice Center Visit
At your first visit to the Voice Center, you'll meet with our laryngeal surgeon and a speech-language pathologist. There are several steps to an initial visit, including the following:
In addition to asking you to describe your voice concern and if you experience any breathing or swallowing problems, we'll go over your personal and family medical history, including any medicines or supplements you take.
You'll complete a vocal patient questionnaire (PDF) that covers several aspects of vocal health. You may complete the form in advance and either bring it to your appointment or submit it through your MyChart account.
We'll conduct a thorough voice exam where we'll listen to your voice and use sophisticated equipment to record and analyze several aspects of your voice, including measuring airflow and acoustic levels as you speak or sing.
Our laryngeal surgeon will exam your throat, nose, ears, sinuses and larynx (voice box), and will use a laryngoscope — a thin, flexible tube affixed with a light and camera — to inspect your vocal folds. This procedure is called a videostrobolaryngoscopy.
To better evaluate any functional limitations, you may be asked to sing, perform or otherwise use your voice in a manner similar to your normal activity.
Results from the behavioral evaluation, videostrobolaryngoscopy and physical exam are used to develop an action plan with recommendations for treatment options. We'll review the results with you and answer any questions you have.
Find a Voice Center Location Near You
Request an Appointment
The information you provide will enable us to assist you as efficiently as possible. A representative will contact you within one to two business days to help you schedule an appointment.
To speak to someone directly, please call 773-702-1865. If you have symptoms of an urgent nature, please call your doctor or go to the emergency room immediately.