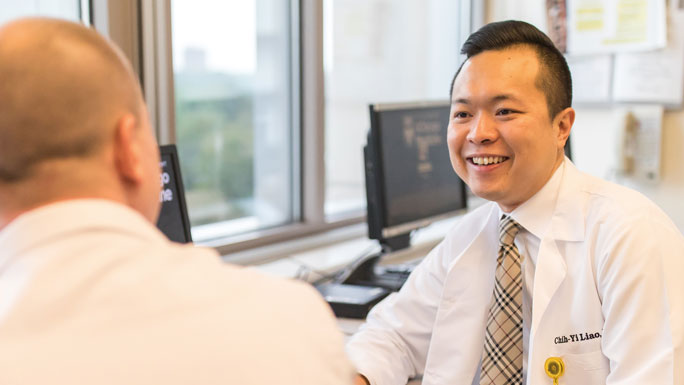 At the University of Chicago Medicine's Center for Gastrointestinal Oncology, our cancer specialists have decades of experience treating stomach cancer (also known as gastric cancer). The highly respected team brings together specialists from our cancer and digestive disease programs, both consistently ranked among the best in the country by U.S. News & World Report.

Our stomach cancer treatment team comprises specialists across a variety of disciplines — gastroenterology, surgical oncology, medical oncology, radiation oncology, nutritional care, pain management and more. These specialists work together to provide a comprehensive treatment plan tailored to the specific needs of each patient.
Diagnosis
A thorough diagnosis helps our physicians determine the best treatment plan. A range of diagnostic services evaluate suspected stomach cancer, including:
Esophogastroduodenoscopy (upper endoscopy): A thin, flexible tube called an endoscope is inserted into the mouth and down into the upper gastrointestinal tract. The endoscope has a light source and camera at its tip, allowing the physician to see inside the stomach. The physician can also insert small tools into the endoscope to remove a tissue sample for testing in the lab.
Endoscopic ultrasound (EUS): An endoscope is fitted with a special device, called a transducer, which emits and detects sound waves as they bounce off tissue. The transducer sends this data to a computer to create an image of the tissue. EUS is effective at visualizing the individual layers of the gastrointestinal tract, aiding in the detection and staging of cancerous lesions.
Laparoscopy: A minimally invasive (laparoscopic) staging procedure may be performed immediately before a planned tumor removal surgery.
CT and PET scans: These noninvasive scans allow physicians to more accurately stage stomach cancers.
Genetic Factors
In some cases, an inherited syndrome contributes to an increased risk of developing stomach cancer. Hereditary diffuse gastric cancer (HDGC) is a syndrome that significantly increases risk for diffuse gastric cancer as well as lobular breast cancer. Carrying a mutation in the CDH1 raises the risk of diffuse gastric cancer as much as 70% for men and 56% for women.
Our Gastrointestinal Cancer Risk and Prevention Clinic offers a personalized assessment for patients and families who may be at risk for developing stomach cancer due to genetic factors. For individuals with HDGC, our multidisciplinary and integrated team provides comprehensive and evidence-based care. Our team includes surgeons, gastroenterologists, genetic counselors, pathologists, oncologists, dietitians and psychologists.
Treatment
Our cancer experts determine an individualized treatment plan based on the stage of the cancer, the size and location of the tumor, if the tumor has spread to other organs or lymph nodes and other factors such as overall health.
Treatment for stomach cancer typically involves a combined approach, which may include surgery, chemotherapy and/or radiation therapy. Not all patients will receive each type of treatment.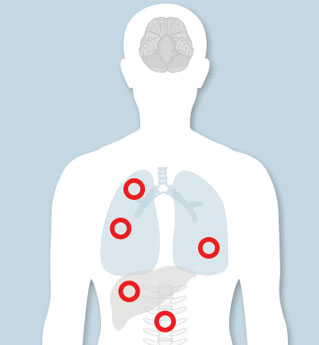 Treating Metastatic Cancer with Optimism and Hope
If you have been diagnosed with metastatic cancer, more therapies may be available to you than you think. Our cancer specialists are eager to help you understand all of your options.
Limited Metastatic Cancer Program