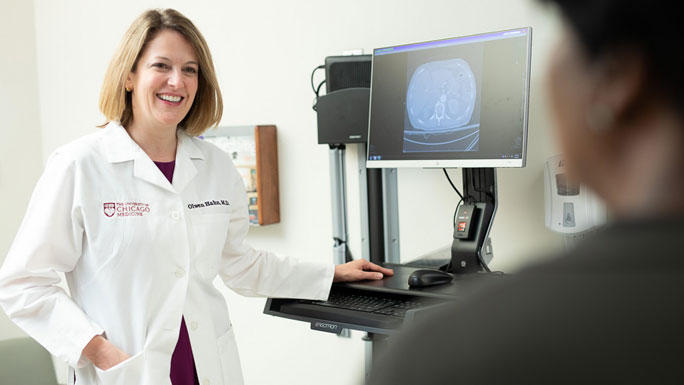 The University of Chicago Medicine Comprehensive Cancer Center is committed to exploring and developing innovative ways to prevent and reduce cancer's devastating effects through a collaborative research program involving more than 200 renowned researchers and physicians.
UChicago established the Comprehensive Cancer Center in 1973 following approval of the National Cancer Act, which strengthened efforts of the National Cancer Institute (NCI). Through its Cancer Centers Program, NCI currently supports 70 Cancer Centers — 50 of which are Comprehensive Cancer Centers distinguished by "scientific excellence and the capability to integrate a diversity of research approaches to focus on the problem of cancer." Comprehensive Cancer Centers share a common goal — to attack malignant diseases through laboratory research, innovative clinical trials, and prevention research.
UChicago's Comprehensive Cancer Center is one of only two NCI-designated Comprehensive Cancer Centers in Illinois and has earned a reputation for excellence, innovation and a commitment to addressing cancer from every angle.
Our mission at the University of Chicago Medicine Comprehensive Cancer Center is to develop innovative and collaborative research to discover the determinants of cancer, to develop cures for cancer, and to prevent cancer.
To meet this ambitious challenge, we focus on:
Meeting the Needs of Our Patients
Performing Research of the Highest Quality
Use clinical trials to test investigational drugs and identify effective new cancer therapies
Apply the latest advances in imaging, molecular biology, information technology, genetics, genomics, systems biology and other disciplines to the study of human cancer
Training the Next Generation of Cancer Researchers and Enhancing Healthcare/Research Professional Development
Provide education, training and career development programming for students, basic scientists, translational/clinical investigators, and healthcare professionals at all levels (from high school students to senior faculty)
Ensure clinical trial access to community oncologists and minority populations via a network of affiliated hospitals and health centers
Develop and implement outreach programs that educate local health professionals about current approaches and new advances in cancer prevention, early detection, and treatment
Strengthening Links with the Communities We Serve to Improve Health
Enable sustained engagement with our community to increase public awareness of advances in cancer research
Communicate the benefits of reducing cancer risk and participating in cancer clinical trials
Implement new cancer prevention and control research studies and improve screening rates