The University of Chicago Medicine Comprehensive Cancer Center Cancer Registry provides a full range of oncology data services for our nationally recognized American College of Surgeons (ACoS)-approved clinical cancer program. Since the 1920s, the Registry has collected, maintained, and reported detailed information for patients diagnosed with, and treated for, cancer or benign central nervous system neoplasms. A dedicated team of data management specialists ensures that records are maintained for patients at both the University of Chicago Medicine and the University of Chicago Medicine Comprehensive Cancer Center at Silver Cross Hospital.
The Cancer Registry provides important data services to advance basic, translational, and clinical research at the Comprehensive Cancer Center. All data collected by the Registry can be accessed via an electronic data repository, known as the Clinical Research Data Warehouse (CRDW). Researchers and clinical staff who request access to this resource are provided data in a safe, managed method that is compliant with HIPAA Privacy and Security Rules. Registry data are essential for not only advancing research to improve patient care, but also for cancer program development, community outreach activities, and decision-making in oncology and public healthcare policies.
2020 UChicago Medicine Cancer Data
The Cancer Registry reports on patients who were newly diagnosed and/or received first course or subsequent treatment for a cancer diagnosis or recurrent/progressive disease at University of Chicago Medicine.
Cancer Incidence by Type
In 2020, 4,022 patients were diagnosed and/or treated at the University of Chicago Medicine. This included both malignancies and benign central nervous system neoplasms. Of these, the majority of patients (3,363, 84%) were newly diagnosed, and the remaining (659, 16%) are documented in the registry for recurrent or progressive disease or the registry does not have information on the first course of treatment. The most frequently seen cancers representing 18% (734) were of the digestive system.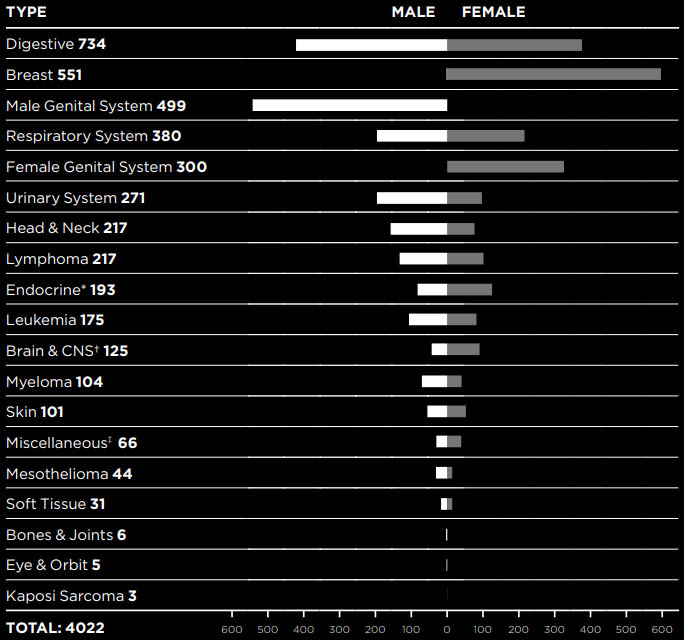 Patient Demographics
Distribution by race shows that our patient population is predominately White (2,483 patients, 62%), followed by Black (1,093 patients, 27%) and Hispanic (233 patients, 6%). These trends are similar to those seen in recent years.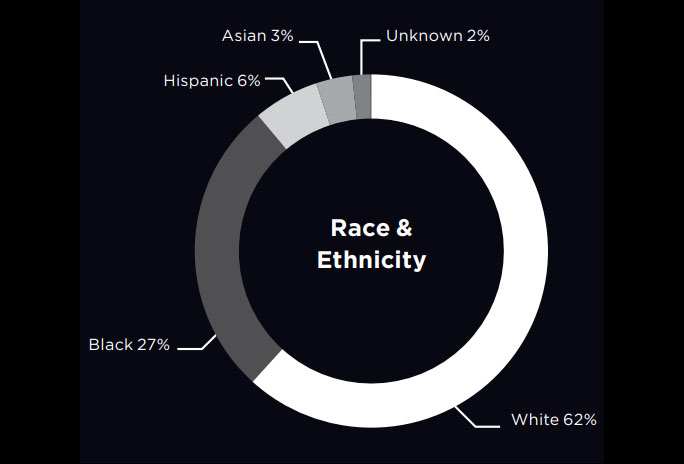 Patient Geographics
The majority of patients (3,264, 81%) seen in 2020 were Illinois residents. Nearly 19% (757 patients) of the total number of patients first seen in 2020 lived in other states, primarily in the neighboring states of Indiana (597, 79%), Michigan (47, 6%) and Wisconsin (22, 3%). We also served one international patient from Ecuador.